Heavy snow this week has wreaked havoc across County Durham causing hazardous driving conditions for motorists. It is the earliest widespread snowfall for 17 years. The whole region has been blanketed with snow with these arctic conditions gripping the region and causing havoc on our roads.
In County Durham, overnight snow and ice closed more than 100 schools as road conditions got steadily worse during the day with prolonged snow showers. The sheer relentlessness of the snowfall was causing headaches for drivers, with roads being covered by a blanket of snow which was getting deeper and deeper by the second. Road conditions were exceptionally difficult.
The savage conditions have brought chaos to the region's roads. Police described conditions as very difficult and a spokesman said: "Our advice at the moment is that unless your journey is essential then motorists should consider delaying or postponing that journey''.
There was early morning chaos in Bishop Auckland. Early morning drivers dumped their cars and walked back home after struggling to get up the hills, with some of them struggling to control their cars on the downward slopes. Many of the side roads were impassable, with thick snow trapping cars within its grip.
I'm writing this article on Wednesday 1st December. The snow has now been with us a week, and its still coming down in torrents. In fact the roads today around our town are the worst they've been so far. You expect bad conditions on the side roads, but today even our main roads are covered with layers and layers of snow, and are proving treacherous. I've spent the morning helping drivers push there cars to help them get moving. They've been stuck in almost 2 foot of snow. It's unbelievable.
At times it was like a blizzard, and you couldn't see more than a foot or two in front of your car. It's so important to know how to drive safely in bad weather. How to get out of a skid for one. So I thought to myself that as my blog is about healthy lifestyles, surely driving safely in treacherous snowy conditions is as important as eating healthily at a time like this. So here I am going to provide some driving tips in snow.
The best advice for driving in bad winter weather is not to drive at all, if you can avoid it. Stay home, and you'll be safe. Well if I stop here you may think I've short changed you, so if circumstances are such that you just can't avoid driving, try to wait until the snow plows and sanding trucks have had a chance to do their work, and allow yourself extra time to reach your destination.
It makes sense not to travel in the first place, but some journeys might be essential. If you must venture on to the roads, proceed with extreme caution and heed these driving Tips in Snowy conditions:
1. Decrease your speed and leave yourself plenty of room to stop. You should allow at least three times more space than usual between you and the car in front of you. Driving too fast is the No. 1 winter driving error. Slippery roads make every mistake happen faster and more dramatically. And don't think antilock brakes, stability systems or other vehicle control mechanisms will help you if you're sliding.
2. Brake gently to avoid skidding. If your wheels start to lock up, ease off the brake.
3. Turn on your lights to increase your visibility to other motorists.
4. Keep your lights and windshield clean.
5. When pulling away from a stand-still; try and do so a higher gear such as in second as opposed to first. This will limit the degree of wheel spin you could encounter. Likewise, whilst travelling, drive in as high a gear as possible to also limit wheel spin.
6. Be especially careful on bridges, overpasses and infrequently travelled roads, which will freeze first. Even at temperatures above freezing, if the conditions are wet, you might encounter ice in shady areas or on exposed roadways like bridges.
7. If you get stuck in snow, do not spin your wheels, this will only dig you in deeper. Turn your wheels from side to side a few times to push snow out of the way. Use a light touch on the accelerator pedal, to ease your car out.
8. Look ahead and anticipates problems so you are ready for corners and other obstacles before you arrive at them.
9. Learn how to control a skid. You have to go against your natural tendencies. Turn into the skid. Don't use the brakes. Ease off the accelerator and steer slightly into the direction of the skid until you gain control. Turn with steady motions.
10. If you drive an automatic car select '2' to make driving much safer by limiting the gear changes and making you less reliant on the brakes. Many modern automatics have a 'Winter' mode which locks out first gear to reduce the risk of wheel spin.
Take heed. Warning! POLICE say drivers who fail to clear enough snow from their car roofs could face prosecution. Police are stopping cars with snow on the roof and imposing a £60 fine and three penalty points. Clear the snow off the roof of your car.
When driving in snow, gentle manoeuvres are the key to safe driving. Use all of the car's controls – accelerator, brakes, clutch and steering – as gently (and progressively) as possible. Just be careful out there.
Score Your Way To Good Health - With Our Healthy Lifestyle Plan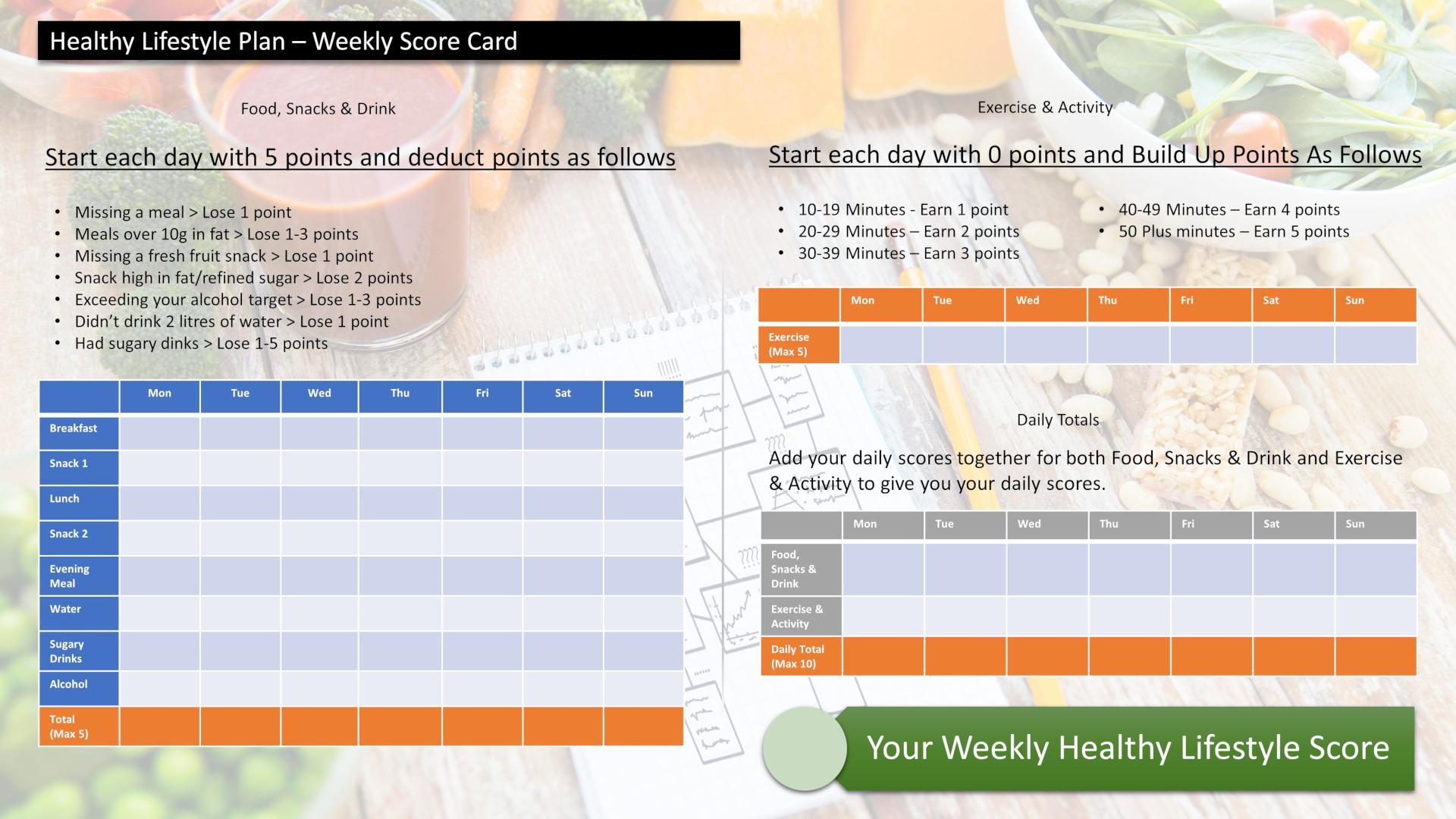 Score your way to good health with our healthy lifestyle plan and it's unique 70 point weekly scorecard!