No matter what you do in life, always put your best foot forward to give you the best possible chance to achieve your goal no matter what that may be.
I love waking up when abroad. Excited by the expectations of seeing the sun in the sky. So there I was this morning creeping out the room, deadly silent so as not to disturb anyone, ready for my 30 minute speed walk. I was going to make my way to the beach and just explore for a little while till the sun raised itself and my body was ready for its early morning grazing. Imagine my disappointment when I was greeted by the feelings of raindrops on my shoulders.
Now there was time for the perfect excuse to head back to the room and abandon this attempt at exercise. No, not me, never one to make excuses and let life pass me by, so off I went with maybe a quicker tempo than I would have put in if the conditions had been kinder.
How many times have you decided to lose weight or start to exercise and then start making up excuses as to why you haven't done it? It may sound like this; "I was going to workout, but I didn't have time." "I was going to exercise, but I was too tired to get out of bed
"Stuff" does happen in this world. Your resulting behavior is entirely your choice. Well how important is losing weight, getting fitter, or being healthy, to you?
Imagine that you are at cause for everything that happens to you and realize that you control everything that happens in your life. There will always be reasons to not exercise. After all we only have 24 hours in a day. We each have loads of commitments. But when we want something enough, when we know it's important enough to us, we'll always find the time to do it.
This is the same for anything. We choose what it is we do. We also choose what we don't find the time to do.
Are you using your time the most productively so that you can create the results you want in your life?
Let me tell you something so simple, yet vital for your health. Walking just 30 minutes a day can help you to maintain and improve your health.
A range of studies have shown that physical inactivity increases the incidence of common health complaints, including heart disease, hypertension, stroke, Type 2 diabetes, obesity, gallstone formation and even some types of cancer.
Among these studies, people who participated in just 30 minutes of moderate activity – such as brisk walking – each day, reduced their levels of risk. This is to do with the fact that our basic human 'genetic' make-up has not really changed from 10,000 years ago, when a hunter-gatherer lifestyle involving daily moderate physical activity was an essential part of survival.
I love walking, but particularly when I'm abroad. Aside from the beautiful view of the ocean and the great people watching there are many benefits of walking on the beach. Walking in sand requires a greater effort than walking other surfaces. Your muscles have to work harder as your feet move through the sand. Walking in sand requires far more energy and this uses more calories than you would walking at the same pace on other surfaces.
As always, if you are walking in the heat take the normal precautions: wear a hat, take a bottle of water and don't forget to put on your sun screen. Of course, if you get too hot you can always jump in the water to cool off. My preferred time is first thing in the morning, before the sun rises. It's a lovely time of day, quiet, cool and refreshing. Sets you up perfectly for a healthy breakfast. Then ready for a day by the pool. That's a strange thing to say in January. Hope all your New Year Resolutions are going according to plan. See you tomorrow.
Anyway, even if you don't have a beach handy, take your legs outside and get walking, your body will thank you for it.
Score Your Way To Good Health - With Our Healthy Lifestyle Plan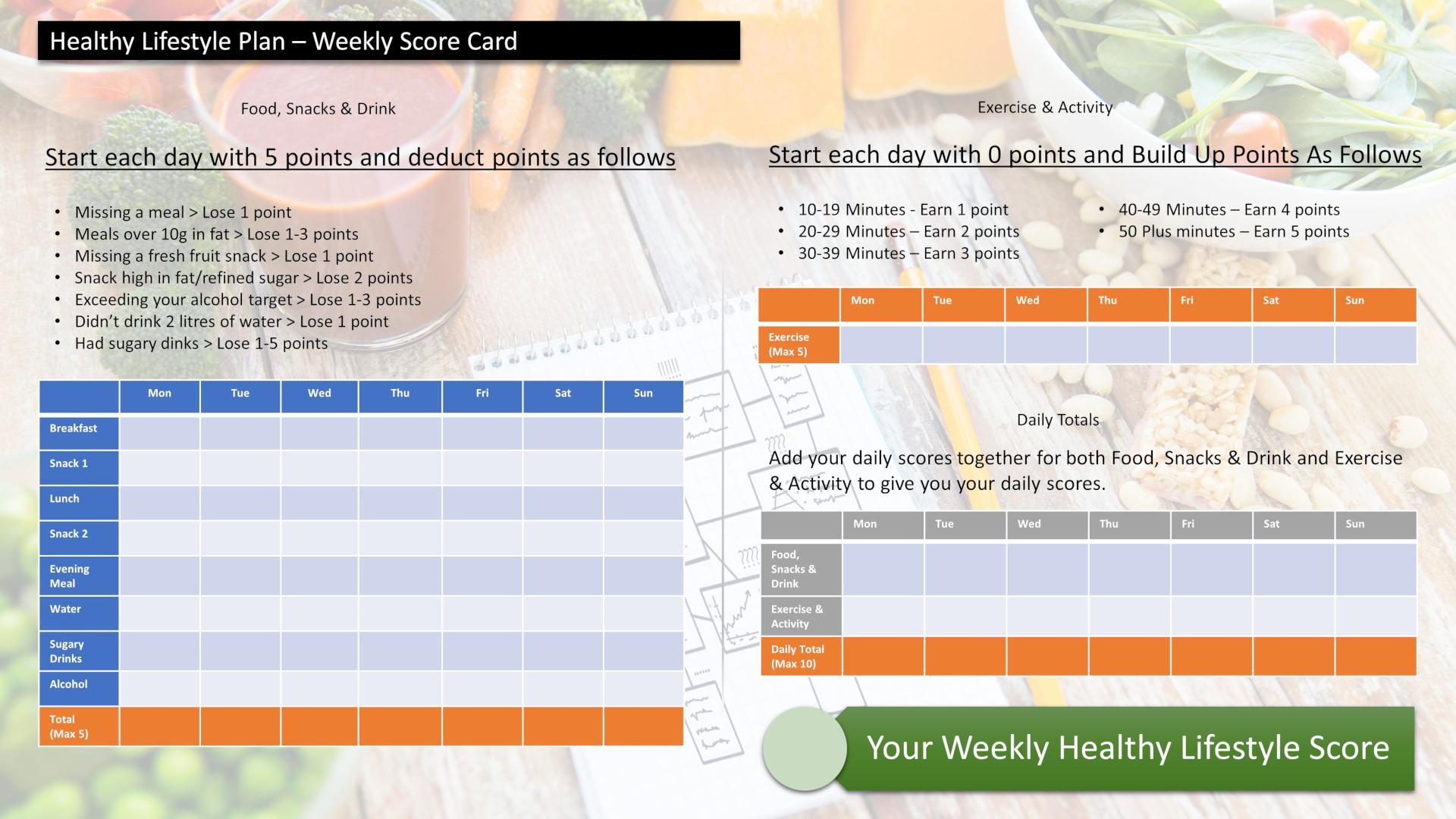 Score your way to good health with our healthy lifestyle plan and it's unique 70 point weekly scorecard!