We may be fat but we're healthier than ever: How British life expectancy has soared to 80 years.
Average life expectancy has risen from 72 years to 80 years in the UK in the last 30 years. Britons are living longer than ever before despite concerns about obesity and health problems, a leading scientist has claimed.
Daily Mail – Read this article here
How losing just a few hours of sleep can take YEARS off your life
As doctors warn one in eight of us is sleep-deprived, our reporter conducts an exhausting experiment to show its terrible toll on our health…
Daily Mail – Read this article here
Kids' Breakfasts Around The World Lack Adequate Nutrients
The 'Food, Medicine and Health' column in the March 2011 Food Technology magazine published by the Institute of Food Technologists suggests that assessments of kids' breakfasts worldwide are often high in sugar and saturated fat and low in dietary fiber and lack essential vitamins and minerals.
Medical News Today – Read this article here
Global Nutrition Conference Focuses On Nutrition For Healthy Aging
A distinguished panel of physicians and nutrition scientists from around the world met for the second annual Global Nutrition Transition Conference, which focused on the effects of changing worldwide dietary patterns on the aging process, specifically the role of nutrition in the health of the brain, skin, immune system and muscles as we age.
The Nutrition Transition refers to shifting global patterns in diet and lifestyle that are leading to a dramatic rise in the incidence of increased weight and obesity in countries where, until recently, obesity was virtually unknown.
Medical News Today – Read this article here
Think Before You Drink
Americans may like their drinks "sickeningly sweet" but a new labeling initiative may discourage us from pouring on the unnecessary calories, said Jessica Bartfield, MD, medical weight-loss specialist at Gottlieb Memorial Hospital.
As of February, the front labels of packaged beverages now include the total number of calories in containers of 20 ounces or less. "Liquid caloric consumption can be quite a significant contribution to weight gain so this is a tremendous effort to educate the public," said Dr. Bartfield, who is part of the Loyola University Health System campus physician-led team of exercise physiologists, nutritionists and psychologists who work together to change the behaviors of those significantly overweight.
Medical News Today – Read this article here
How Much Should I Eat?
How much an individual should eat depends on many factors, including their height, age, sex, general state of health, job, leisure time activities, genetics, body size, body composition, and what medications they may be on. How much relates to your daily calorie intake requirement – consume more each day than you use up and you will usually put on weight, consume less and the opposite will happen.
Medical News Today – Read this article here
Eating fish may fight AMD sight loss
The omega 3 fatty acids found in fish may help to prevent AMD. "Tuna sandwiches 'could help prevent sight loss in old age,'" the Daily Mail has reported. The newspaper says that new research into the omega 3 fatty acids found in some types of fish show that they may cut the risk of age-related macular degeneration (AMD), which is the most common cause of sight loss in those over 50.
National Health Service – Read this article here
Dog walking 'is good exercise'
"Dogs help us reach exercise targets," reported the Daily Mirror. It said that man's best friend is not only a faithful companion but can also make us healthier. According to new research, owners are 34% more likely to hit exercise targets as they walk their pets regularly
National Health Service – Read this article here 
Score Your Way To Good Health - With Our Healthy Lifestyle Plan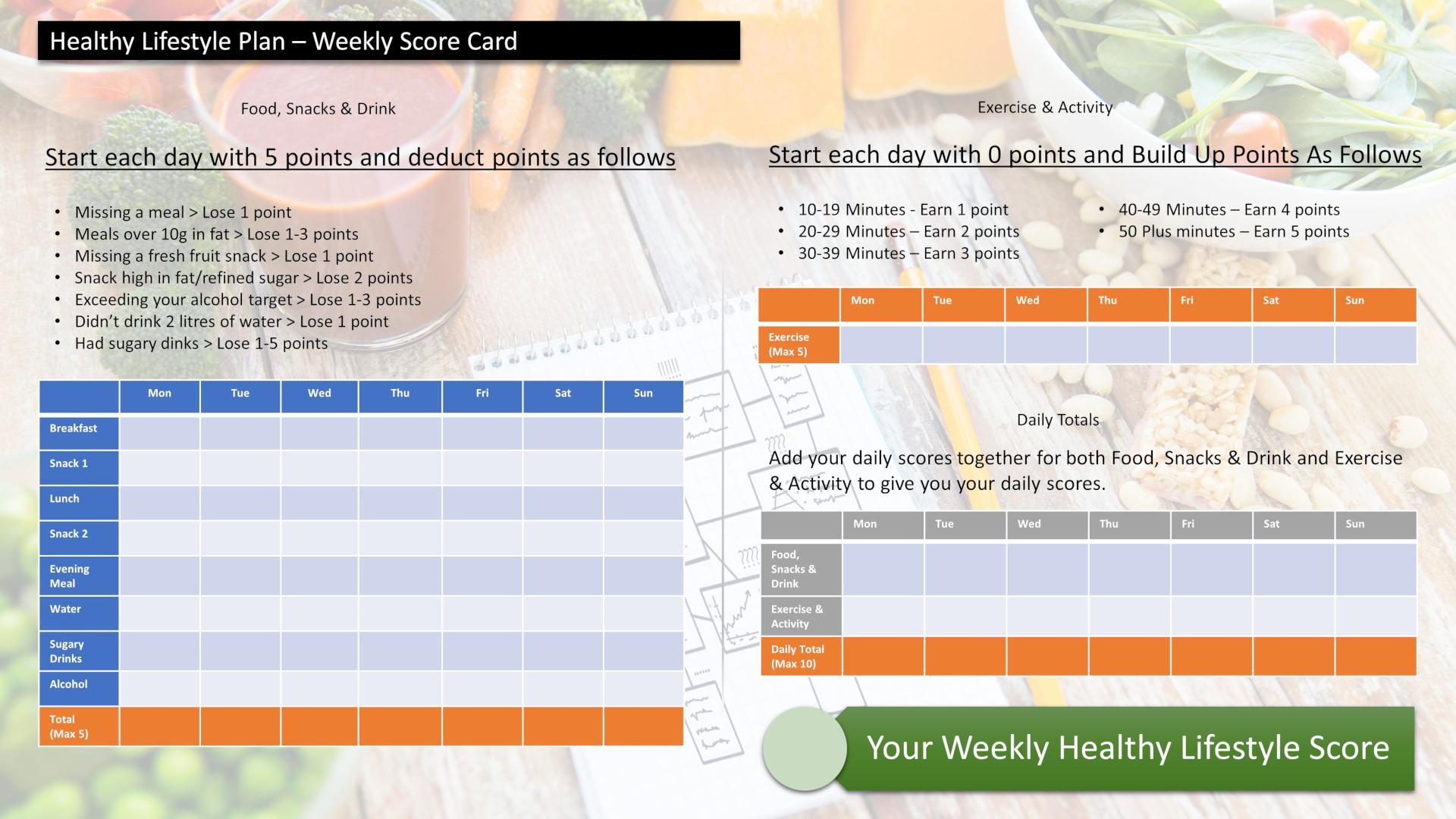 Score your way to good health with our healthy lifestyle plan and it's unique 70 point weekly scorecard!