Today for me was a day of reflection. It would have been my sister's birthday.
My Sister was born 17th December 1953 and passed away on the 9th September 2001. I am sure her death brought her peace after travelling a difficult life path.
A poem that I feel reveals my emotions, by an unknown author says:
If tears could build a stairway
and thoughts a memory lane
I'd walk right up to heaven
and bring you home again
No Farewell words were spoken
No time to say good-bye
You were gone before I knew it
And only God knows why.
My heart's still active in sadness
And secret tears still flow
What it meant to lose you
No one can ever know.
But now I know you want us
To mourn for you no more
To remember all the happy times
Life still has much in store.
Since you'll never be forgotten
I pledge to you today
A hallowed place within my heart
Is where you'll always stay.
My Sister's life and premature death shaped my destiny, and created my determination to become a coach, author, and speaker, so to enable me to make the difference to other people's lives.
'Our siblings push buttons that cast us in roles we felt sure we had let go of long ago – the baby, the peacekeeper, the caretaker, the avoider…. It doesn't seem to matter how much time has elapsed or how far we've traveled'. Jane Mersky Leder
I will always hold my sister's memory close to my heart. I no longer mourn her passing away, I celebrate her life. I will give thanks to the impact she had on me her brother, and the journey her life allowed me to take. To all those that have lost loved ones, your life must become a celebration of the life of the ones you lost. Allow their memory to drive you to make the most of your time, not let it keep you submerged. I know how difficult this may be, but having seen the devastation the alternative brings I know that this is essential in moving your life forward having lost a loved one. My sisters life meant something … and day by day I carry her with me through everything I do.
My sisters life was ultimately destroyed by an event in her teens. Back then a drug named Valium was hailed the new wonder pill. Today, over a million Britons are addicted to tranquillisers and millions more world wide. To the day she died, my Sister was addicted to Valium.
So now I apologise to you for me standing on my soap box. Have we learnt from the lessons of the past. It is claimed that a staggering 1.6million in the UK cannot live without tranquillisers, such as Xanax and Valium, or prescription painkillers including co-codamol and co-dydramol. Worse still addiction to over-the-counter painkillers is becoming a serious health problem. Statistics reveal that at least 30,000 people are hooked on over-the-counter painkillers such as Nurofen Plus. So I guess the answer to my question is 'No'.
This was all bought to the forefront of my mind yesterday when I started working with a new client. He is in his mid 30's. Really came across as a nice guy. What a sad story he told. From the age of 14, he had been fighting an addiction to drugs. He has spent over half his life in prison. He is now driven by the desire to make up for lost time. To build a life which he says to this point amounts to nothing. He is fighting the hardest battle imaginable to break his habit, his addiction. I pray that he can not only do this, but make a positive contribution to life. He wants to get himself healthy and strong. Then he wants to help others break away from their drug addiction and rebuild their lives.
I'm going to end this, by offering some advice to anyone out their reading this who themselves has began the same battle to beat drug addiction. Here are some tips for those who are trying to get clean and stop using drugs.
1. Start with speaking to your doctor for advice to help you make a plan.
2. Set a quit date – get yourself mentally prepared.
3. You have to have made the decision that you do really want to stop using drugs, sever any other possibility. Unless you have the desire to change you will never be able to.
4. Seek help and create a support network — get input, advice, encouragement and support from others. Ask family, friends and co-workers for encouragement and backup. Get involved in a support group. As you learn to live life without drugs, that support group will get you through the urges and cravings that surface with the stress of everyday life. They can also pick a person up when they are down.
5. Identify your triggers, which are people, places, things, events, activities, emotions, times, dates etc., that make you think of using; therefore placing you at a higher risk of using. After you identify your triggers, avoid them. You have to remove all influences. This may include breaking relationships with people who use drugs. Learn to walk away from those that insist on using or talking about using in front of you.
6. Identify your relapse warning signs. Changes in your normal activities, like sleeping patterns, personal hygiene, energy levels, emotional states, irritability, stress levels. These can be signs that you may be heading toward a relapse. If any of these warning signs occur, be sure to seek immediate support from a friend, loved one, or your support group.
7. Write down a list of things you enjoyed doing before you started using drugs or things you've been interested in doing that you haven't done yet. Drugs have been a big part of your life and it will be easier for you if you plan ahead to fill the void that their absence will create.
8. Be patient with yourself. It usually takes at least three months before significant improvement occurs, so don't give up if you don't get instant results.
9. Never dwell on the possibility of relapse and the negative aspects of your addiction. Thinking positive thoughts about the present and future can help you get over the past, and realize that your past merely contributes to who you are today – it doesn't define who you are.
10. Do not isolate yourself from the outside world. Surround yourself with friends in a positive environment. Get out, go the movies, go to social gatherings, go to the gym.
11. Many people find that exercise is a good substitute activity to help fight temptation. Exercise promotes blood circulation, it will also help you quit drugs without you knowing it, since your body is flushing out the harmful toxins through sweat. You will also regain the flexibility and the mobility you may have lost, with each session of intensive workouts.
12. Nutrition is essential. It is important for you to observe a healthy diet during your efforts to quit drugs. A diet that consists of the right balance of protein, vitamins, fiber, and complex carbohydrates, with a limited amount of fat and cholesterol. These will make up for the nutrient loss which your body has suffered and help keep your blood sugar level stable, which in turn helps keep your mood on an even keel.
These steps are not definitive by any means, but a guideline for what you can do to break your drug addiction. Please don't let your life be taken to early like my Sister. Let her life and death drive you to success. Recovery is a life-long road. Relapse is always a threat, but with ample vigilance, strength, and hope, you have every chance of turning your life around.
Score Your Way To Good Health - With Our Healthy Lifestyle Plan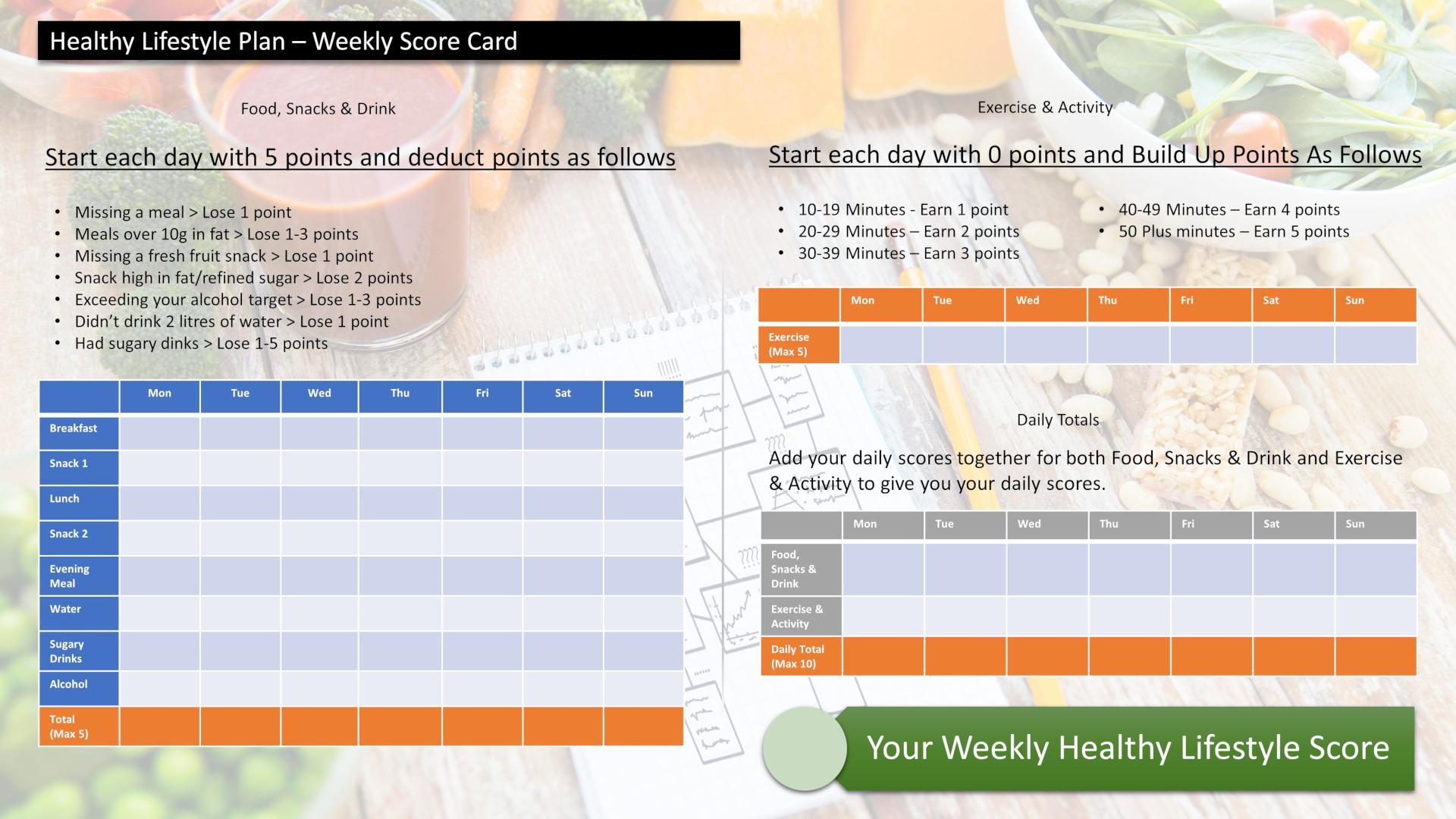 Score your way to good health with our healthy lifestyle plan and it's unique 70 point weekly scorecard!