Life sometimes can be so tough. In one minute everything is absolutely great, but in the next everything just feels so wrong. Maybe you just opened a debt letter or maybe read something very sad. One day you feel just like jumping for joy and the next you feel like crying all day long.
As a blogger at times you feel a calling. You read something that you know you just have to respond to. Today is one of those days. A friend, another blogger, was weighed down by something in her life. I could totally understand where she was. As a life coach there are times when what I hear can be so stressing, so sad. Of course I have to stay strong, be supportive, but inside of me, I'm saying 'Oh, my god that's just so awful'. When you have to take in so much, at some point, you just feel the emotional strain. If we keep those feelings inside of us, we can just full apart.
Sometimes when we get to this point we just don't have the time to work on ourselves, to clear these thoughts. We need something quick, like a pick-me-up.
"I know it seems hard sometimes but remember one thing. Through every dark night, there's a bright day after that. So no matter how hard it get, stick your chest out, keep ya head up…. and handle it." Tupac Shakur
I'm not about to give you some magic powder that can take all the pain away. In truth I find often the most simplest things are all you need. For me when I want to clear my head, I lace up my trainers and go for a run. I'm absolutely certain that a brisk wall would do exactly the same. I put my head phones to my ears, connect my phone and play my music loudly. I know that within 15 minutes, happier thoughts will start going through my brain.
Listening to the music isn't enough. You have to get your body moving. getting active can ease your blues. Many studies show that your emotional well-being can be enhanced by exercise. When you are mentally down, physical activity will put your mind and emotions on the road to better days as well as any single drug
So don't let yourself stay down in the dumps. Get active, get moving, turn up the volume on your music player, and give yourself 15 minutes of fast moving, chill out time, but get your heart beating and your blood moving.
At times when we're feeling down, and things simply aren't going our way, motivation can be hard to find. And that's where the music come in. Music can help you cope mentally as well as to get you psyched up physically.
Here are a few pick-me-up songs.
1. Boni Jovi – Its My Life
2. Argent – Hold Your Head Up

3. Aerosmith – Back in the Saddle
4. Savage Garden – Affirmation
5. Katrina And The Waves Walking On Sunshine
6. Gloria Gaynor – I Will Survive
7. Mariah Carey – Hero

Music is something that we all have very personal taste. The right music can pick you up, motivate you and refresh you. Help me, help others. Either make a comment and link to your motivational music choice, or add something to your blog, and I'll link to it.
Score Your Way To Good Health - With Our Healthy Lifestyle Plan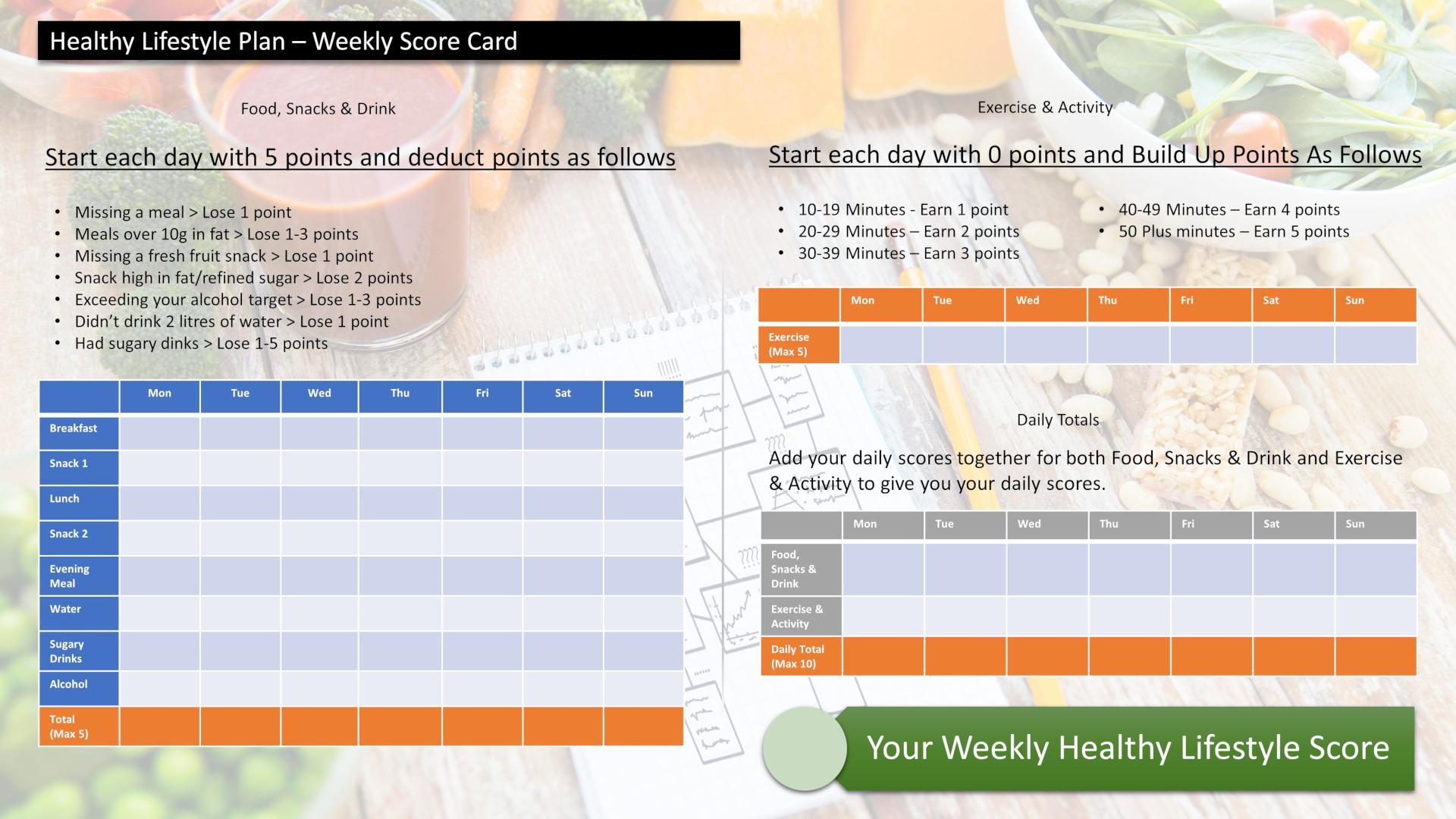 Score your way to good health with our healthy lifestyle plan and it's unique 70 point weekly scorecard!