What a great time of life! I am fifty years old. I have my health, I feel good and I am in love with my life. And I have no doubt the best time is yet to come.
This year, 2012 was always going to be a memorable year for me. After all this is the year that I turned 50.
"We don't stop playing because we grow old; we grow old because we stop playing" – George Bernard Shaw
I feel like I must have taken a magical elixir that has enabled me to keep my youth. Well at least keep me younger than my age indicates. There's no getting old gracefully for me. Because while age is just a number, and I am like I am right now, I'm not getting old in the slightest, maybe just a little wiser.
It was Douglas MacArthur who said I promise to keep on living as though I expected to live forever. Nobody grows old by merely living a number of years. People grow old only by deserting their ideals. Years may wrinkle the skin, but to give up interest wrinkles the soul.
If I looked back with focus over my life I'm sure I'd be amazed by all of the things I've done and been through. I have worked extremely hard my whole life, and have had some wonderful moments, and a few bad ones. I have been resilient, and never given up. I have enjoyed my victories, and always recovered from my defeats.
I have always strived to be more, do better, never settle. And that drive to be better has served me well. But I know how important it is to enjoy every moment, and take nothing for granted. So many wonderful, beautiful things have happened in my life and I know that there are more to look forward to. But I'll never take them for granted.
That's why I was so excited at the start of 2012. I had a great deal to look forward to.
In March it was my Mum and Dad's 60th Wedding Anniversary
In April my daughter, Laura-Jayne's 21st Birthday
In June there was my 50th birthday
In November my daughter Carly will be 18.
These are all exciting events in their own rights. All part of this exciting adventure I am living, but where this reminds me that every moment counts. I will always take the time to enjoy these wonderful opportunities. When you discover how to be present in every day moments, as if each and everything you do matters, then you begin to experience the simplicity and awesome nature of life.
There's enough there to celebrate for any person. I'm not greedy. I set out to enjoy each event, with each of these very special people in my life.
Can't get much better than this.
Or can it.
Well, it can.  I'm going to join all those nice elderly people who are known as Grandparents.
My eldest daughter Laura-Jayne is going to be a mother.  She and her boyfriend Colin have discovered this week that they're  going to have a bouncing baby girl, with a name yet to be determined.
The baby isn't due until November, which happens to be the same month as Carly's 18th birthday, so we're going to have a wonderful month to celebrate.
Funny isn't it, this year with both my children celebrating landmark birthdays, I have reminisced thinking of my years of joy with them growing up. I can still see them both in my arms, lying in their cots, or running around our old house.
Well not only have I had to get used to them becoming adults themselves, I now have to get ready seeing my very own baby cradling her very own first born in her arms. And I do know she will make a wonderful mother.
This has been a crazy week. We all found out only 7 days ago she was pregnant. Today we went to the hospital for her scan. Ah bless, she's 22 weeks and 2 days into her pregnancy. I think we'll all have gotten over the shock by then.
So I have something very special to look forward to.  The month of November will be a memorable one for all the right reasons.
I just know I'll be falling in love all over again.
So Colin and Laura Jayne congratulations to you both. And I know you will both be wonderful parents, and what I saw between you, you'll also be fantastic together in every way. But Carly I promise your 18th will not be forgotten, you just will have an extra guest, I hope you don't mind Auntie.
And anyway, I surely can't be old enough to be a Grand Father!
Score Your Way To Good Health - With Our Healthy Lifestyle Plan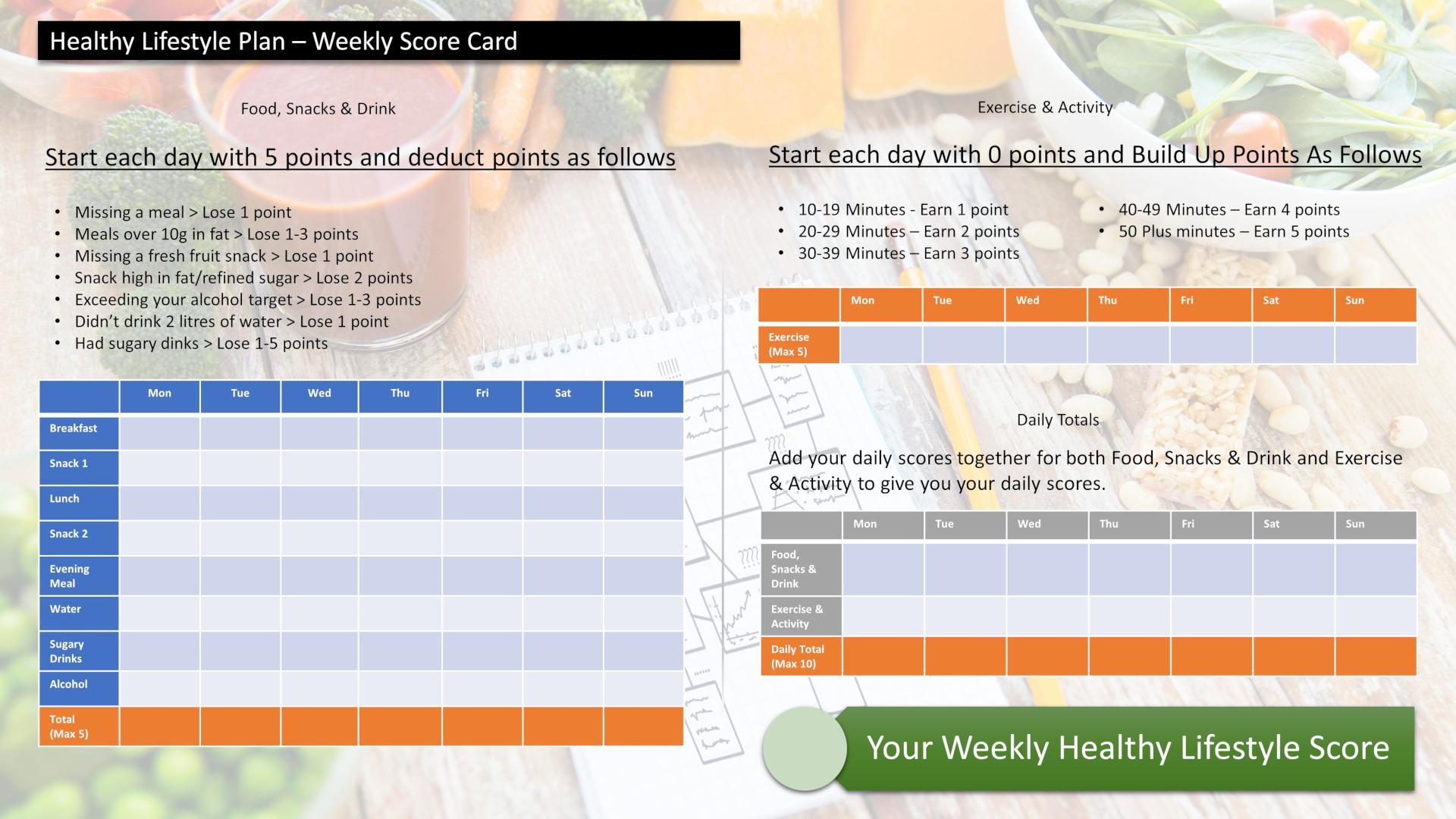 Score your way to good health with our healthy lifestyle plan and it's unique 70 point weekly scorecard!