Things that happen to us in life don't just happen down to chance. Everything we do in life is a choice. We either choose to do something or we choose not to. Sometimes we actually choose to do nothing.
Most people would like to change something about their life. How about you? What is it you'd most like to change? What is actually stopping you?
I hear people talking about how unlucky they are. How they always get so close to being successful, but then something or someone then always lets them down. They talk a good story, you actually feel sorry for them, try and help them in every way you can, and then they just go back and do the same old things they've always done. Why then are they never surprised that the outcomes are always the same?
Anytime you want to, you can change your life, but just wanting to change is not enough. You must make a choice to change. We have all created our present situation by the choices we made in the past. If we don't like our life the way it is, then we are the ones responsible for making the changes.
Something I love about life, and about the choices we get to make, is how we can reinvent ourselves.
"A career is a portfolio of projects that teach you new skills, gain you new expertise, develop new capabilities and constantly reinvent you as a brand." Tom Peters
The definition of reinvent is: to replace with an entirely new version, to make over completely, to recast something familiar or old into a different form.
Today's world is about constant change driven by the power of new ideas.
Well last night my blog began its next phase of reinvention. It's been in maintenance mode for 48 hours. Curtains drawn, and lights out. Closed off to the outside world. What a horrible feeling for a blogger. After all it is our stage, we love to write for others to read and feed us back through comments. With it locked down and hidden away I felt really strange, but tinged with excitement.
This has been something that has been worked on for over a month now. By the time it has finished we truly will have created something very different. It has taken a lot of focus, time, hard work and determination. But we know things cannot standstill, you have to move forward. The time was right for us to do this. The contribution we will be able to make as personal development bloggers is fantastic, and over time we will build a complete resource for those looking to build a healthy lifestyle. This really is the start, to the last piece of fulfilling my dream.
Anyway we're back and looking rather good, don't you think? Certainly well on the way to being bigger, bolder, and better than before! I guess it's pretty obvious to say the design of my blog has drastically changed, a new template in fact, but that's not all.
We are feeling well-pleased and a bit satisfied at the moment. There are lots of changes and lots of new additions and we've done what we consider some very smart and appropriate streamlining too. It's a whole new look and offers so much more. Well, we think so. But it's not completed yet, far from it.
I loved my blog as it was, but I wanted to be able to give so much more. I'm very fortunate with the amount of support, visits and great comments that I have received to this point in my blogging career. A lot of wonderful people have been reading my articles and spreading the word. We've now got a thousand daily readers. As I wrote yesterday over at Larry-Lewis.com I want to make even more of a difference to the world, and the changes here are designed to achieve exactly that.
I also want to thank someone who doesn't have a visible contribution to this blog, but whom this blog owes a lot: Neil Haywood. Without Neil I wouldn't have been able to achieve half of what I have done. His very much in the background, but what he does is indispensable. Neil has been a big supporter of this site, providing lots of input and advice. Without him, the changes you can see here would not have been possible.
The regular readers of this blog know this site isn't only my personal blog but also my stage for talking about my passions. It has given me a way to share my knowledge and information directly with many people across the world.
Today, I want to talk about where we're going with Healthy Lifestyles Living.
I started this site back in April of 2010. It has exceeded all of my expectations and passed all of the milestones more quickly than I could have imagined.
As I'm sure you've noticed, I love blogging. I love being able to spread ideas, make a difference, and connect with amazing people. While the most important thing on a blog is the content it's not enough, there needs to be more. So, I started thinking about alternatives.
Now it's time to take the next major step. If there is one thing that I cannot be accused of, it is lack of ambition. Big things are expected from this site. I can't tell you how excited I am.
My blog is entering a new phase, it's evolving, it's going to be bigger and better, making even more of a contribution to the people that read it. Today it has reinvented itself!
It is already filled to the brim with info and articles on everything regarding healthy lifestyle living and personal development, creating a better life for YOU! But now there's so much more, and even more to come.
So let me tell you about some of the new things you're going to find:
Home Page – A completely new layout featuring lots of articles. I love this because articles is what a blog should be all about. The way this template breaks things down into category headings I think is awesome. Two new features coming in the next 48 hours will be a motivational or educational weekly video section, and a daily inspirational quote section.
New contributors – We will be introducing a few regular featured authors who will be joining the team and I'm excited to be working with these guys and I know you'll enjoy their work too. To have a complete resource I feel that there are subjects matters within my niche that need featuring that others would be better than me at writing about. I've got some great people already lined up for you, and a couple more in my mind.
New Forum – To continue the dialog and expand upon information within the blog for questions and answers I've decided to go with a forum section. I'm hoping it can become a place where people can come together to help each other in a positive and supportive environment. (this will go live next week)
Support Group – This is what really excites me. I'm bringing my coaching and speaking skills to an online community and providing both totally for FREE. This is something I've wanted to do for a long time, and will be developing this area over the next few weeks, but it's up and ready right now. The type of topics that we will cover will include Personal development and self improvement, physical fitness and personal health, stress management, positive mindset, nutrition and diet, with so much more.
Wellbeings Store – A big challenge was to bring our already successful online shop over to the blog. Well we've done it. We offer you Wellness and Healthy Living products for body, mind & soul to promote greater health & well-being. This will go live next week and it's totally powered by WordPress.
Inner Circle Membership Area – Our Member's Vault is a private membership program designed to give it's members the skills to achieve their life dreams. Packed with tools, daily motivation, and a constant stream of up-to-date strategies and a coach to support them on their journey every step of the way. This is another exciting thing for me, bringing something that to now is usually only available at a very high price, and delivering it in an exceptional way at a budget price.
This blog will keep growing, and its value as a resource for healthy lifestyles and personal development will expand, because our mission is to continue to make the difference.
I would love to know what you all think so if you haven't already had chance to leave a comment on our blog page, feel free to tell us on here! Please look around, there's a lot to see, be honest with me.

Score Your Way To Good Health - With Our Healthy Lifestyle Plan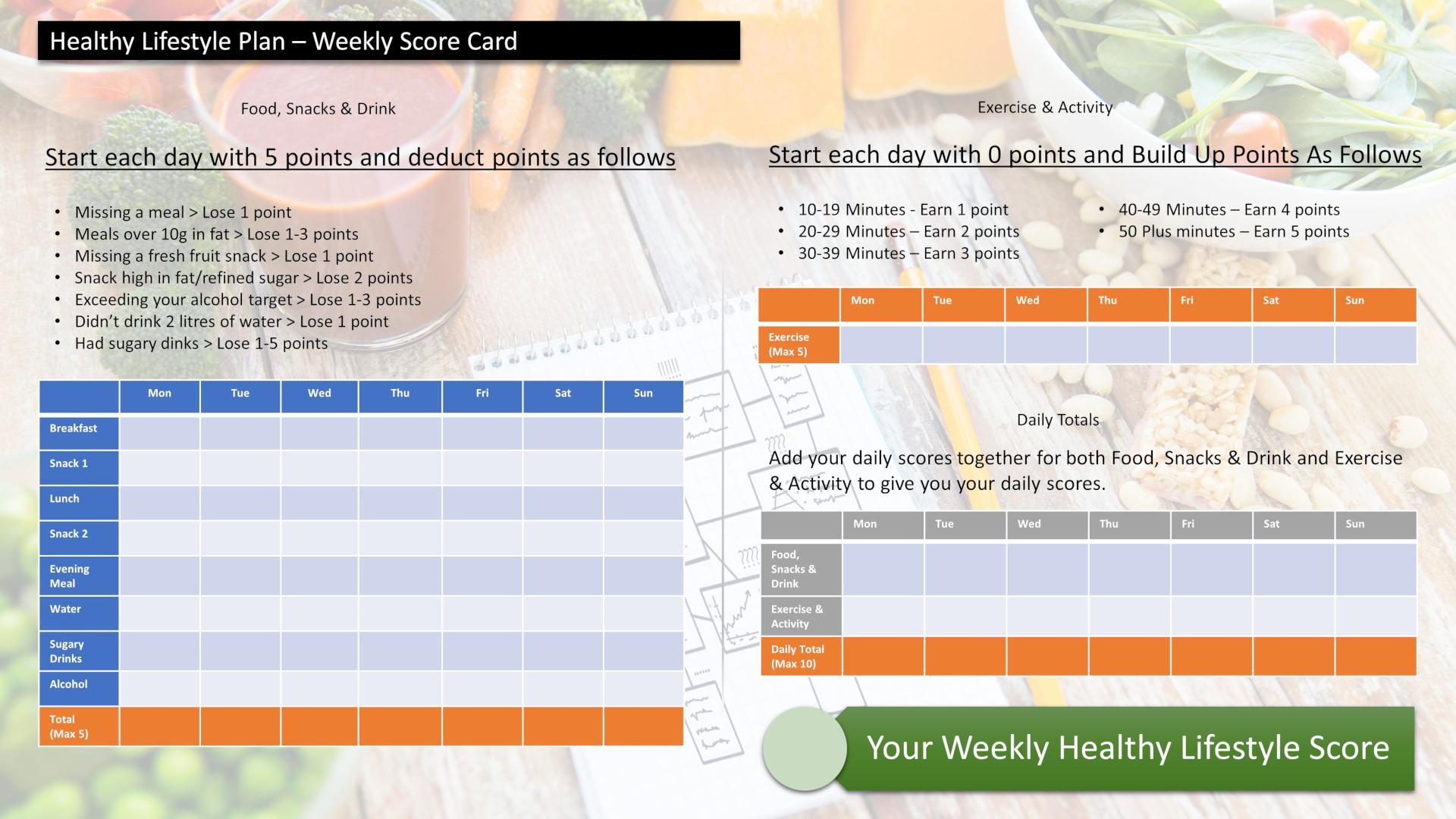 Score your way to good health with our healthy lifestyle plan and it's unique 70 point weekly scorecard!