My youngest daughter turned 18 yesterday.
Normally, this is when your loved ones update their Facebook status with an over the top, message and embarrassing photo. I thought it best I didn't do this. There's nothing worse than feeling the wrath of your beloved child when you commit a cardinal sin in Facebook. After all it takes them so long to overcome the embarrassment and forgive you. I dare not lose her permission to be a Facebook friend. I will hang on to that for dear life. And after all I have no need. I have this blog which gets rather a few visitors where I can state my true love and thankfulness for the blessings I've been given by this daughter of mine.
I do feel the luckiest man alive today having spent a lovely day with both my daughters and my granddaughter. But this blog post is all about one of them.
Today I devote my entire blog post to my youngest daughter, Carly Rebecca Simone Lewis on her 18th birthday.
I will not use this post to recount my memories of her growing up. Telling all those stories that have filled my mind of her over the last wonderful 18 years. And they have been wonderful. She has been an incredible child, as well as teenager. She has always been so appreciative of everything done for her, never taking anything for granted.
I could go completely soft, bring on my own tears, and go down the route where I go on about what yesterday really meant to me. I can't believe that my daughter has turned 18. My daughter's birth was so nearly a fatal one, which has just meant that every minute of her life has been even more special to me, and I thank God for blessing me with such a wonderful, healthy daughter. When I woke up yesterday morning I couldn't help remembering her birth, I admit not for the first time. It was like watching a clip from casualty a TV show. In seconds doctors, nurses and midwives were charging through the door into our delivery room and all of them were massing around this little bundle that had just been delivered to Denise and I. As quickly as they came, they seemed to disappear. It had been touch and go for a while, but our baby was fine in the end.
Believe me when you go through that, every day from then on is special, but it has been made so much easier by this little girl, sorry, I mean young woman that she's grown into.
And it really has gotten me thinking about really, how fast time flies. How did she get to be 18 already? The passing of time just seems to have flown by. It feels like only yesterday when she was placed in my outstretched arms and I heard the words "she's ok now, there's nothing to worry about."
They obviously didn't know about her forthcoming addiction to Barney. Barney the purple Dinosaur …. Oooops. I promised not to embarrass her, so I won't continue with that.
I'm smiling here with concern about what I want to say. This isn't normal for me, because as a blogger I say what I want and dam the consequences. My eldest Laura Jayne, well right now there is a fantastic mum, who has her own beautiful daughter, whose found herself with a really brilliant, caring partner who can't do enough to help, he really is a star, and she has proven herself to be such a hard working girl, fantastic at what she does and incredibly intelligent and made me proud the day she went to Northumbria University to study Forensic Science and Criminology. But she's definitely an all rounder, willing to give most things a go. So we've been through those things that most parents have. You know after effects of a bit to much to drink, finding out about secretly smoking, casualty hospital visits after being attacked in nightclubs (of no fault of her own I may add). You expect these things, what teenagers don't go through those incidents, and when you see what she's developed into you think, so what, because I couldn't be prouder of her.
With Carly, I've promised I won't embarrass her, and I mean that. But unless she's the cleverest, slyest teenager of all time, I don't know anything that I could actually say that she's done wrong. Well if you exclude stealing her sister's advent calendar chocolate over the last 10 years or so. I don't want to say she's a goody to shoes, because I know that's not cool, but she has always been just a lovely young lady, and has always done right.
I am so proud of my beautiful, intelligent, loving daughter. She, like her sister, has had a tough couple of years having to deal with the separation of her mum and me, and her being taken to London to live away from me and my family and her sister Laura-Jayne and all her friends, but she has done amazingly well. She now seems to be very happy and has wonderful friends and she balances her social life with her College work and I just couldn't be any prouder of her.
There have been times when I expect her to walk in the door, only to realize that it is not going to happen. I so love Thursdays when I know I'm going to get to talk to her for an hour, definitely one of my favourite moments of the week.
She is beautiful on the inside as well as on the outside, and I know she will be very successful in life as she has the mindset, attitude and kindness to make her mark on the world whatever she decides she wants her life to stand for.
I know her dream is to be an actress, and her heart is also set on becoming a midwife and bringing more wonderful children in to the world safely. After all if it hadn't been for a team of midwifes and others in a support team she wouldn't be here to have celebrated this her eighteenth birthday. So I see that career path being what's so right for her.
I had great fun planning a special day for her, made even better by her sister texting me at 6 in the morning saying could I come and get her and my granddaughter so as to give Carly a surprise when she woke up. What a fantastic way for her to start her birthday morning seeing her 3 ½ week old niece that she loves so much.
I have to add thank you so much to Rachel for helping me throughout because without her I'd have ended up in burger king and probably on the wrong day, with no card, and definitely no presents wrapped.
We had a great day. How could it not have been. Much of it we spend eating. We started it off at Toby Carvery for breakfast and ended it at Simply Greek for Dinner. All the way through we were accompanied by Amelia Mae so we all felt the magic with us.
Of course Denise was badly missed by Carly, after all this was the first time in 18 years her mum had been unable to be there on her birthday. I know Denise was incredibly upset too, but I'm sure she knows Carly carried her in her heart every second of the day, and your three girls missed you loads, and you would have been very proud of them. We may not have made a marriage last for ever, but we sure can tell the world we created two wonderful, beautiful girls, and now the next generation has begun and what an incredible start has been made there.
Carly, the birthday girl, I know that you are going to grow up to be a fantastic person. I wish for you everything that you desire. I wish great love for you, that lasts forever. I wish that your dreams, whatever they may be, come true. I wish for you to discover the beauty of the world, and that you make your mark which I know you will. You have on my heart, and you do day after day.
To conclude your birthday and our conversation last night, here are the things that you are now allowed to do as you're 18 years old
Vote in local and general elections
Stand for election as an MP, local councillor or mayor
Serve on a jury
Be tried in a magistrate's court, and go to prison if found guilty of a criminal offence (so continue to be a good girl)
Make a will
Get married without parental permission (I wouldn't recommend this, AT ALL)
Consent to your body being used in a medical study
Carry an organ donor card
Buy cigarettes, rolling tobacco and cigarette papers (WHICH YOU WON'T BE)
Buy alcoholic drinks in a pub or a bar (enjoy in a sensible way)
Buy fireworks
View, rent or buy an 18-rated film
Place a bet in a betting shop or casino (ask Colin's advice)
Get a tattoo (ask LJ's advice)
Open a bank account
That will do, I'm sure there are more things but I'll leave you to Google the rest.
I just want to thank Carly for giving me her father 18 years of wonderful memories and to tell her how proud I am that she is my daughter.
Happy Birthday Carly! I LOVE YOU!
Score Your Way To Good Health - With Our Healthy Lifestyle Plan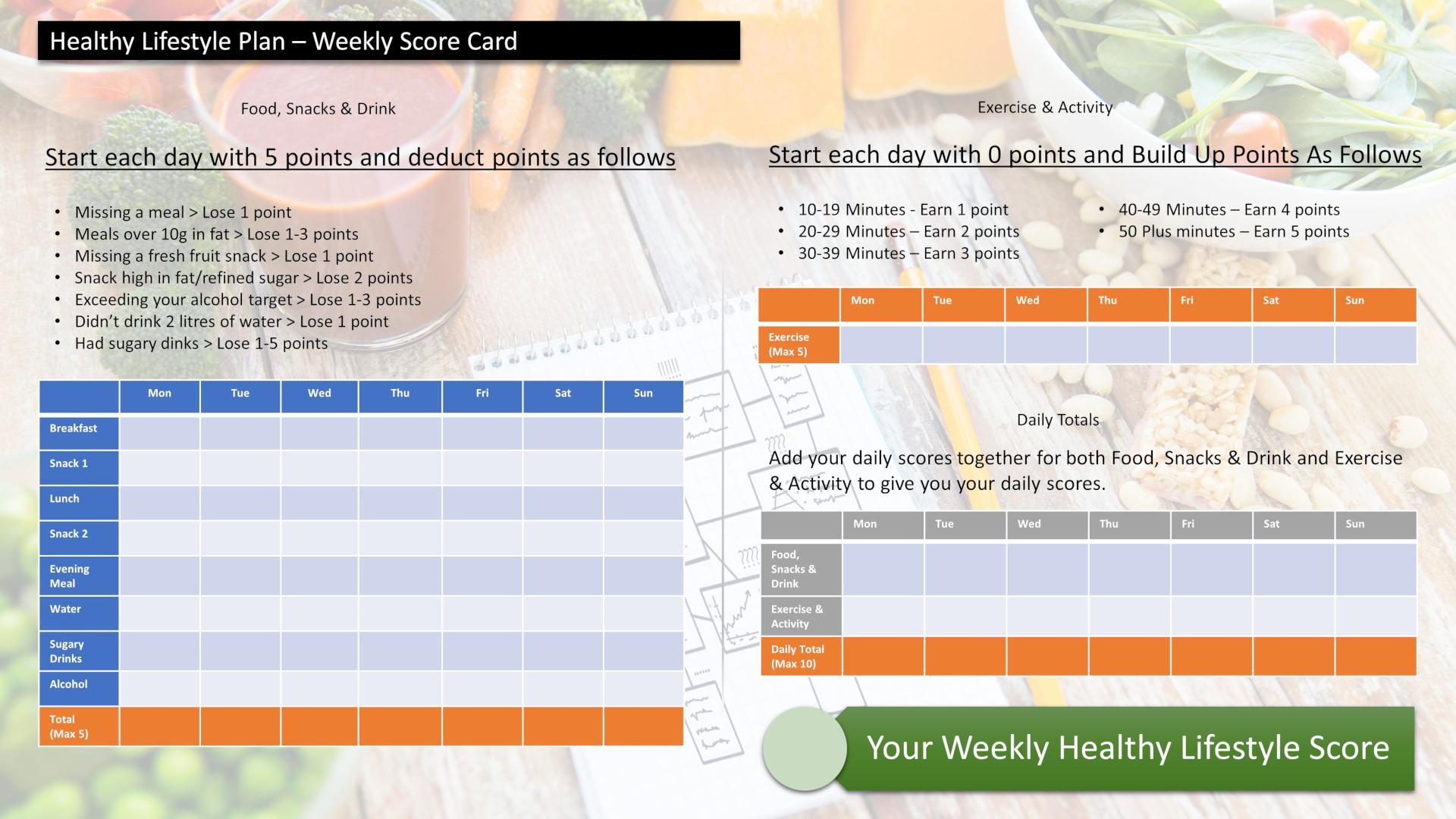 Score your way to good health with our healthy lifestyle plan and it's unique 70 point weekly scorecard!