I make no apologies to turning my thoughts to Carly, my daughter. On Monday she reaches her 16th year. Turning sixteen is an event long to be remembered. A teenager's 16th birthday is an important event in her young life. It signifies an important step in the transition from adolescence to adulthood.
Now she is 16 she is allowed to:
· Get married or register a civil partnership with consent
· Drive a moped or invalid carriage
· You can consent to sexual activity with others aged 16 and over (Don't you dare)
· Drink wine/beer with a meal if accompanied by someone over 18
· Leave school on the official school leaving date
· Get a National Insurance number
· Join a trade union
· Work full-time if you have left school
· Be paid national minimum wage for 16/17 year olds
· Join the Armed Forces with parental consent
· Change name by deed poll
· Leave home with parental consent
· In certain circumstances you must pay for prescriptions, dental treatment and eye tests
· Choose a GP
· Consent to medical treatment
· Buy premium bonds
· Pilot a glider
· Buy a lottery ticket
· Register as a blood donor, but you won't be called to give blood until you're 17
· Apply for a passport without parental consent
As a parent, it was sixteen years ago she came into my life and changed it. She fills my days with every emotion from pleasure and pride to anger and bewilderment. But most of all she fills each day with her presence, so even when I am away she is in my brain and heart. The day she came into my life, looking back now, was like watching a movie, as 17 doctors, nurses, and midwifes flooded into the room within 60 seconds of each other. Thanks to them, my baby survived and has grown into a beautiful woman.
It is so hard to watch her grow up, but I feel she is doing a great job of it. Each year I have seen her change, and that's not just her hair colour (it's red at the moment, well it was last weekend) and she is showing all the characteristics of a fine beautiful young woman. People always tell me how charming and caring she is, how wonderful she looks and how interesting she is to talk to — I am glad to hear this praise, but I can see it all for myself. She is a person with a good heart, a quality I value above all. There are many minutes, hours, days, when she is a typical teenager, a very difficult teenager to live with – but that is to be expected, and after all she is her sister's sister, and her father's daughter, I have to take some responsibility.
So Monday is a special day for her, and she is special. Not just because she is my daughter, but because she is a unique individual and one that I respect and enjoy being with, and of course love beyond belief.
Sweet Sixteen offers her the best time to stop and assess, look back to where she has come from, to see who she is before driving forward into adulthood, with all of its challenges and responsibilities. It is a time when parents can still try to protect the child in her since she is still permitted to act like a child, but she can safely assert her independence. I'll always be her parent whether she thinks of me as the world's best dad (that would have been about the age of 4), a moron, boring or wise. She will make mistakes, fail at things, hurt herself in many ways, everyone does, but the power to achieve is in every bone of her body and she will get what she wants, pushing through the fear of rejection and failure. She must be willing to take risks – the pain of failing passes quicker than the regret of not trying.
The next 5 years will probably be the most important five year period of her life. From 16 to 21, she will make loads of decisions that will affect the rest of her life. The problem is she won't know that she's about to make life changing decisions until she looks back on that moment from ten or twenty years down the road. For that reason, she must be careful and thoughtful about everything she does.
It gives me great pleasure to know that she loves acting. She dreams of being an actress. You can recite every line of her favorite movie roles by heart, and with amazing passion. In her heart, she knows she has the talent.
So now I take the liberty to give her some advice, and offer the same to all the other 16 year olds starting on the road to adult hood and all the challenges it will bring them. Whatever the challenge is, one thing is certain: If you don't go for it your, nothing will happen. Sitting on the sidelines guarantees that you won't. Don't let the fear of failure hold you back, keep you frozen on the sidelines. I know its plain scary to put yourself out there, and the more desperately you want something, the scarier it is.
I know she likes Jennifer Hudson, She made her film debut in the 2006 film Dreamgirls which won her an Academy Award for Best Supporting Actress, a Golden Globe Award, a BAFTA Award, an NAACP Image Award and a Screen Actors Guild Award. She won a Grammy Award for her debut album, Jennifer Hudson, which was released in 2008 on Arista Records and was certified gold by the RIAA for selling over 700,000 copies in the US; sales exceeded 1 million copies worldwide. Additionally it spawned the hit single "Spotlight".
Three years before Dreamgirls, Jennifer was a "failure" on American Idol. In two of the first three shows, she received the second lowest number of votes. She was finally voted off the show in seventh place. Jennifer could have decided her dream of becoming a great singer simply wasn't meant to be, because she'd tried…and failed. Instead, she kept trying. Jennifer spent the summer on the American Idol tour and a year taking whatever singing jobs she could find. Then came the casting call for Dreamgirls, and Jennifer auditioned—along with 782 others, including Fantasia Barrino, who'd beaten Jennifer for the title of "American Idol." The rest, as they say, is history. Jennifer knew that losing on American Idol didn't mean she'd reached the end of the road. She may have been disappointed and discouraged, but she wasn't about to give up on her dream. She took what she'd learned and tried again, and again. She dared to fail—over and over. And actually, most successful people do fail repeatedly, often spectacularly.
I now want to offer some tips for overcoming the fear of failure my budding actress of a daughter may meet on her road to stardom.
1. Get a New View
You auditioned for the part but didn't get the role. Don't tell yourself you failed. See it as valuable experience acquired; learn from it how to do better next time. Perhaps you need to spend a little extra time practicing your lines, or speak more loudly. The chances are you'll learn tons from this to help you next time. It's all in your point of view. Instead of failing, you took giant steps on the road to success. But when the day comes, finish school first, then put yourself forward for audition after audition.
2. Change the Voice in Your Head
Do you ever think, I'm going to mess this up! Or worse, I just know I'm going to fail!? When you're so worried about doing badly, of failing, you end up stressing yourself out, and that stress will prevent you from doing your best. Stop! Picture yourself at your brilliant best in the audition, or whatever. Now switch the voice in your head to positive statements only: I've worked hard. I'm well prepared. I'm going to do my best. I'm ready for this.
3. Bring Your Best
What would make you feel worse: Not getting the part because you just weren't right for it, or not getting the part because you didn't go to the audition? It might seem as though you'd feel worse if you'd put in the effort but didn't get the part, but actually, the opposite is true. It's impossible to feel good about yourself when you haven't even tried. You're not always going to win. If something is truly worth achieving, then keep following the rainbow until you get there no matter what. You can't control someone else's performance; you can only control your own. You can't win them all. Shake her hand, wish her luck, and say 'next time will be my turn'. If you bring your best, give it your all, you will have something to be proud of, whatever the result.
4. You Define You…Insist on It!
There will often be doubters, people eager to tell you that you can't do something. Don't let their expectations decide who you are. Always listen to your intuition—the little voice inside your head that tells you what's right for you, and let it lead you. You'll know that you have the will, the drive, and the talent to succeed. You must see your dreams coming true, keep using your great imagination, daydream the life you want.
Let the knowledge of your inner voice guide you through your difficult times. Feeling like you've failed is never fun. It will always hurt when you miss a goal or someone else walks away with the rewards you've been dreaming of. So for those moments when you feel truly beaten…when you think you just can't try again, when you're starting to doubt yourself, remember all those famous people who tried, tried, tried again until they succeeded. Do a google search on Walt Disney, Thomas Edison, Harland Sanders (Kentucky Fried Chicken).
Now get out there and prove yourself!
"Think like a queen. A queen is not afraid to fail. Failure is another steppingstone to greatness." -Oprah Winfrey
So Carly just remember:
You are sixteen today, hard to believe! Sixteen is a milestone, your life is just beginning, and my wish for you is to enjoy all the great things that life has to offer. It is now time to set your goals, so you can turn your dreams into reality. At 16 the world is yours to have. You can be, do, and have, anything you put your mind to.
On this day you turn 16, may it bring you all you wish for.
p.s. Reading The Secret by Rhonda Byrne will truly help you! (hint, hint)
Happy Birthday!
Score Your Way To Good Health - With Our Healthy Lifestyle Plan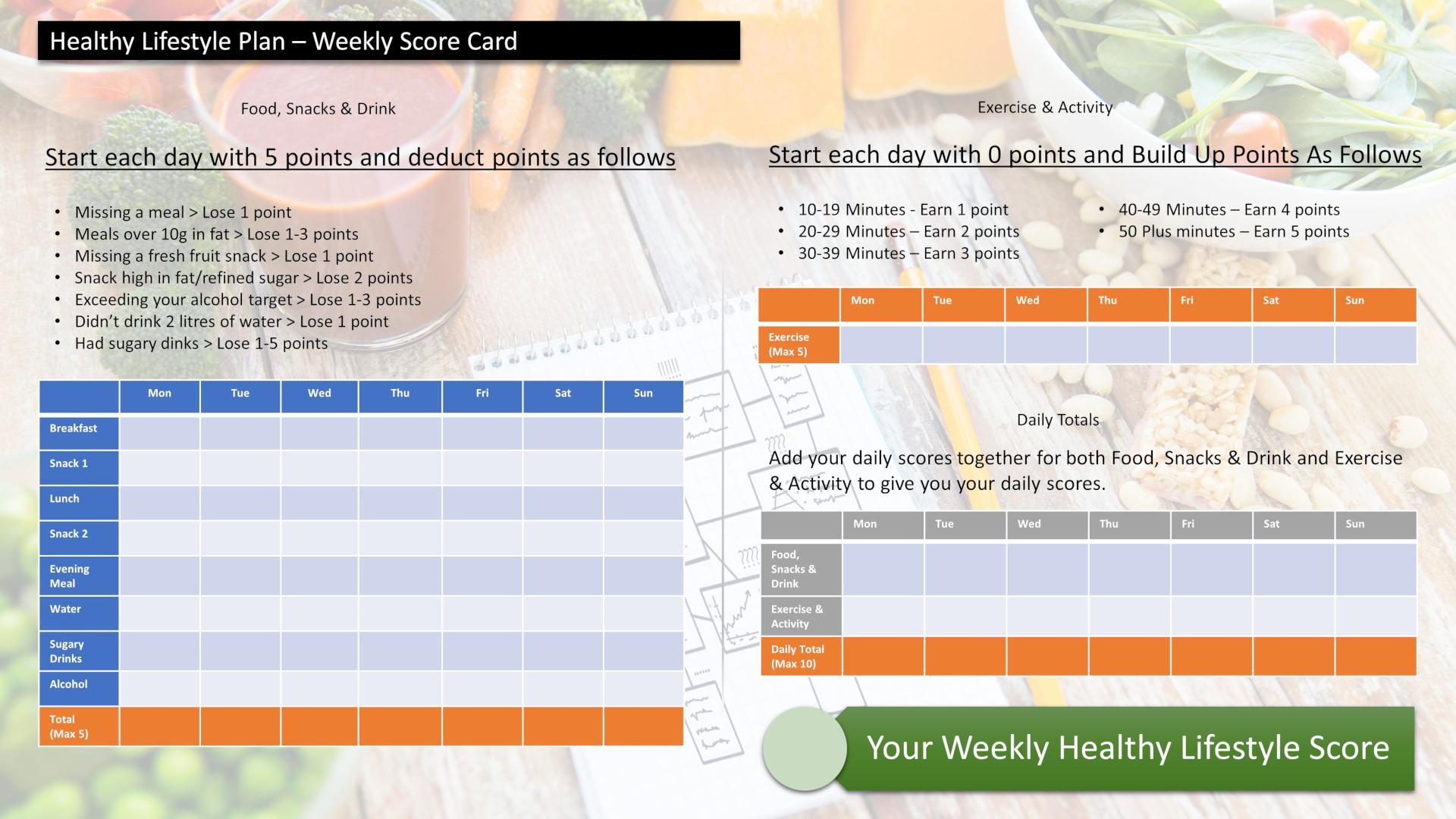 Score your way to good health with our healthy lifestyle plan and it's unique 70 point weekly scorecard!