One of the most common questions I hear from newbie's to the blogging world is "I want to start a blog, but I just don't know what to write about."
Only yesterday I was asked the question. 'what should I blog about?' by somebody that wanted to become a blogger. To me that is a really easy one to answer. To blog you just have to be able to write with passion.
So I simply responded 'find what your passion is and blog about it'.
I couldn't tell them what to blog about. Simply I don't know where their passions lie, what their strengths are or what their level of expertise is in any particular area.
Lets face it, we are more likely to succeed in something we love doing. Who wants to drag themselves out of bed each morning to do something they don't enjoy? I love my mornings and I love my early morning blogging time.
What I can tell anybody new to blogging is that it will give them an incredible stage to express themselves, where they can meet new people from all around the world, and blogging offers untold possibilities.
To help this wannabee blogger I asked them these questions:
What areas of expertise do you have?
What hobbies or hidden talents do you have?
What have you written about in the past?
What makes you come alive, filling you with passion?
What do you know a lot about?
What do you purposefully make time for not because you have to but because you want to?
Then to conclude, I'd ask them to fill out these three statements:
I really love to ……………………………………?
Time flies when I ………………………………..?
Friends come to me for advice on……………?
Blogging can be hard work. It can easily take up to a year or two before your blog starts taking off, if it ever does. Blogging involves a lot of work, time and effort.
Everyone thinks they have to "work hard" in order to achieve their vision of success. In my opinion, the phrase " hard work ", immediately puts you in a frame of mind of immense struggle, stress, sacrifice, all work, no play. If you bring your passion to blogging you'll end up having to work because it makes you feel alive and you love what you do.
Do not fool yourself into believing you can just start writing and the money will start pouring in. If you are passionate about what you're doing and have the determination to work hard, you will keep going, and maybe, just maybe you'll earn something from it.
Passion is the true key to blogging success. Blog first and foremost because you enjoy it.
If you blog for just the purpose of making money, and choose your subject based on who you see makes the most money, if you have no passion for this area, you will fail. If you don't enjoy writing about a topic, your writing will inevitably suffer. You'll also find it more and more difficult to get yourself to sit down and churn out content. Your readers will soon see through you as a unenthusiastic writer.
Ideally, a blog should be updated daily or at least 4 or 5 times per week for you to get the greatest exposure. If you don't have a deep knowledge or passion about your subject writing this amount of content would be a nightmare for you. The fact is you wouldn't be able to keep this up for long and your blog will eventually fail. Its just easier to write about something you are excited and passionate about.
Blogging has offered the opportunity to millions of people to write about their passions and use their knowledge to create a blog. So can you. So take your expertise, knowledge and passions on a subject you love and share it with other people through a blog. Share your feelings, passions, and visions with your readers.
I started my blog a little over 18 months ago and have been loving it ever since. There are so many people out there looking for information and guidance on personal development. I wanted to be one of those people that could help them, hence I set up my blog. If there is anything you feel passionate about, then get blogging.
I try to provide my readers with the best strategies for creating positive change in their life. I have turned this passion into profit, so I know you can do it to. So follow your passions.
If you are on the verge of trying blogging, I would encourage you to take the step. You'll never know unless you try.
Whatever you decide to blog about, don't do it for the money. Do it because you love it. And the money will come to you. Believe it!
Are you doing what you're passionate about?
Score Your Way To Good Health - With Our Healthy Lifestyle Plan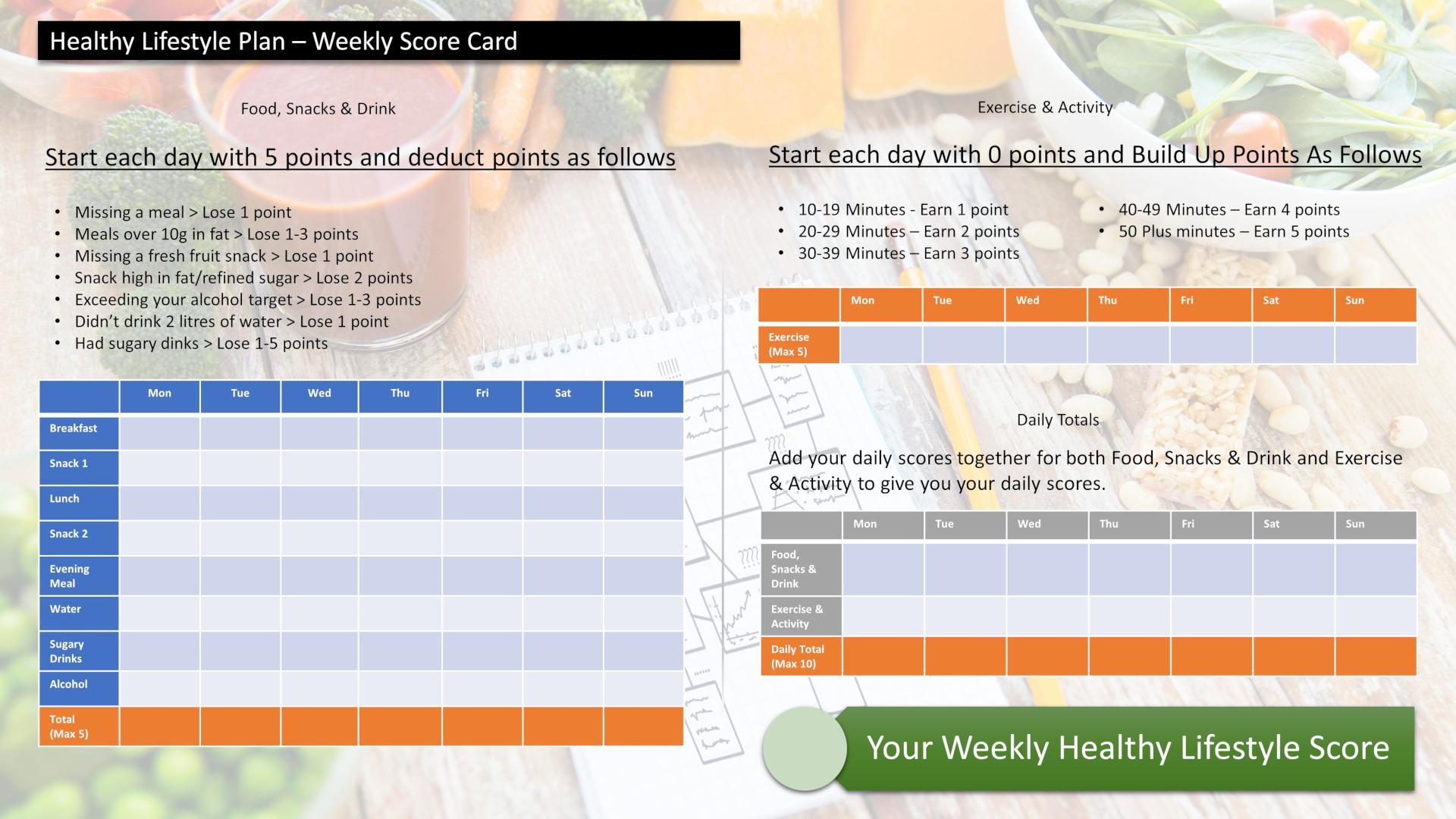 Score your way to good health with our healthy lifestyle plan and it's unique 70 point weekly scorecard!