Are you passionate about health? Do you love to be of service? Do you like being a part of something bigger than yourself? Do you thrive in community? If so, this post is for you. We are today talking to all Healthy Lifestyle Bloggers!
Imagine doing what you want…
When you want…
Wherever you want it…
Are you sick of the daily drudgery and want to make dramatic change to your life?
Are you ready to find yourself and live a more vibrant life?
Do you want to enjoy a more fulfilling life pursuing your passions?
Whether you're …
An existing business owner desiring to reinvent and better align yourself with your passions.
A person bored in a 9 to 5 career who wants to do something they really love.
Someone about to be made redundant who has nothing to lose and everything to gain by starting their own business.
A stay at home parent/carer ready to make your dreams come true
A young adult, ready to start life and wanting to get on the right road straight away
I know that each of you can make your dreams come true while achieving wealth and independence by following your passions.
Do you want to build a business for yourself and be part of a dynamic team of lifestyle entrepreneurs? I am about to introduce you to a low overhead and significant income potential opportunity and I assure you this one time offer provides an exceptional choice for you! So I suggest you read on, or if you're listening to our podcast listen carefully.
So are you a healthy lifestyle advocate? You've found what you love doing, what you're good at, what makes a difference for others… and you're ready to make a go of it and make a living from it. A big part of you is energized and excited about this, your passion is there, but where do you start?
Yes, there's an abundance of business advice and information out there – but it can be utterly overwhelming. And most of it will actually get you nowhere.
My name is Larry Lewis. I am a life coach, physical fitness trainer, blogger and lifestyle entrepreneur. Wikipedia defines a "lifestyle entrepreneur" as an entrepreneur who places passion before profit when launching a business in order to combine personal interests and talent with the ability to earn a living.
Let me take a minute to tell you about myself. I am an entrepreneur with passion and purpose! I'm committed to motivating, coaching, and preparing others who want to launch, build and grow a passion driven business. I am a man driven by pursuing my passion and living my dream and I love helping others find their passion and succeeding in life, sharing what I know to help them get there. I am the founder of this blog Healthy Lifestyles Living and I want to share this with you.
If you are serious about turning your passion into a real business that supports your lifestyle, then we have something you want to know about.
Now I am coaching people like you on exactly what to do to live your inspirational vision with the creation of your own passion driven and profitable business…and a soul satisfying lifestyle.
Today I am announcing our Passion To Profit The Healthy Lifestyle Way Blueprint. I am looking for healthy lifestyle advocates whose dream is to turn their passion into a profitable business. We are going to help healthy lifestyle living advocates in discovering, developing, and pursuing their passions for profit. We will guide and direct you throughout the entire process from self-discovery to niche monetization.
For the last two years my whole focus has been dedicated towards creating a model that would help me to package my passion, strengths, natural talents and turn these into a business that I could ultimately make money doing what I love, while making the difference for others.
I bring a unique set of talents and experience to this venture as a life coach, an ex-marketing consultant in the leisure industry and now a successful online entrepreneur. My strength is my ability to not just coach others but to empower them to achieve their potential. My proposal is allow me to be your mentor on your entrepreneurial journey. And together through my well established, unique, website and the model it offers lets get you really moving in both making the difference for others and monetizing yourself in the process.
So can you imagine working with a mentor and coach who has turned his own passion for helping people into a thriving business. Imagine being shown the exact steps you need to take to build your own business to levels you once only dreamed of. Now, imagine you get to do all of this in the company of other extraordinary entrepreneurs that are up to big things too! As well as receiving all the tools you could ever possibly need to make this happen.
We're accepting applications for our Passion To Profit The Healthy Lifestyle Way Blueprint. So if you are you ready to powerfully align with your brilliance, passions and purpose and grow the business you know in your heart you were born to create, don't miss out on this one time only offer. My first guarantee is we will never be doing this again here at Healthy Lifestyles Living.
I love working with people who are truly ready to express themselves fully by way of setting up a business they are passionate about. I work with people just like you in small business and other independent professionals who are really good at what they do; however, have never been taught how to set up their lifestyle and business systems so that they can live their inspirational vision each day with passion, purpose and profit.
If you are ready and willing to work on your own self-development and develop your understanding of what it takes to move your life and business to the next level of success with confidence and sustainability we have a place for you.
The Passion into Profit The Healthy Lifestyle Way Blueprint is a complete business development system and toolkit, a compilation of absolutely everything I learned and now will share with 20 people to help them attract new clients, make more money and make a name for themselves in their soul inspired businesses.
So if you are ready to invest in your growth and potential with no holding back…no excuses, then get your application in today!
We will provide you with a:
1. Website here at healthylifestylesliving.com which will consist of
Blog e.g. www.yourblog.healthylifestylesliving.com
e-Commerce Shop www. yourblogstore.healthylifestylesliving.com
A members area if needed www.yourblogmembers.healthylifestylesliving.com
2. Coaching you to enable you to:
Sell Services
Sell Products
Sell Advertising
Selling Affiliate Products
3. Support – Our dedicated team will ensure you are looked after & understand how to get the most from your business
4. We will help you create an offline and online business
5. And a lot more…
So are you ready to turn a passion for Healthy Lifestyles into a profitable Business? We have, and now so can you
Are you free this Saturday morning June 2nd at 8am (EST)? If you're free you should check this webinar… all you got to do is go to www.healthylifestylesliving.com and become a member (which is free) an email will be sent to you with your username and password to get you in, then you can go to the members area and click on webinar tab and enter your name and enter webinar room to change your life for good. I know that you would be an amazing addition to our site.
Don't hang around … we are only looking for 20 healthy lifestyle advocates!
If you have any queries email me at larry@healthylifestylesliving.com. But don't hang about we only have 20 places.
p.s. We're not going to hide the costs here. We are going to give you everything for $49.95 a month. And by the way, here's our 2nd guarantee, if you're not in profit by the end of month four, we'll give you your money back.
Download Wanted Healthy Lifestyle Bloggers MP3
Score Your Way To Good Health - With Our Healthy Lifestyle Plan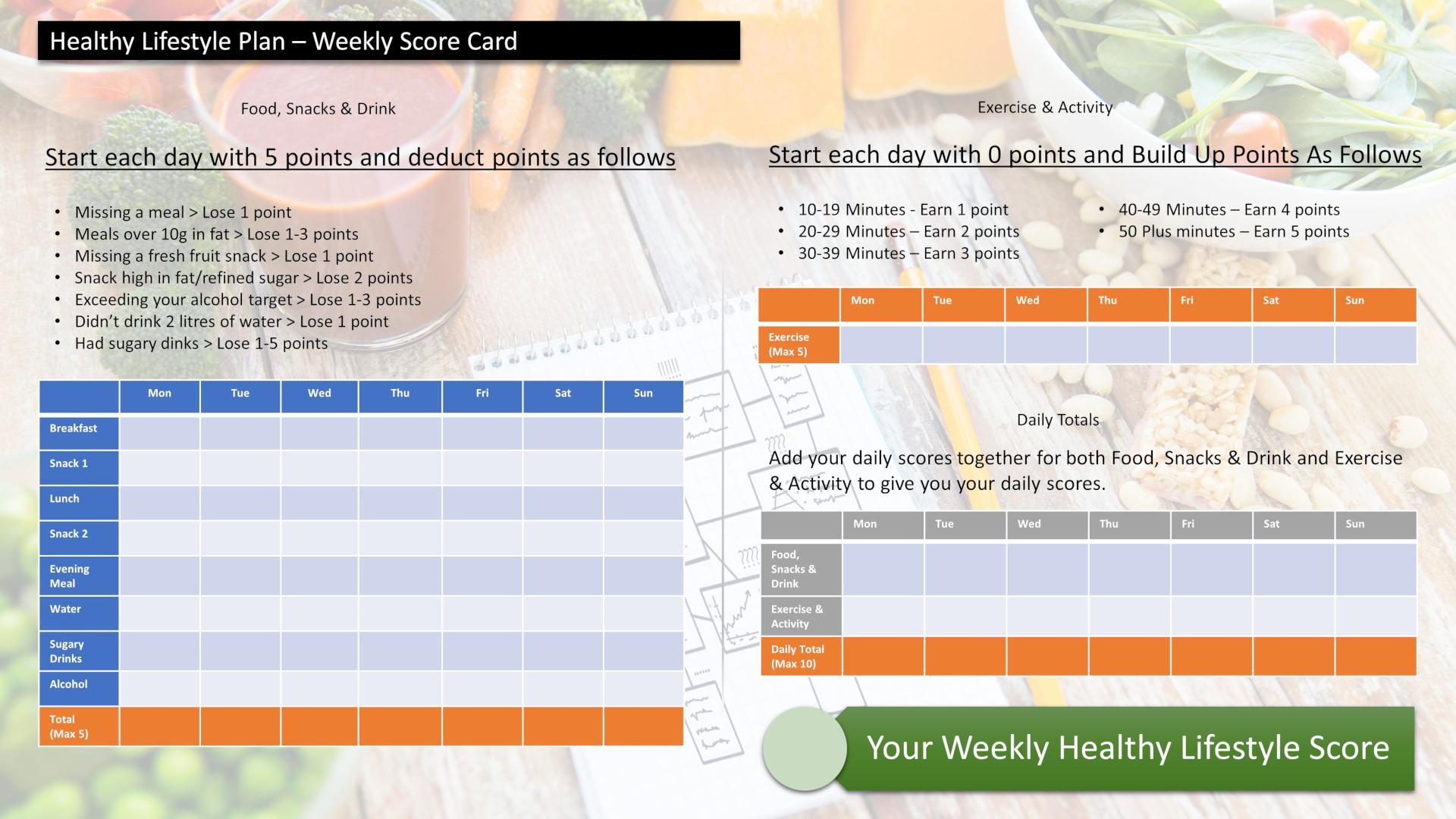 Score your way to good health with our healthy lifestyle plan and it's unique 70 point weekly scorecard!