My message to you today is to think different. If you are serious about changing your life and the level of your success, you have to come to the realisation that the way you think is what will either limit you, or allow you to grow, it so far is the main reason for your current level of success or lack of it. In order to achieve success you need to develop your success thinking. You need to open yourself up to new way of thinking.
"The significant problems we face cannot be solved by the same level of thinking that created them." Albert Einstein
When your way of thinking pushes beyond self-doubt, and starts to see the wonderful possibilities and opportunities life has to offer, you start to believe 'even you' could succeed. My passion is to make the difference and show everyone that they can improve their lives. If I can instil this change in their way of thinking, helping them to think different, I'll go a long way to achieving my goals.
You can tell when you meet someone with passion reverberating through every cell in their body. They just resonate a desire to be different. I am confident such a man has recently made a connection to me that is the personification of passion at its best. So today I write a post that is for him. I hope you're reading Patrick. Maybe this will show you your direction, and how to unite your passions.
Passion in my mind is the single most important attitude that we can possess within. It helps us to wake up excited every morning. It leads us to make the right decisions. It supports us to get more done in less time. People powered by passion earn the trust and loyalty of others, they believe in you, trust you and want to support you. This one attitude can change anyone's life for the better. It is a magic attribute in the best leaders.
That is why I spend so much time constantly talking about improving your passion. Asking questions such as on a scale of 1 to 10, exactly how excited are you right now? Do you really want to succeed?
Passion is a self-generated tool. You have the ability to motivate yourself; to concentrate on your purpose; to get yourself excited about what you do. Then to lead others to achieve unbelievable results for themselves.
You Can Never Be Too Passionate
There is nothing stronger than a leader with a firm direction and passion to get there. Let me give you the perfect example, of a man with passion and a vision.
I'm talking about a true leader. I'm talking about Steve Jobs.
Steve Jobs is is famous for having been CEO and co-founder of Apple. He was also co-founder of film animation company Pixar Animation Studios and was on Disney's board of directors.
Let me tell you the unbelievable philosophy he brought to business. In Steve Jobs mind, people who buy Apple products are not "consumers," they are people with hopes, dreams and ambitions. And Apple builds products to help people achieve these dreams. He once said, "some people think you've got to be crazy to buy a Mac, but in that craziness we see genius."
So by helping them unleash their inner genius he won over their hearts and minds, and one thing I know is Apple customers are incredibly loyal to the brand. Now although I could be quite guilty here, as I type away on my Sony Vaio Windows Laptop. I can say that being a iPhone owner, I would never change to another phone. And with my 50th birthday coming soon, I've not been allowed to go and but myself an iPad, but I want one really badly.
Steve Jobs made sure that everything – from the storefronts, products and packaging delivered an experience to Apple customers, and through this he brought passion to the purchase. Not only does Apple give great service, they make their customers know they matter.
I'll give a quick personal example. My daughters Carly's iPod broke. It was about a year old. She had no receipt, paperwork, nothing. As we were in the Apple shop in the Metro Centre, Newcastle, she said "Dad will you see if they can sort this out for me" Within 15 minutes we were leaving the shop with a brand new iPod and a very happy smiling daughter. The service we had received was like nothing I'd experienced before, it was fantastic.
Apple is not in the business of moving boxes; they are in the business of enriching lives. What an amazing philosophy, and one that transformed a failing company into the awesome business and brand they now are.
Steve Jobs was an amazing visionary, whose accomplishments were truly remarkable and I believe much of what made him the success he was came from his extraordinary passion, He created products that made a real difference to people's lives, driven by his passion to do so.
We are all striving to make a success from our life. Today, more than ever, you've got to do something radically different to make a mark. It is only by trying to achieve the impossible that you can bring out the best within yourself and your own ability. In this way, it is important to remember that impossible is nothing and you won't know what you can do unless you try. Never forget nothing is impossible.
That's how today's title came to be. Think Different. This was also the name of the advertising campaign that re-launched the Apple company.
"Here's to the crazy ones. The misfits. The rebels. The troublemakers. The round pegs in the square holes.

The ones who see things differently. They're not fond of rules. And they have no respect for the status quo. You can quote them, disagree with them, glorify or vilify them.

About the only thing you can't do is ignore them. Because they change things. They invent. They imagine. They heal. They explore. They create. They inspire. They push the human race forward.

Maybe they have to be crazy.

How else can you stare at an empty canvas and see a work of art? Or sit in silence and hear a song that's never been written? Or gaze at a red planet and see a laboratory on wheels?

While some see them as the crazy ones, we see genius. Because the people who are crazy enough to think they can change the world, are the ones who do.
Apple's advertising campaign was the key to the renewal of Apple loyalty and excitement in the world. The Think Different campaign, launched in 1997, was a central factor in Apple's recovery from financial difficulty, winning admiration for creativity as well as focused attention for its products".
If you want to see success in your life, start to THINK DIFFERENTLY!
Steve Jobs is an inspiration to all entrepreneur who have the desire to pursue their passions. He shows you the need to believe in yourself, your ideas and your team. Nobody can be successful alone – and you cannot be a great leader without great people to lead. And these great people you help to develop their own leadership skills, builds their confidence and strengthens their business. But whatever your approach, it is necessary to give other people the space to thrive,
The key to success is finding what you are passionate about and then doing it, and then enjoy your labour of love. Do what you love to do. Find your true passion. Make a difference. The only way to do great work is to love what you do.
The only limitations on your life are the limitations you place on yourself by how you think. By changing your thinking, and learning from the right people your ability to re-create your life and make it what you want it to be vastly improves.
So let's end by getting you started … it's time to change your thinking.
How many opportunities do you throw away daily because you believe they're impossible?
How many dreams do you reject because you know you'll fail?
How much longer are you willing to wait until you start seeing success?
Are you ready right now?
Then start taking action.
Remember, THINK DIFFERENTLY!
At some point the stress of life or work gets on top of us all, sometimes we know that we want more from our lives or we want to achieve greater things and greater happiness or to find ways to make our company more successful. If we only had the time and the tools to do all this. That's where my professional life coaching will help, I'll show you how to reach your full potential. I will give you the skills and self-understanding that you need to make your life or business more fulfilling, happier and more productive. I have experienced great success, I have also experienced set-backs and disappointments, and I have learnt to overcome them all, and make the most of my life turning disadvantages into opportunities. Check out my Hire Us page.
Score Your Way To Good Health - With Our Healthy Lifestyle Plan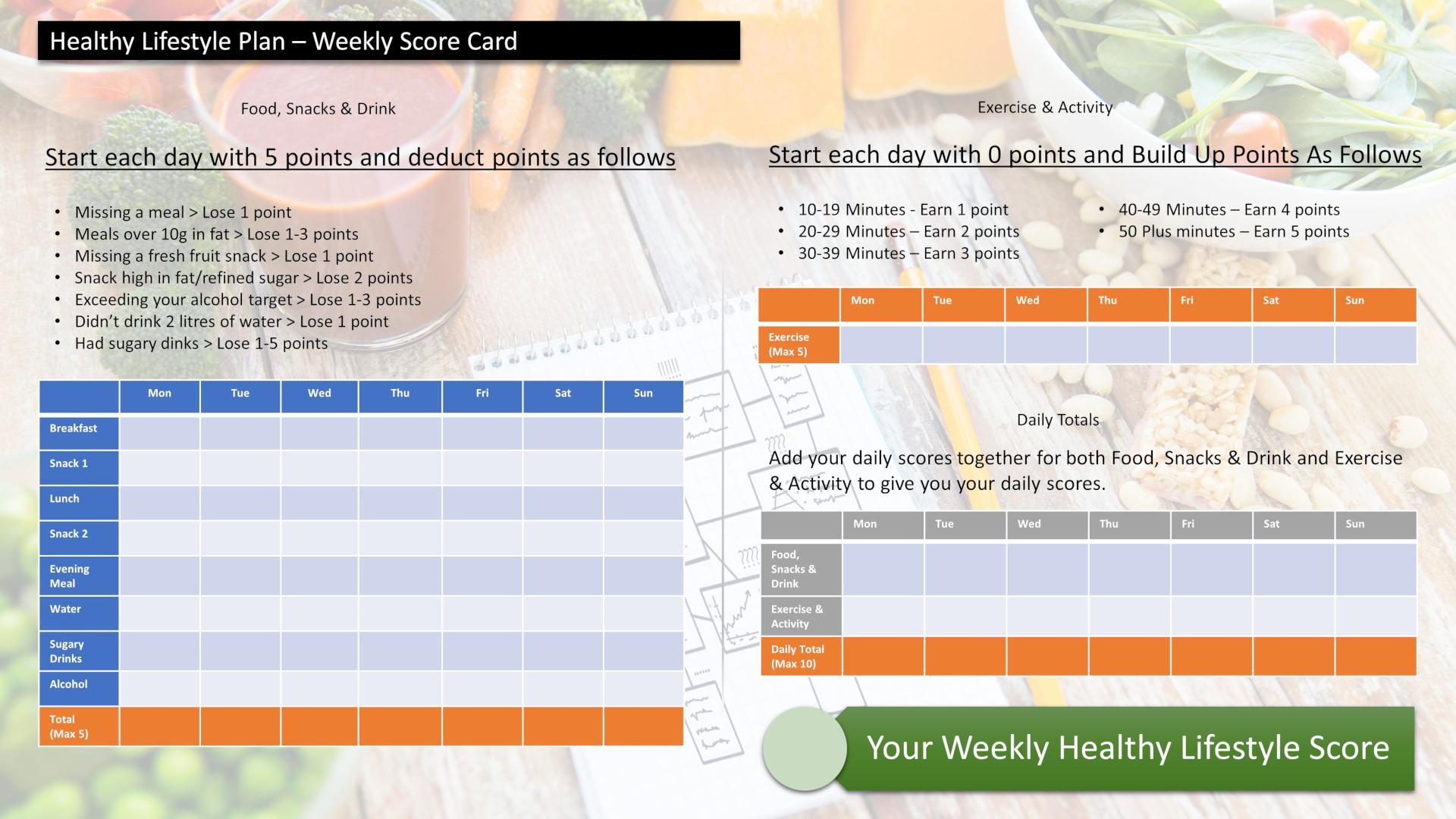 Score your way to good health with our healthy lifestyle plan and it's unique 70 point weekly scorecard!