Are you the happiest you can be or are you ready to make changes in life. By happy I mean, do you live in a state of joy and blissfulness, grateful for having the opportunity of living the life that you do.
I really wish that I believed that more than just a handful of you are going to say … 'I am.' But isn't that just an indictment of life as it is today. We have the benefit of so many wonderful advances, we live in an age where life has more to offer than ever before, yet so few people have found the answers to their happiness.
I love writing, particularly where I inspire others to take an action which leads to them making improvements in their lives. I love being an advocate of the power of passion, and take unbelievable satisfaction from my work as a coach in the personal development field. I regard myself as one of the lucky few, I actually get to do what I love.
Surely we all want to do what we love, right?
Everyone should do what he loves. Yet so few do. Most do jobs they don't like in order to pay bills. They hate their Monday to Friday existence, just making do until they can get away for the weekend where they forget about their job for a little while. I find this so sad, and yes, unnecessary.
I wonder if these people read the words not just that I write, but these of Steve Jobs, would they be inspired to seek an alternative.
"You've got to find what you love. And that is as true for your work as it is for your lovers. Your work is going to fill a large part of your life, and the only way to be truly satisfied is to do what you believe is great work. And the only way to do great work is to love what you do." Steve Jobs
I know as a fact that everyone can find something they are passionate about. Then this passion can drive a business. Whether it's someone's love for cricket, maybe music, perhaps cooking, like me making the difference to others, whatever your passions there is a business you can build, a job you can find, a career path you can take.
Having talked to my daughter last night I realise that colleges don't understand the importance of doing what you love. They treat even an 18 year old girl, who is totally inspired about being a midwife, it's her passion, her lifelong dream, yet they regard her being at college as a chore to her. They assume she doesn't want to be there. They don't see that kids her age, sorry darling, young adults, can be led by a vision, and do understand the necessary stepping stones to achieve such dreams.
Do what you love to do for life is important. It should be something that we are taught early on… Unfortunately, early on we conform to what is supposing making others happy and preparing for a job we should do. And it seems our educational systems see their role as churning out students into standard packaging.
Well let me tell them, if they want to do the best by their students, start to realise, help them to find happiness through doing what they love to do, and get them started now so they can continue for the rest of their lives.
Discovering how to turn your passion and personal enjoyment into a good pay check is the secret to a happy life. As a personal development coach I love nothing more than guiding people to finding first their passions and then determining the business to bring this passion through in bucket loads.
Often when a client comes to me for the first time, they simply don't know what they love to do.
The four questions that help them to dig deeper into the mystery of who they are and what they need to do to make their lives truly happy are:
Who am I?
Where am I coming from?
Why am I here?
Where am I going to?
The answers and insights they get about who they really are will illuminate their life and help them to make sense of the life they are living.
Ask yourself these questions. Isn't it time for you to determine what makes you unique and what makes you tick. No longer accept living a life where happiness is something you have to do without.
This time of year always gives me a little giggle. People who claim to never have any time to do anything for themselves seem to find an abundance of time to go online or go to the shopping centre to find all those lovely gifts for their loved ones or friends. Well in my opinion it's about time you gave yourself the gift of love and made time to help yourself. So to help you remember who you are beneath all the clutter of everyday life.
You are a beautiful and unique individual. You have a wonderful mix of abilities and qualities combined in a exclusive and exceptional way. Why not spend some time really getting to know your true self? It will certainly be time well spent.
Start to make sense of your life. Examine your life, everything you do, and all that has happened. Use the insights to look forward and understand where your current life choices are taking you. Get you know yourself, who you are, what makes you happy, and what doesn't, and what changes you need to make so as to bring far happiness into your life right now.
Do you know who you are?
Who are you meant to become?
Are you living the life you dreamed of when you were a child?
If not, what can you do to bring it back to the way it was meant to be in your dreams?
You are the best positioned person I know to be an expert on YOU . You have both the privilege and advantage to see things from the inside out. Now define who you want to be, what you want to do, and have.
Start by exploring what kindles your passion, inspires you, and makes your life worth living. It is important to discover your personal definition of happiness … the things which make you catch your breath and stay up all night … or travel to the ends of the earth/universe in order to find.
Once you have defined the life you want to live, it is time to define your life's work that pays for that life and allows you to live it 24 hours a day, 7 days a week, 365 days a year, for the rest of your life.
When you start to do what you love and love what you do for life, it's addictive, so be warned!
Know that of utmost importance on this life journey is to find what you love to do and allow happiness to be part of your daily path.
Sometimes the journey can be awkward and unanticipated turns can present themselves and other times its plane sailing. Either way, when you love what you do, you have the power to make life work out
Score Your Way To Good Health - With Our Healthy Lifestyle Plan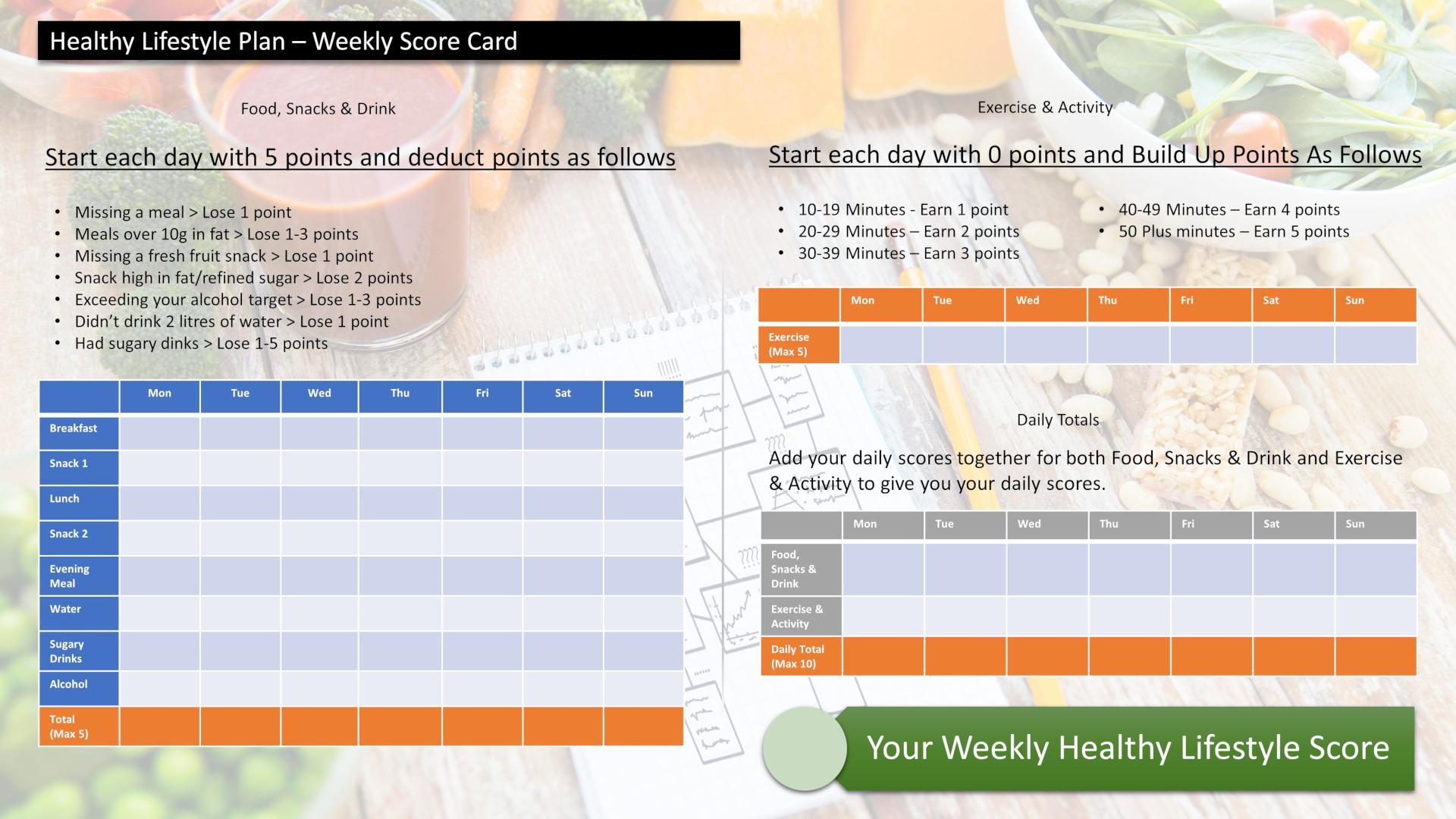 Score your way to good health with our healthy lifestyle plan and it's unique 70 point weekly scorecard!