Todays post, Do What You Love is dedicated to someone that already makes me very proud!
As readers here of my blog you know that I certainly possess more than the average amount of passion for my own vision in life. But my passion for my own pursuits does not compare to my passion for my children and their wellbeing.
In my work as a personal development coach I never question my ability, never doubt my skills, and know I can help everyone I work with. As a parent I never have this confidence in my abilities or mastery in my role.
Well to say I got a bit of a shock yesterday was an understatement. It came in a telephone call from my eldest daughter. "Hi Dad, it's LJ, there's nothing to worry about". Well if there's one thing that's going to set the alarm bell ringing there it was. And this time oh boy was I right. She proceeded to tell me that her boyfriend had found her on the floor past out in the middle of the night. In fact if it wasn't for him, well maybe things may well have been far worse. She hadn't been drinking, before you jump to the wrong conclusion. In fact, things had started about a week ago, with a cough. This cough had gradually got worse and worse. By now it had become so severe that it just constantly woke her up if she did manage to fall asleep. She'd virtually now gone without sleep for 48 hours. Having collapsed, she'd knocked her head and bust a blood vessel in her eye.
After her call she went straight off to the doctors, then to the hospital. Following blood tests and xrays she was told the most likely reason was pneumonia.
Safe to say she is now with her father ….
A truly rich man is one whose children run into his arms when his hands are empty. Author Unknown
It feels strange having her back under my roof. I'm not complaining mind. Although I wish it was under better circumstances, I have to admit to feeling a bit of fatherly happiness just having my baby close by once again.
After all she is not only my first born, but also someone I'm incredibly proud of, and very much love
I love seeing people who take charge of their lives. I know when it comes to her I'm completely biased, but in her case I have every right to be totally proud. She is a born fighter , with a determination to succeed in life no matter what is thrown at her.
I have often written about Carly, her sister, but for some reason, Laura Jayne far less. Maybe that's because she is a far more private person, and is far less keen for her dad to talk about her as publicly as this blog allows. In fact if she ever reads this she'll curse me for days, probably longer. That will be in between coughing fits.
When it comes to LJ the name I've called her virtually from birth, we have a certain depth of understanding. In some ways we are very similar. Neither of us will ever quit, and will always fight till we achieve what we want.
Even at her young age she has served her time personally on the front lines of life's ordeals and struggles.
No matter what life has thrown at her she has always got herself off the floor and pushed forward. She has had to deal with a major spinal problem for much of her teenage life, culminating in major surgery, but this didn't keep her down for long. She sat her A Level exams knowing that immediately afterwards she would be going into hospital for this Spinal Fusion operation. She past with flying colours, and got into her first choice university to study Criminology and Forensic Science. Definitely the brains of the family.
The path for her has never been smooth. In fact it has always been challenging, at times the road she has been made to take has been intensely rocky and I'm sure she may even have felt like quitting at times. But she never has. Nothing has kept her down for long. She may not always see it now, but she has met every challenge, and succeeded.
She has built up evidence for herself that she really can achieve anything she puts her mind to. I believe that the most valuable learning in life typically comes disguised in adversity and in the need to respond to it.
While going through university she has also been working part time with Pay Pal. She is so good at what she does that they even talk to her about the opportunities that the organisation can offer to her. Alas no she won't look at my accounts. She really is such a hard working talented young lady. She will go far in what ever career she chooses, as long as she believes in herself
The change in my daughter has been breath-taking in the last twelve months or so. I see her taking charge of her life and I LOVE seeing her really grow. It's amazing. The student. The career girl. The daughter. And she and her boyfriend well they do seem to have a wonderful relationship, and he does seem to be absolutely the dotting loving man that any father would want his daughter to find.
One of our major desires in life should be to be successful. I mean being successful in every facet of life – in your relationships, family, job, and business. And success here, is not just achieving dreams for yourself, but seeing those that you love growing and succeeding in their own right. For me to see my daughter developing as she is, is just brilliant. Though her health right now isn't the greatest.
My daughters are my world. Fathers and daughters often have a special bond. I will always see myself as their protector and provider, and they will always be my little girls.
So for now once again LJ is Daddy's little girl once again. And I can't wait to see how she fulfils her potential, because I know it can be truly awesome. On April 8th, 2012 she will be 21. Her life is really just starting out, and I hope she realises what she could make of it.
All I will tell her is to follow her passions. Never work for work's sake, instead spend each day following your passions, enjoying each moment, and doing what excites you. Let the journey you take be filled with joy and passion.
Be great my darling daughter, but for now, get well soon.
Score Your Way To Good Health - With Our Healthy Lifestyle Plan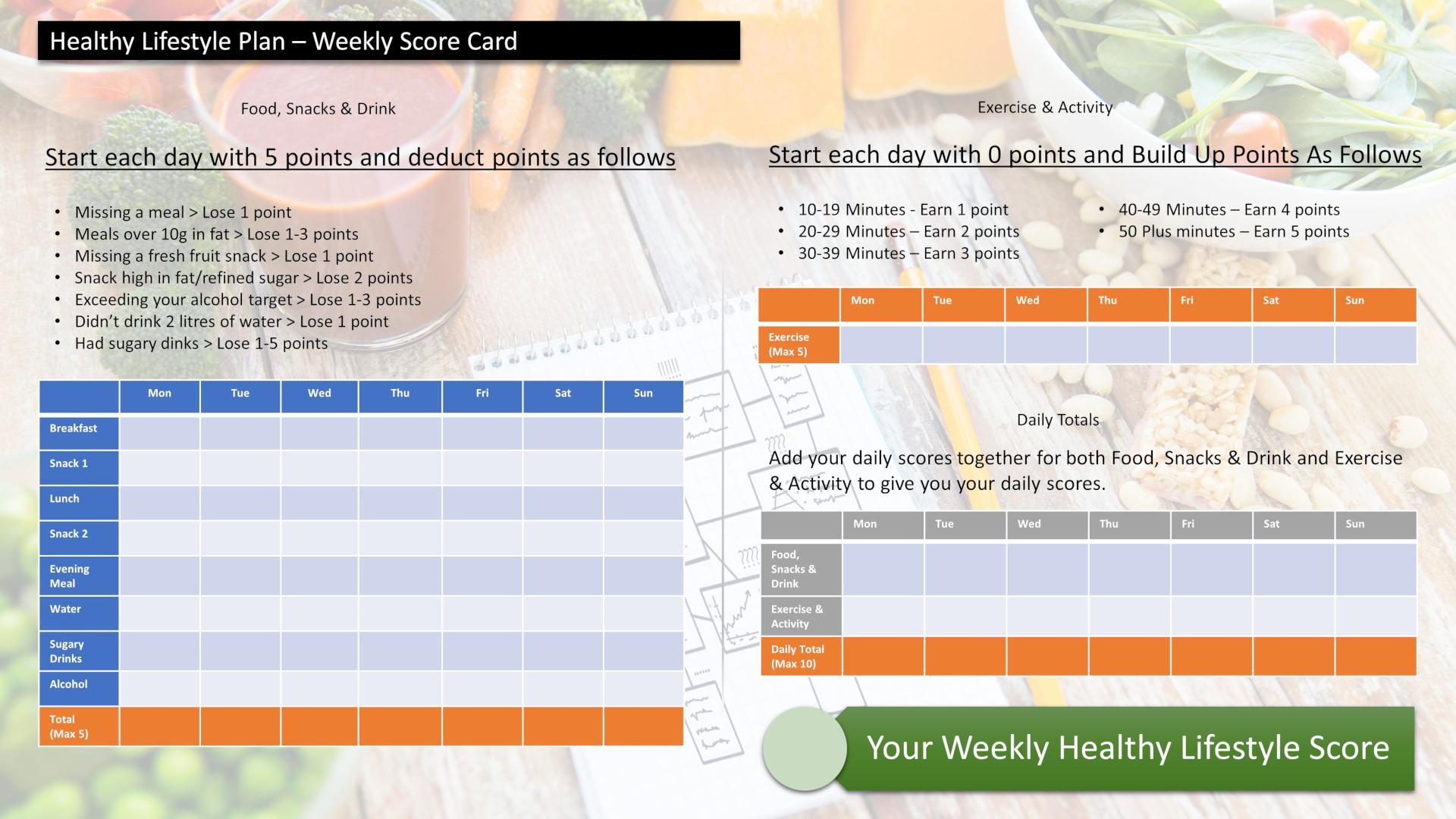 Score your way to good health with our healthy lifestyle plan and it's unique 70 point weekly scorecard!