A very important day has now arrived in the young life of Liam Wall. He begins a new chapter in life that sees him start secondary school. Here is a young man, eleven years old, who to this point has excelled in his academic education and with his sporting prowess. His achievements in his young life have been remarkable, including unprecedented exam results in his Sats, setting a new high point for his junior school and many awards for both his skills and leadership on the football field. Now he really does begin a key stage in his life, that will take him through the next 7 years, seeing him I'm sure earning high grades in both his GCSE 'O' and 'A' levels. There are no doubts he will acquire many new skills, find new areas that he excels in, and discover new passions for things in life.
It is these years ahead which will play such a major role in his evolution into adulthood. But we all know on this day that he begins his new school, his mind will not be on what is to come, but on the excitement and fear of the unknown. Even though I am now 52 and was at this same point in my life some 40 plus years ago I can clearly remember my first day starting school. My mum, dropped me at the school gate, or actually calmly persuaded me to step out of the car and take my first few nervous steps towards this terrifying entrance gate. I saw this big, strange building infront of me and it was like stepping into the unknown. As I walked through the gate for the first time, my thoughts were not that here am I starting a crucial phase of my life, beginning the key formative years, or in this place I enter as a child I will leave as an adult. My mind was simply overwhelmed with questions. Where do I go? What door do I enter through? Where's my classroom? Whose my teacher? Which of these other kids around will be in my class? Everything was swirling around in my head, and in truth I just wanted to go home. As we know these first day nerves are short lived, and quickly we settle in to our new surroundings, make life long friends and set out on our journey through life.
The world is Liam's oyster, and I know without a doubt that he has the capabilities to become whatever he desires. Like all young men he has a dream that sees him becoming a professional football player, wearing the blue of Chelsea, his beloved team. Ok so his not perfect, but his only other option was to support his Dad, Ian's team Newcastle United. Having my own son in law support them I know what a painful love that is and Liam is probably best having kept away from them. He is also brilliant with animals. You just have to see him playing with Buster our Collie, and at Ian's he has a menagerie of pets, including Chester the 'Mad Hatter' Cat, Max 'The Cat Loving' rabbit and all sorts of other Animals a list too long to write. So veterinarian studies for his future would come as no surprise. Whether he ends up dreaming of being a Doctor, Dentist, Accountant, Pilot, Scientist, I am sure he has the capabilities to achieve whatever he sets his mind to.
Of course right now that end goal, his future, has very little importance in his thoughts. The next big release on Playstation or beating his top scores in the games he loves is more of a priority. And who can blame him, I have spent many a night playing all nighter computer games, and to this day love the challenge and excitement of what they bring, and the frustration. I just won't play him too often, because it's truly embarrassing getting slaughtered by an 11 year old, or having a hand control flying towards my head when in the rare instances I beat him.
He is ready for this new adventure. He has had his summer break and no doubts boredom has set in. He wants to get back to school, well more likely to be in the playground playing football. In truth Liam has always loved school and his teachers loved him for his enthusiasm, work ethic and the fact he is truly a lovely lad. His mum, Rachel, has got all his uniform ready, an adventure in its own right. His trousers, shirts, jumpers, blazer and jacket are all ready and lots more bits. I won't mention new underwear too because if he reads this there will be a slight bit of embarrassment. I hope he knows how much time and effort Rachel put in to get it together just right for him. Ian also has played his part, and Liam is truly fortunate to have them both. I just wonder how long it will take him to work out that the best use of the jacket is as a goalpost in the playground, the shirt fits perfectly when the two top buttons are undone, sleeves rolled up and untucked hanging over the trousers, and tie worn up half mast is the best way to wear it. In fact he best ignore this as it may explain my frequent visits to the detention room.
I was going to turn this into 20 thing's I wish I knew before secondary school, but I want Liam to find his own way, to enjoy the venture. He is going to learn and develop, no doubts blossom academically, at sports and as a person. And anyway he is so advanced for his age there's probably not much I can teach him.
I'm sure if Liam reads this I'll get a text message pointing out all my spelling mistakes, English being one of his best subjects, although in maths he puts me totally to shame. I'll respond that it's not my fault and blame it on the smart phone. I really can smell you know. Well ok, my spelling stinks.
Liam enjoy your first day at school and the time you spend there. Your enthusiasm for learning is fantastic your abilities are unquestionable, believe in yourself and I guarantee you, that you will create a fantastic life and truly you will be able to become anything you want in life.
Being a personal development coach and blogger I couldn't end without offering some sage guidance. I'll shut up now and share a few awesome quotes.
"Learning is the beginning of wealth. Learning is the beginning of health. Learning is the beginning of spirituality. Searching and learning is where the miracle process all begins". Jim Rohn

"Anyone who stops learning is old, whether at twenty or eighty. Anyone who keeps learning stays young." Henry Ford
Score Your Way To Good Health - With Our Healthy Lifestyle Plan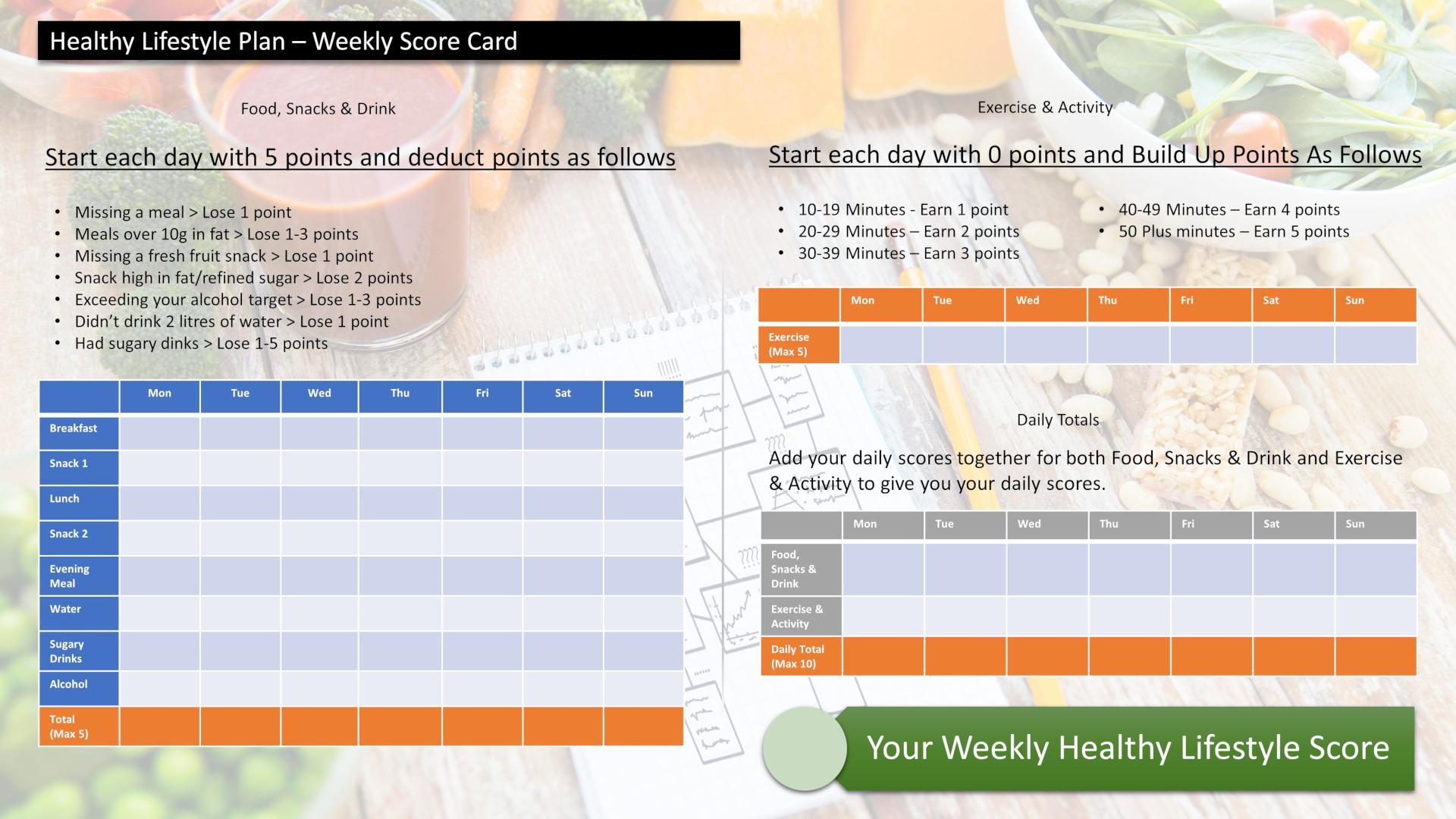 Score your way to good health with our healthy lifestyle plan and it's unique 70 point weekly scorecard!