What are you waiting for? Isn't it time you took your life to the next level? Well the time is now!
There's no time like the present – as the saying goes, and that's so very true. If not now, then when? Are you going to just keep waiting for that perfect moment to take control of your life and get things moving.
Time is all you have. When you finally master your time you master your life. So isn't the wisest thing to just get started now?
"Live as if you were to die tomorrow. Learn as if you were to live forever," is a famous quote by Gandhi. It is a wonderful reminder of how we all need all to be living our lives more fully.
There are so many distractions in your lives that keep you from focusing on what's important to you. You are so busy doing your everyday stuff that you have to forget about those other things that are truly important to you. You sometimes hope that maybe you will get the opportunity to start tomorrow, but tomorrow never comes, does it?
I don't want you dwelling on what makes you feel sad, exhausted, angry and powerless. Because failing to live the life you want does. Instead I want to help you take control of your life and the time to help you is now.
Don't be fooled by the calendar. There are only as many days in the year as you make use of. ~Charles Richards
I want you to start to focus on your priorities, and not on the calendar. Let this be your reminder to look deeply in to what really matters to you. It is not what we have time for, it's what we make time for that will ultimately matter. So start making time for those things you truly want to achieve in your life.
So, if you're serious about taking control of your life — the time is now. But remember, this is a process — not a one time event.
Live as if your were to die tomorrow. Learn as if you were to live forever. Mahatma Gandh
Is there anything in your life that would make you say: "I owe this the very best that I have to offer!" Then that is the thing you need to be doing right now.
In my role as a life coach for personal development, I frequently meet people who think they are "stuck". Often, the truth of the matter isn't that they're stuck, it's that they just haven't found the time or mustered up the courage to give the very best they have to offer to that one thing that is so important to them.
You need to get unstuck. You need to get out of the rut you've been in for way too long. Wanting, wishing, hoping and dreaming are just not enough to do that. In order to change your life, you must be willing to change yourself. You must be willing to accept that doing what you've always done only results in getting what you've always gotten.
Of course following your passion takes hard work, and needs courage to go for it, and resilience to get over all the fear, as well as persistence to overcome the uncertainty.
Here are some questions that as a life coach of personal development I would ask you to get you started.
What do you REALLY want?
What is preventing you from finding or following your passion, or going after your dreams?
What specifically is it about that that stops you?
How could you solve those problems?
If all your problems were solved, what would you do?
What makes you come alive?
What would you do if you knew you couldn't fail?
What will you do when you've found your passion?
What would happen if you didn't?
What will happen if you take action today?
Stop waiting for life to magically turn around because you're the only one that can create the life of your dreams. There's no time Like now, so get started TODAY! As you consider whether or not you are truly ready to change your life, remember this: The improvements in your life perfectly reflect the time you invest in yourself.
Score Your Way To Good Health - With Our Healthy Lifestyle Plan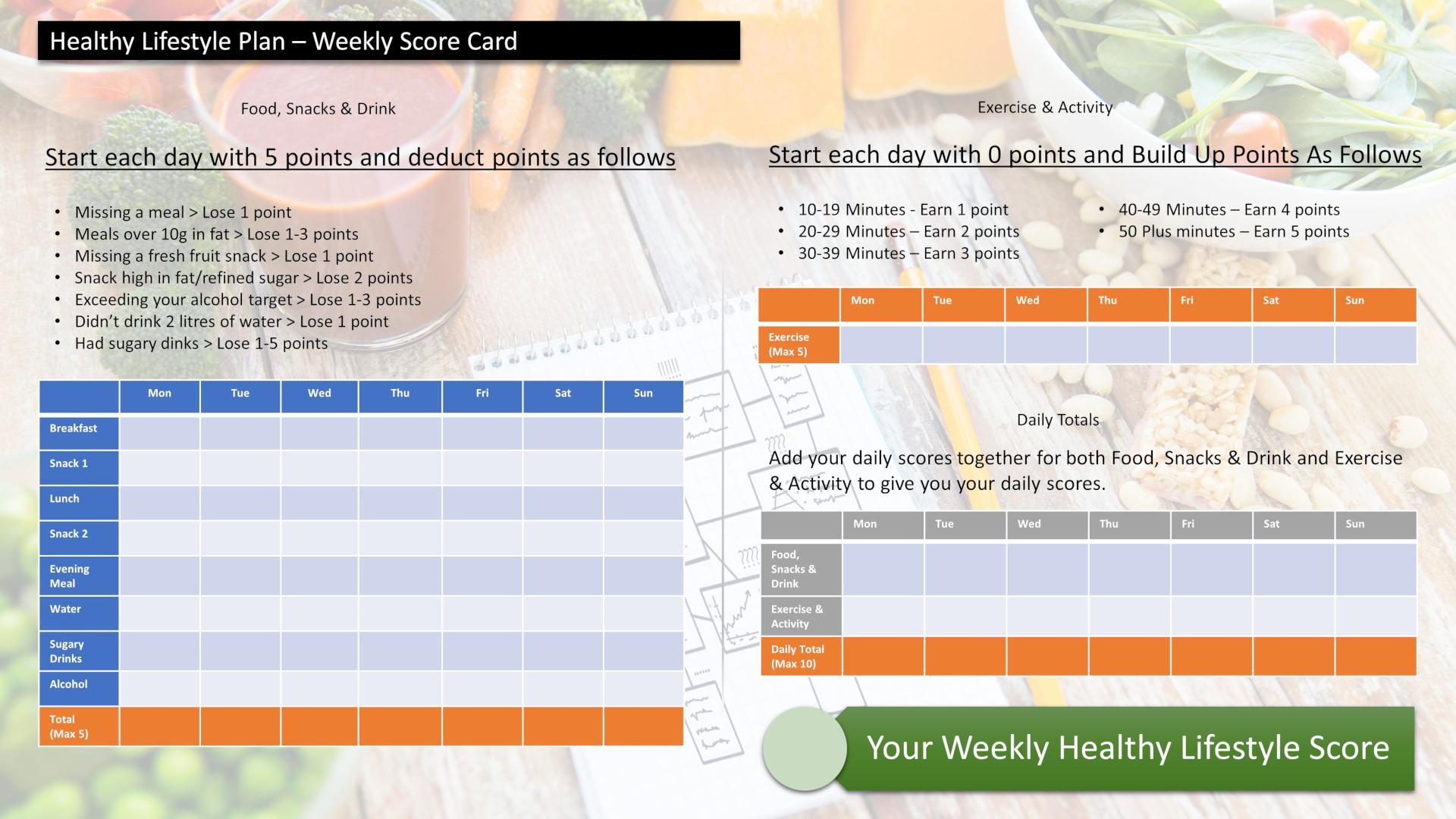 Score your way to good health with our healthy lifestyle plan and it's unique 70 point weekly scorecard!