I hope the enthusiasm and excitement that you started the New Year with has lasted to this point. After all we are only in to the 10th day of January.
Most of you as January approached, no doubts, went about setting your new year's resolutions. A New Year resolution is a commitment or a promise made by an individual to themselves to follow for the upcoming year. January 1st is a good day to start afresh and make changes in your lifestyle.
What was yours? Was it to stop some bad habit or change a perceived bad quality in yourself? Maybe it was a resolution to lose weight or just to spend more time with family and friends.
Alas many people do not last beyond January in pursuit of their resolutions. Are you one of them? Are you finding it difficult to keep your New Year Resolution? Perhaps you have already gone off track?
Don't be ashamed of yourself. After all statistics show that most people fail to stick to their new year's resolutions.
This article was written in my head while I was working on the gym floor yesterday evening. It was crowded. Lots of members having returned from months off, and many new members stepping through the doors for the first time. It will be the same in gyms worldwide. Gym memberships spike. The new year brings with it novelty and change. People resolve to be better people, lose weight, eat healthier, stop smoking. This will be the year, they say. This is it. By March 50% of these people will have disappeared, giving up on their goals.
If only they realised that making these type of changes wasn't a quick fix. Change is hard. It takes time, effort and commitment. The best approach is to make gradual, manageable steps towards your goals.
That is the only way to make sustainable changes when it comes to long-term lifestyle change. You are not looking at making changes for a few weeks or a few months, instead you are making drastic changes for the rest of your life.
Let me give you some tips to help you stick to your New Year resolutions and to achieve them.
Don't try to change to much – Don't try to make too many changes all at once because when you do you are setting yourself up for failure. Do not overload yourself with many resolutions. If you have only one resolution, there are greater chances of you being successful. Go with the most important issue. When you've succeeded with it you can always go after the next change. After all you don't have to wait till next January.
Be Realistic – Make a resolution which is realistic. Having a resolution like I will lose five lbs a week, every week is very unrealistic. Make a resolution which is achievable. In your desperation to achieve your goal do not aim unrealistically high and be impractical. When you set the bar to high, you're setting yourself up for failure. Give yourself a fightiung chance by aiming for something that you really can manage, that's achievement will make a big difference to your life.
Put it in Writing – It is amazing, how much more impact and effect writing down your resolution will have. Write down your resolution on a piece of paper and stick it on your refrigerator or on your cupboard or someplace where you will see it everyday. Every time you are about to slip, reading it might stop you and bring you back on track again. Writing down goals really does work wonders.
Break things down into simple, small steps – Break your resolutions down into baby steps. One step at a time. Don't try to take giant leaps. Every big goal can be chunked down into small, manageable steps. By going for goals this way you give yourself a really good chance of success and you will be spurred on by each small victory.
Don't look to far ahead – Take the "One Day, One Week, One Month Strategy." Focus on being successful for one day. On the first day, just think about the one day. Once you have managed for an entire day, then work on repeating it for one week. If you mess up, that's okay, go back again to just getting through one day. Once you do that again, focus on the week. When you can do it for a week, then focus on doing it for a month. If you mess up, again, go back to just getting through a day. When that is successful, work on the week. And then the month again. Keep doing this over and over and over again until you succeed.
Stick with it! – So what that we've nearly reached the mid point of January. So what if you've already broken your resolution. You can always start once again even though it is not the first of the year. If your resolution is to lose weight do not be upset if the results do not start showing immediately. Stop beating yourself up and get back on track. No more quitting, giving up on yourself. Be determined, be persistent, you really can do it!
Don't beat yourself up – Breaking old habits or trying to achieve a goal is not always easy. Any goal to achieve takes a lot of hard work and effort. If occasionally you falter and move away from the path, do not obsess over it and be too harsh on yourself and criticize yourself. Just get back off the floor and start over.
Keep track of your progress – Keep a diary of your goal progress. Keep reminding yourself of why you want to achieve this. Write it down, let yourself visualise your final successful outcome. Brainstorm any new ideas of what you can do to keep on going to get there.
Reward Yourself – When you stick to your goal faithfully and have been working hard at it, pat yourself on the back and reward yourself. If your goal was to eat healthier and you have been following it successfully, reward yourself by having your favourite 'naughty' meal.
Try out some or all of these to give yourself a good chance of succeeding with this year's new year's resolutions.
To give yourself the BEST CHANCE why not join our Support Group.
Imagine the benefits to you of having an expert mentor sitting right beside you. Imagine letting them take you by the hand, walking with you each step of the way. After opening your free online account, you will have access to daily coaching and much more. This new platform was designed to offer a variety of effective tools to support your self–growth and development, in a flexible and proven format which you can use anywhere and anytime you wish.
Join us and feel the power of a mentor at your service.
Find out more here
Score Your Way To Good Health - With Our Healthy Lifestyle Plan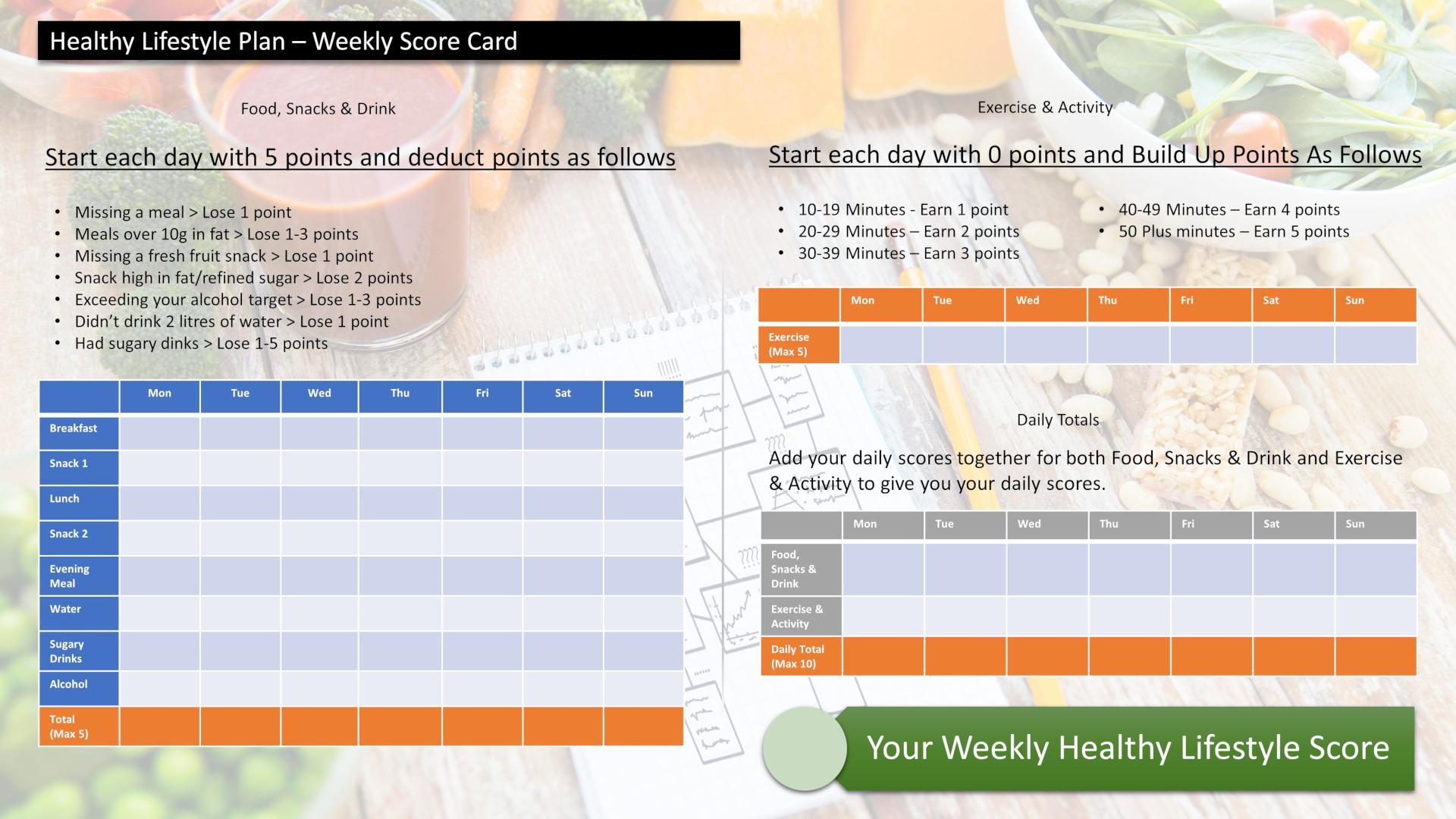 Score your way to good health with our healthy lifestyle plan and it's unique 70 point weekly scorecard!