Self-esteem or lack of is certainly not an area that I have any worries about. This is the subject I want to touch on today. So let me start by asking you a question.
So how's your motivation been lately? Have you been fired up with so much energy and enthusiasm that you can't wait for your alarm to sound so you can jump out of bed and get going for the day doing the things that not only do you love but will fulfil your dream.
To me this is the way things are. I'm not saying my life's perfect or that problems don't arise, but I am doing what I love, I have no doubts that I'm going to achieve my dreams, and there's nothing I'd rather be doing. Well ok, tomorrow, taking the day off and looking after my granddaughter for 24 hours is going to be simply awesome, but my Monday I'll be desperate to get back to work.
The basis of how I feel, is my total conviction that I can achieve everything I'm going for, because of my belief in myself. I wouldn't say I'm cocky or arrogant, but yes I have a high self-esteem, and this has been vital to me throughout my life's journey. It saved me when things got tough, whether it was losing a business, my home or my marriage. No matter what has happened to me, at no time did myself belief diminish. It helped me stay strong and move on.
I see to many people not just lacking in self-esteem but sacrificing so much due to their poor opinion of themselves. I see this as one of the greatest tragedies of life. I can't imagine what it must be like to look in the mirror and hate the image you see back, or walk into a room and search desperately for a corner where you can hide. I may not know what it is like but I see it demonstrated by so many people around me
Having low self-esteem can affect work, personal relationships and your social life so it is important to deal with it and finds ways to boost your positive mental attitude.
I assure you having self-confidence, or the belief in your own personal value, is one of the most desirable traits a person can have. It won't just make you more successful, feel great but it will also attract more people to you.
What can you do to improve this side of you?
Become aware of thoughts, beliefs and self-talk.

Stop comparing yourself with other people. You know that you do!

Stop putting yourself down. I said stop!

Associate with positive, supportive people.

Compile a list of all of your past successes.

Make a list of your positive qualities.

Every day spend a little time visualising yourself full of confident dealing with everything that comes your way.

Find the work and activities you love and stop spending time in work you despise this can only knock you down.
Start to see yourself as a magnificent, unique being with enormous potential and value and see your self esteem go through the roof. Start liking yourself for starters and just try to build your confidence. You've got to start somewhere, and surely you can see the benefits.
So start working on your self-esteem and confidence, in fact make it a priority.
Score Your Way To Good Health - With Our Healthy Lifestyle Plan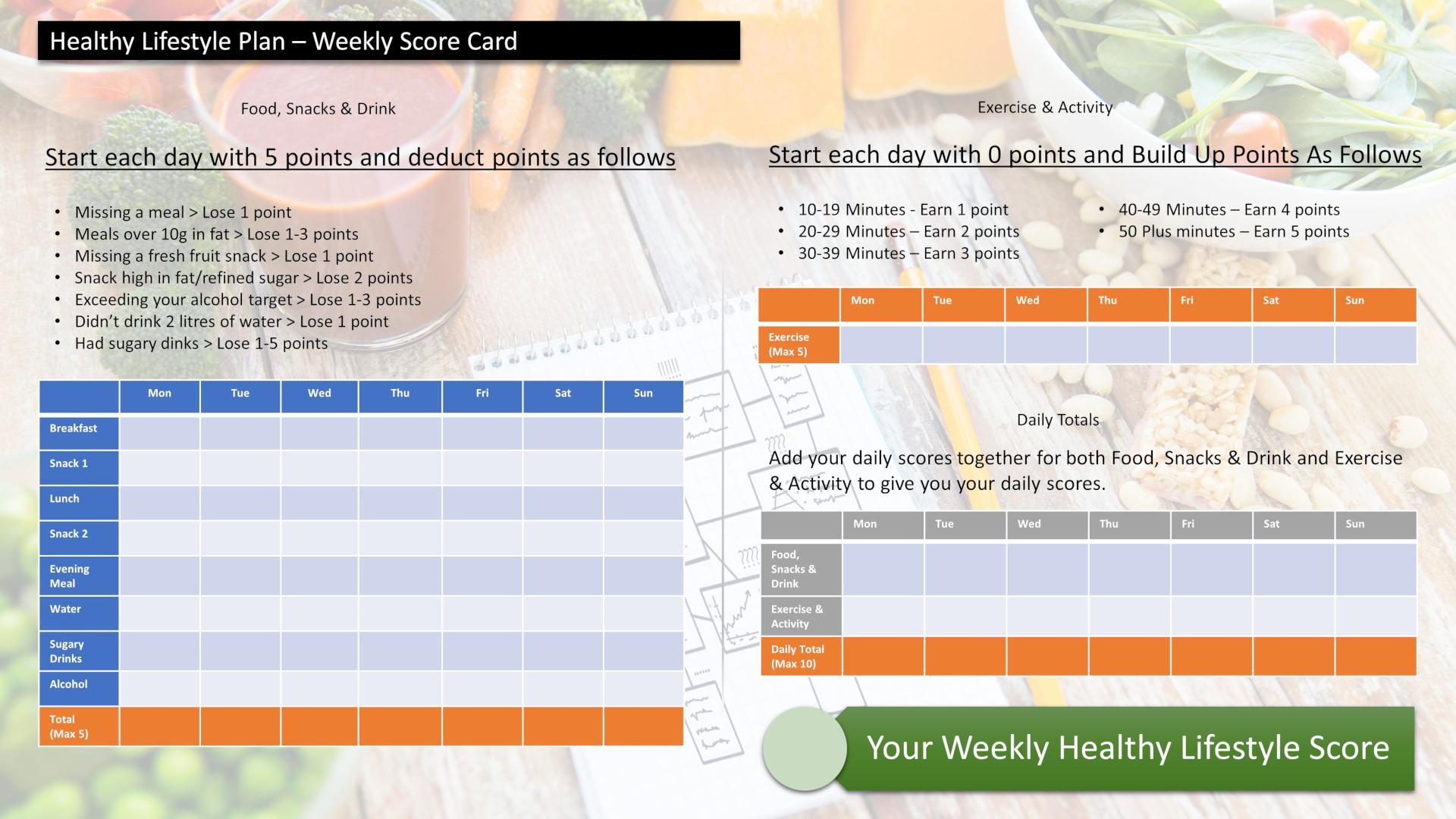 Score your way to good health with our healthy lifestyle plan and it's unique 70 point weekly scorecard!