I want to share a thought with you today. It is a simple thought. It's going to make a world of difference in your life. Only you can positively and actively influence how your life will turn out, and if you want to create the life of your dreams, you'd better start with the end in mind. .
I am sure that you have heard the phrase "start with the end in mind" Well when we begin with the end in mind, we have a personal direction to guide our daily activities, without which we will accomplish little toward our own goals. Beginning with the end in mind is part of the process of taking control of our own lives.
All things have to be created twice. We create them first in our minds, and then we work to bring them into reality. It will help you focus on what you want to be, the person, ) what you want to do, your contribution and achievement and what you want to have, the things
We are in an amazing era, it's full of opportunities and possibilities.
To me this is a huge subject. Why? Well how many people right now are who they want to be, doing what they've always wanted to do. How many of you, have worked your behinds off for years, and suddenly found that you're not happy with where its taken you.
Many of you have probably given little thought to where you wanted your life to go. You've just hoped things will sort themselves out over time. As long as we work hard and do a good job, you'll be happy where it takes you. Too often, we focus on what we need to do today, then the next day, then the next, but never on our big picture.
So how do you create a vision for yourself? In order to start with the end in mind, it pays to spend a bit of time imagining what sort of life you'd like to lead.
Start to see vividly your destination , because let me tell you, it's ludicrous to think you can accomplish anything without seeing it first in your mind's eye.
Here's an exercise to help you do this. Imagine you were just told that you'd be dead in 3 months, but in those 3 months you would keep your health. What would you do differently starting now?
But remember the most important unit of a vision is not the seeing or the realization of it but the process of bringing it to fruition. It's the journey not the destination.
Download Start-With-The-End-In-Mind MP3
Score Your Way To Good Health - With Our Healthy Lifestyle Plan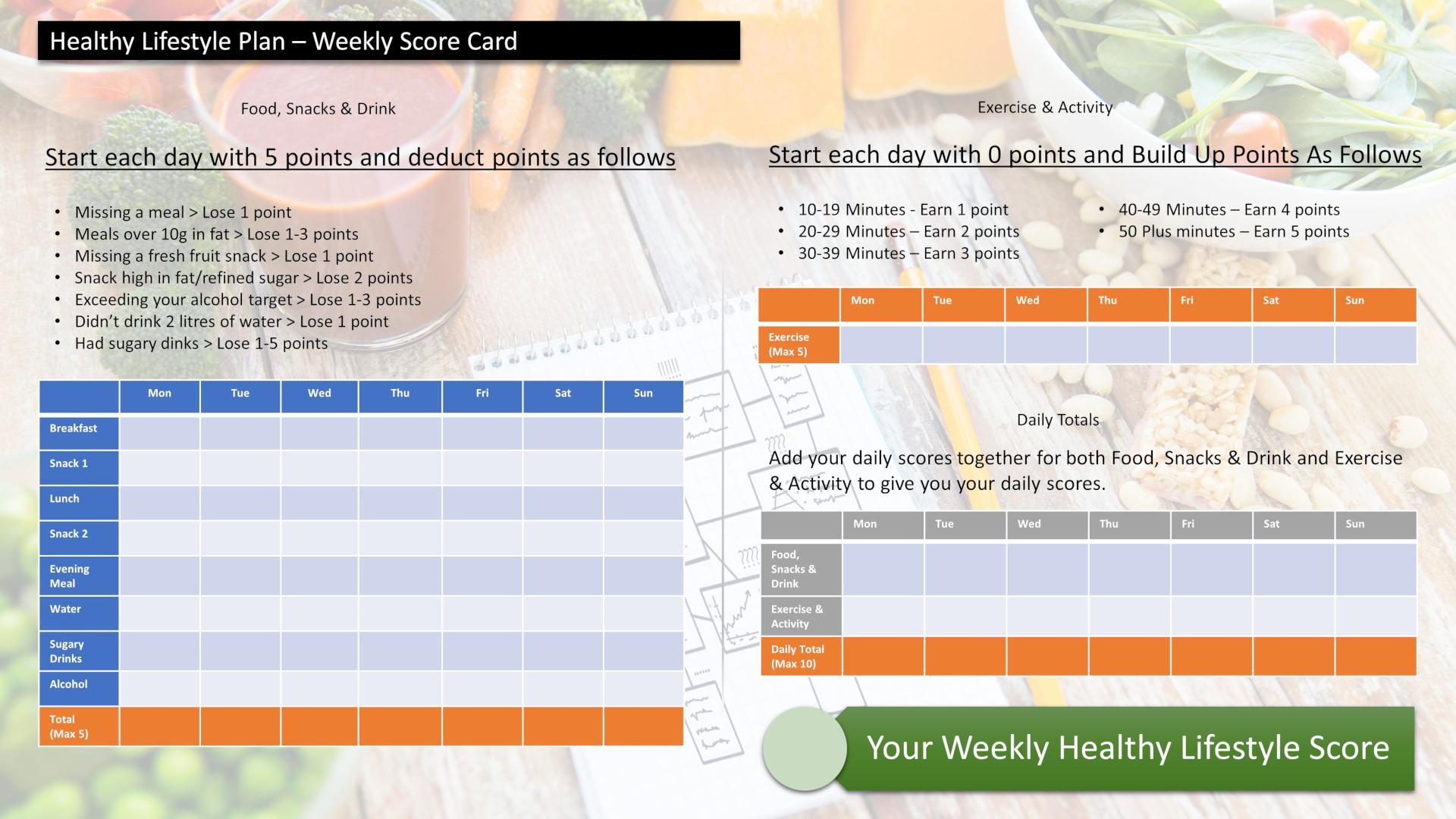 Score your way to good health with our healthy lifestyle plan and it's unique 70 point weekly scorecard!