Believing in yourself is another way of saying have confidence in yourself and the things you do.
Something I am asked on a regular basis is what did I have to change when I decided to take hold of my life and finally recover from the disasters that occurred back in 2007.
I had been debilitated by my house being repossessed, forced into bankruptcy and I simply lived on the edge of disaster for about 18 months. I lived every day just battling for survival, working 20 hours a day but getting nowhere. Then lying in a hospital bed recovering from a major eye operation my subconscious mind kept repeating the words, you are better than this. The saying is 'never a truer word said.' My life may have lay in tatters around me but before this I had achieved so much. If I had done it the once I could do it again.
I came to realise lying in that hospital bed that for the year following all these dreadful events I had given up on myself, lost sight of any goals and had lost my most powerful asset which was my belief in myself. That was the 'ah ha' moment reminding me that everything I had done, been and had was down to my complete belief in myself. I had been someone that knew I could achieve anything I put my mind to.
To me it is the greatest strength we have, it comes from within, and we owe it to ourselves to nurture this feeling. We become positive, overflowing with confidence, filled with faith about what we are doing.
I was talking to a young lady the other day. She sounded so tired, so stressed and you could hear in her voice as well as through her words how she was losing faith in herself, her abilities and her destiny.
She is studying Nursing a path that was clearly laid down for her during a period where her Grandmother was 'dying' in hospital. It became a must do for her. She wanted to be a nurse, make a difference to people, help them on a journey of recovery. She is special, so caring, so considerate, so loving. This career is just so right for her.
Yet life right now is so tough. She is on placement from university. Working on a respiratory ward at a hospital in Herne Bay, Kent. She starts at 7am in the morning, has to leave her digs at around 5.30, and doesn't get home till after 10pm. It's a long day, and her 12 hour shift offers very few rest breaks. But her university studies don't stop. She has an assignment to complete, and revision for exams in June. She is so pressurised by all this. Even on her days off from working at the hospital she is burning the mind night oil doing her studies. The pressure is getting to her.
I know how rare it is to have someone looking out for you and sharing the insights they learned along the way. This girl and others of you need to learn the power of believing in yourself. I'm here to share the lessons I've learnt.
She is going through a dark period in her mind and self doubt is rearing its ugly head. I'm not intellectual, I'm not good at writing essays, I'm not going to be able to do this. This is what is going through her mind.
If this was true she wouldn't have got to University in the first place. If she wasn't meant to become a Nurse fate wouldn't have played its hand leading her to the career. It is what is meant to be. The only thing that can stop her is lacking belief in herself and belief in her outcomes.
The minute she recognises that she will be a nurse, she will succeed with her degree, it is the minute she will find everything falling into place the way it is meant to.
"Believe it can be done. When you believe something can be done, really believe, your mind will find the ways to do it. Believing a solution paves the way to solution." David J. Schwartz, The Magic of Thinking Big
So, today I want her, and you if you're struggling with self doubt, to just ask yourself one simple question:
Is this what I want to do?
If you answer yes, then you simply have to say to yourself:
I'm going to give this my best shot, and I know, I just know, my best will be good enough.
You see what this will do is enable you to master your own personal psychology ensuring it will give you the strength to push through the tough parts.
Build your confidence! If you have to fake it before you make it. That means tell yourself you can do it, keep telling yourself, and every time you hear your inner voice say no you can't tell it to shut up, and repeat again 'I can do this.'
What is confidence? Confidence is often linked with self-esteem and self-worth. It is self-assurance. It is believing that you have much to offer and that you are valuable. Confidence in yourself also means trusting yourself to be able to handle any situation that comes your way.
Every time you 'hear' yourself thinking something negative, replace it with a thought of what you will accomplish when you've succeeded with your plans. For this young lady it is to see all the lives she will impact in the future from her caring and compassionate nursing ability. I can assure her when I'm old and frail, needing to be cared for, she is the one that I know would be the most magnificent gift to have around. She was born to be a nurse. When she believes that, then believes in herself, so will it be.
"When you doubt your power, you give power to your doubt." ~Honore de Balzac
When that voice in your head says…
'You can't do it. You'll never be good enough. You're going to fail.'
Refuse to believe it and instead tell yourself I am going to get better and better, I'm working hard, and I know I'm going to succeed,
In the end, it's about giving yourself a chance. So, be kind to yourself. You are more capable and worthy than you give yourself credit for.
We are all more than we currently believe we are. Take that as a fact.
I attribute my success to this – I never gave or took any excuse. Florence Nightingale
Score Your Way To Good Health - With Our Healthy Lifestyle Plan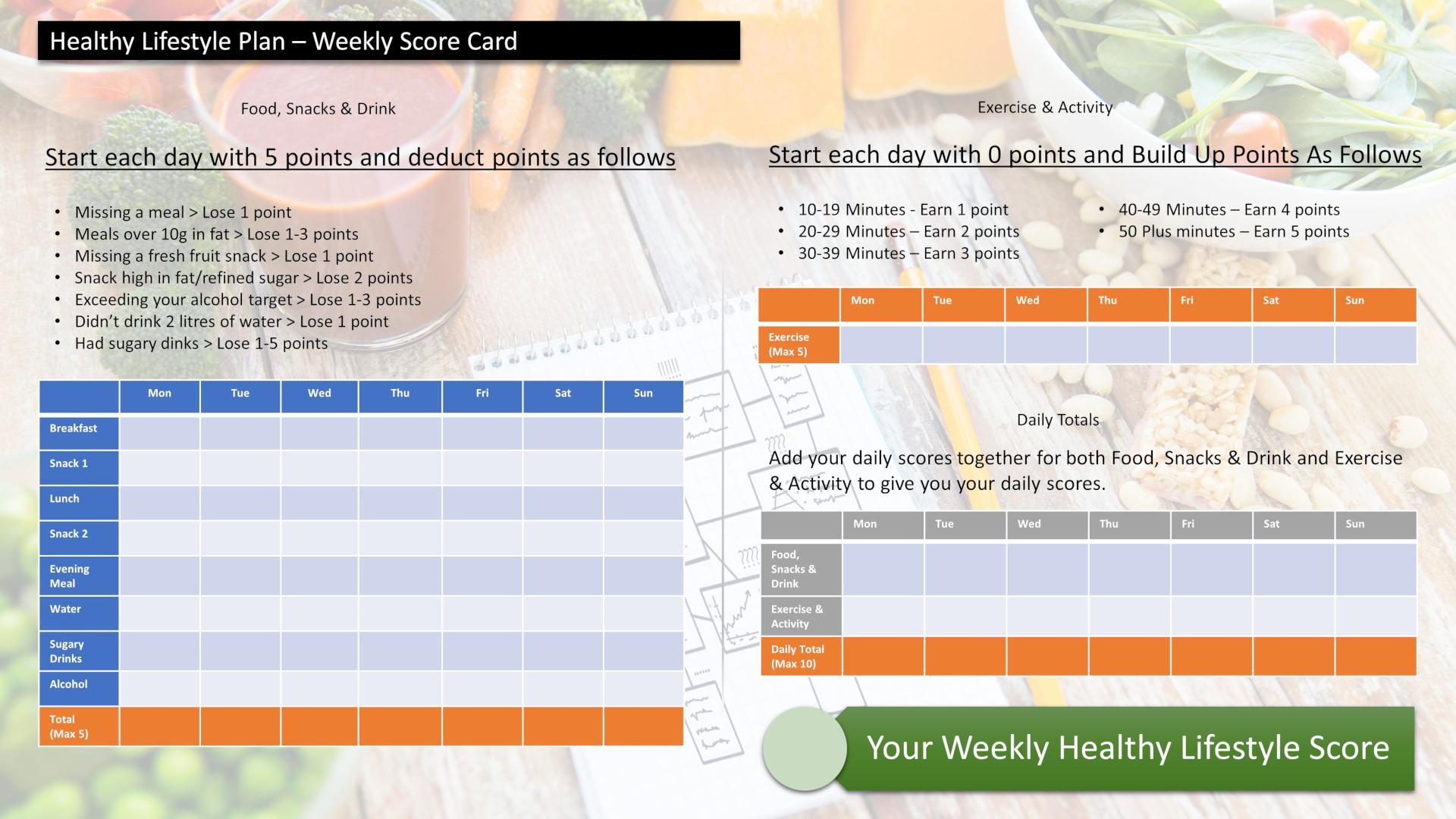 Score your way to good health with our healthy lifestyle plan and it's unique 70 point weekly scorecard!