Are you creating the life you want or just allowing yourself to settle for what shows up? If you feel like life is passing you by, if you're unhappy, or if you feel stuck and unable to find the direction right for you, you need to start creating your bucket list. Let it wake you up and get you excited about life.
There comes a time in everyone's life where you realize one day that your life is stretching out behind you — not in front of you. Your life may seem at a major crossroads where you yearn to try something new, something different, prove to the world you are not ready to be put out to pasture.
I watched an incredibly emotional film on Saturday afternoon called 'The Bucket List' starring Jack Nicholson and Morgan Freeman. It was about two guys who met in hospital and were both diagnosed as having anywhere between a month to a year to live. My eyes were a little swollen and red rimmed after watching it. Yet parts had me rolling around laughing. You know you're watching something magical when it can stir such different emotions within you.
Carter Chambers and Edward Cole are these two gents brought together in a hospital ward and the cancer that brought them there. Edward is a billionaire businessman, while Carter is a mechanic.
When they both learn that they have less than a year to live they decide to develop a list of things they want to do before they "kick the bucket", and they create for themselves a "bucket list". They then set out on a journey to fulfil everything on their list.
The strongest message that the movie makes is one I have recently come to realise myself and that should be paramount to us all and that is making sure that we live our lives fully instead of just existing day by day surviving but little else.
So what's a Bucket List? It is a list of all the goals you want to achieve, dreams you want to fulfil and life experiences you desire to experience before you die. The things that will excite you and you would regret on missing out on. Having a bucket list reminds you of what's important to you so you can act on them.
The whole point of creating your bucket list is to maximize every moment of your existence and live life to the fullest. It's a reminder of all the things you want to achieve in your time here, and enables you to focus your time on things that matter to you, those that will bring you joy. What a difference this will make to you, and ensuring you don't let life pass you by!
Back to the film I just saw Carter tells Edward:
"You know, the ancient Egyptians had a beautiful belief about death. When their souls got to the entrance to heaven, the guards asked two questions. Their answers determined whether they were able to enter or not. 'Have you found joy in your life?' 'Has your life brought joy to others?'"
So it's time you started to create a life filled with joy. Get started on your bucket list. Not just creating it but also following through on it.
Let these questions help you:
What if you were to die tomorrow? What would you wish you could do before you die?
What would you do if you had unlimited time, money and resources?
What have you always wanted to do but have not done yet?
Any countries, places or locations you want to visit?
What are your biggest goals and dreams?
What do you want to see in person?
What achievements do you want to have?
What experiences do you want to have / feel?
Are there any special moments you want to witness?
What activities or skills do you want to learn or try out?
What are the most important things you can ever do?
What would you like to say/do together with other people? People you love? Family? Friends?
Are there any specific people you want to meet in person?
What do you need to do to lead a life of the greatest meaning?
What legacy do you want to leave?
"Every man dies – Not every man really lives." ~ William Ross
Too many people put off the things that that bring them joy, don't be one of those, get moving on your bucket list.
Score Your Way To Good Health - With Our Healthy Lifestyle Plan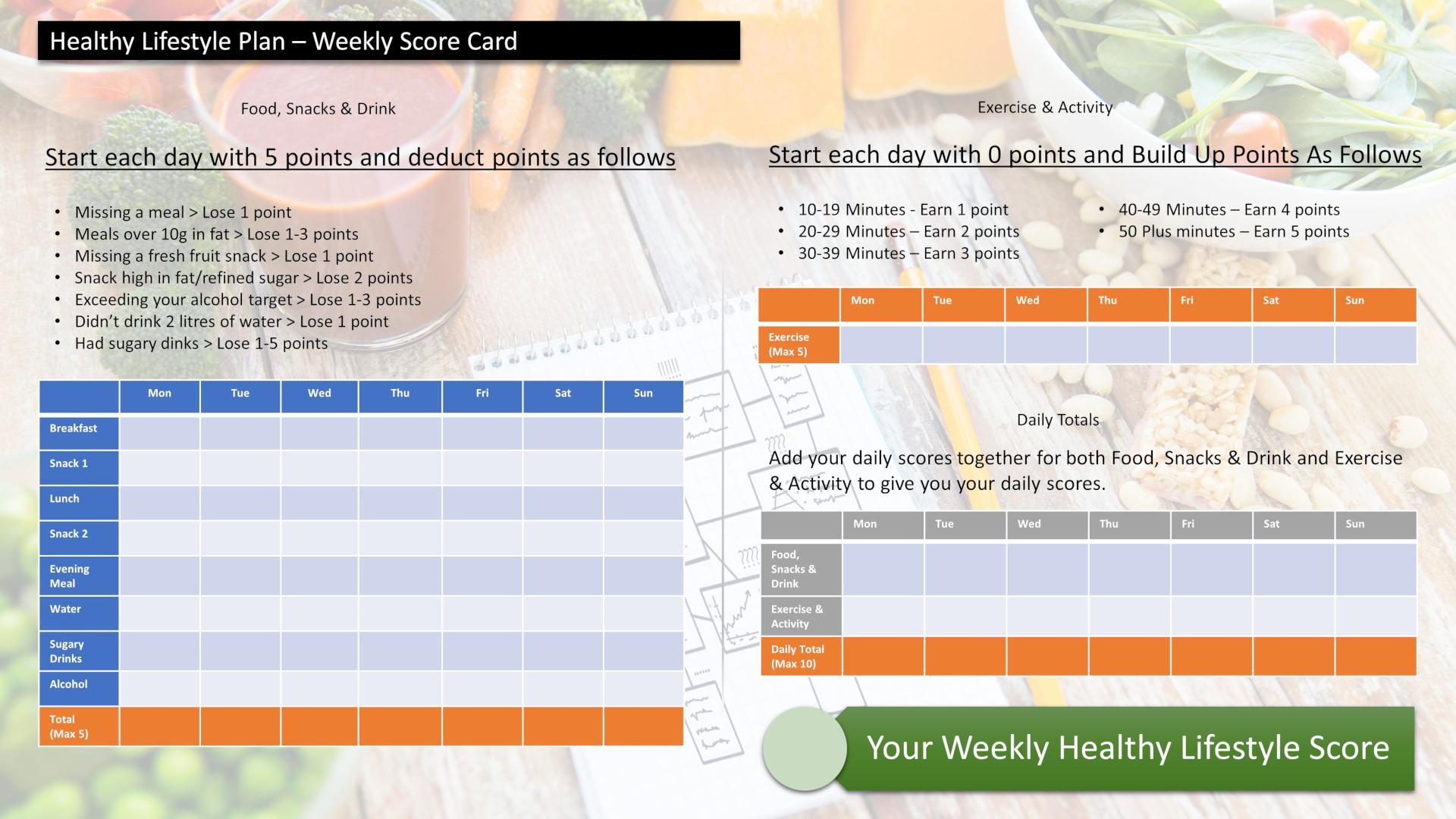 Score your way to good health with our healthy lifestyle plan and it's unique 70 point weekly scorecard!