What gets you excited about life? Everybody gets excited about something, right? So what is it that does it for you?
Today's a brilliant day to start to commit to yourself that you're going to be the best you can be, live the best life you can, do what gets you excited, and do it more and more.
When we are excited, we feel alive, pumped up and we believe that we can take on the world. Life feels great!
What makes you feel genuinely excited? I can remember feeling the height of excitement as a kid every time I was playing football with my friends or playing the latest computer game, or going with my Dad to watch Arsenal playing at Highbury. And the picture for today's post, well any Arsenal supporter would know nothing could get us more excited than seeing Thierry Henry work his magic on the pitch. Va Voom.
A common thread that has run throughout my life has been that learning new things has always been something that has always brought great excitement to me. I loved history at school and would take every opportunity to have my head in a book discovering more knowledge. I was the same with Psychology and Personal Development the later something introduced to me by my mother. I can't say I felt the same for French, thank God for my Sister Su who could do all my homework. I loved being able to learn something new. I am no different now, but I have added the desire that I want to share it with others and get them excited, too.
Now so much of my excitement genuinely comes through my work of personal development coaching where I help to improve the life of others. This blog is an extension to this where daily I get to write in order to inspire and motivate others.
My passion is coaching and every waking moment I decide to be the most inspiring coach I can be. Each day I learn something new. This excites me. To me nothing can be better than to contribute what I know and what I learn passing this on for others to benefit from. We all have something new to learn.
I get to spend my days doing what excites me most: and finding new creative, innovative ways to do it.
I am continually surprised by what I find myself doing each day, and always stretching myself and learning something new. I live with excitement a regular part of my life. You need to be doing the same.
What gets you excited about life? What makes your heart beat so fast and makes you feel so good. Figure out what's going to get you excited, and do everything in your power to be doing it.
When you live your life with excitement filling it, this makes all the difference in the quality of not just your life but for those around you.
It gives you a really special reason to be alive, to be doing what you're doing, enjoying the good life. Excitement makes the world go around for you, so you've got to find what makes you excited.
From my perspective it is relatively easy to reveal what makes you excited. All you have to do is to get in touch with what makes you feel alive. You have a passion for it! It makes a difference to you world. You look forward to it so much.
Everyone has a passion for something they get excited by. Something that brings a spark to their eyes, warms them up, that they can talk about for hours and hours without getting bored, something that energises them, and makes them feel so good while they're doing it.
I was explaining this yesterday to my friend Mary in a conversation. It was the thing that so impressed me about her. When she was talking to me about cooking, or her garden, two subjects I have no interest in but for which she has a total passion for, she captivated me, she had me wanting to learn more, she empowered me purely through her excitement powered by passion. This is her power, and when she is driven by what she is passionate about she can fascinate anybody.
Despite the fact she loves these areas so much she does spend time doing so many other things. These can drain her and push her to her limits. For others it is far worse. They may go weeks or months without anything special to spark their fire.
They bury any excitement they may have under their obligations such as their chores, their bills to pay, and their time at work. With all the stresses and strains of everyday living they find no time for anything else.
Well I want you to reach your inner fire, your spirit. Why deny what it is that makes you happy and pumps your adrenaline through the roof? If you embrace the very things that get you excited, you'll feel an immense amount of joy and you'll feel like you are truly living.
I want you to take a moment to reflect on your life right now. Reflect on the times when you've been happy and excited. Think of those times where you could feel the adrenaline pumping through your veins, and remember what it was that actually got you into this state. Take the time to make a list of all the things that 'light your fire'. What gives you that special spark of excitement?
Now think of things you can do that will generate the excitement again. Get at it and light your fire once again and do what makes your heart sing.
What gets you excited about life that gets you out of bed every morning revitalised?
Score Your Way To Good Health - With Our Healthy Lifestyle Plan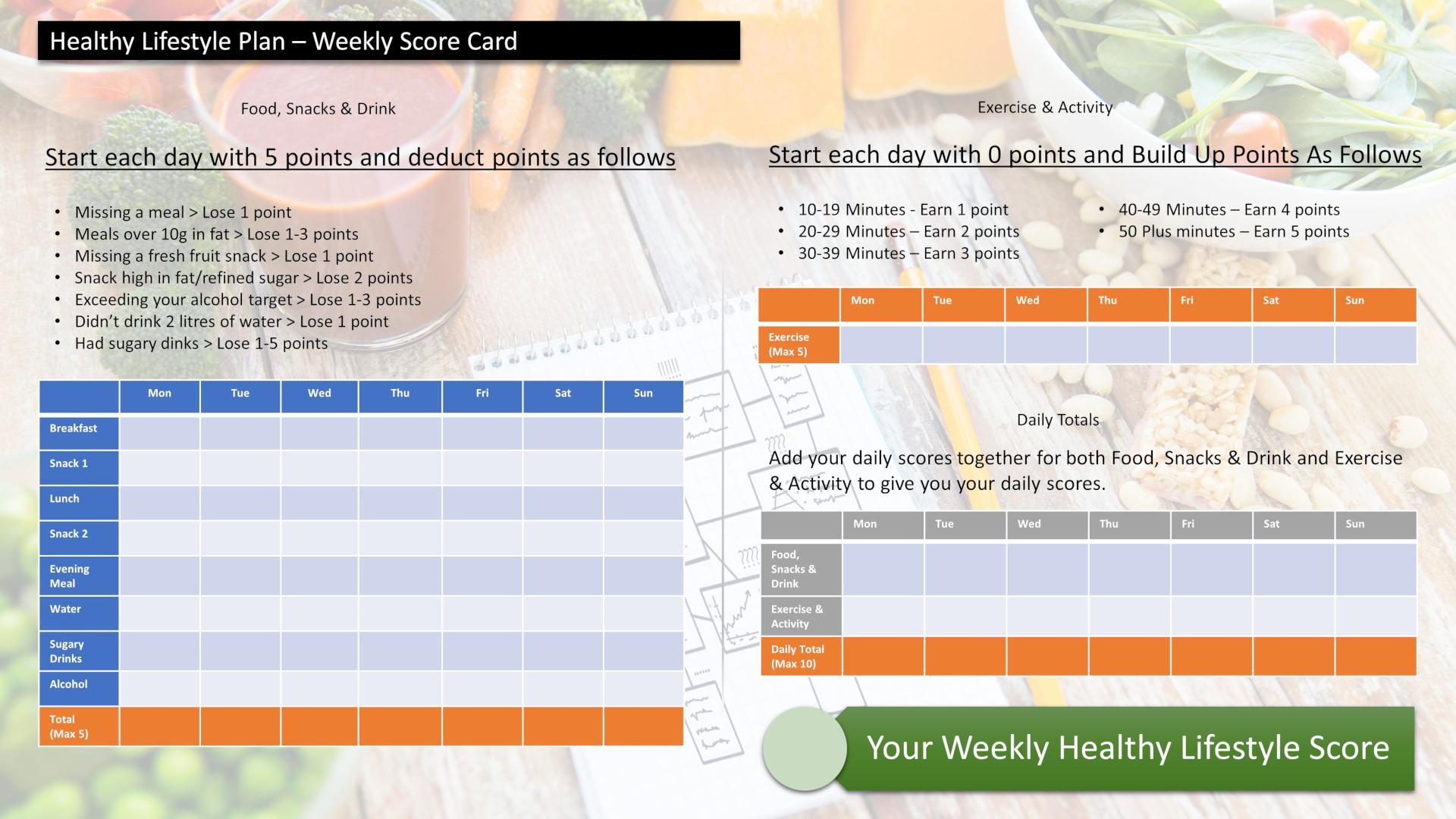 Score your way to good health with our healthy lifestyle plan and it's unique 70 point weekly scorecard!