I'm coaching somebody at the moment who has had his life thrown into turmoil by recent events. The circumstances of what happened aren't important, but the consequences are. He finds himself barely surviving, money or the lack of it is causing him great stress and he is battling on many fronts.
He may hate life as it is right now but he refuses to give up. He is desperate to turn things around and is determined to rebuild his life. Many people float aimlessly through life, taking its ups and downs as they come, just getting by and living from day to day. But this guys not one of them, he knows life is meant to be better than this.
Are you grappling with the struggles of life today?
At times life can be extremely painful. It will try to beat you down and break you if it can, and will lead you to being in a place clouded by confusion, uncertainty and fear.
There will come a time when things are confusing, uncertain and perilous. Yet nothing that happens to you should lead you to making the decision to give up. Achieving success in whatever endeavour requires persistent struggle and sincere determination.
''I can't imagine a person becoming a success who doesn't give this game of life everything he's got.'' Walter Cronkite
No matter how hard things may get, you need to put much of your time to move yourself forward and included with this is finding your best options in how to not just make money, but making a career choice that will bring the best out of you and enable you to make the best fist of things.
My client admitted he was basically twiddling his thumbs. He had to find a new carer path, being online suited his lifestyle choices, but the actual decision of what to do hadn't yet been made. So I asked him a few questions to help him see a vision for his future.
What are your gifts and talents? A gift is anything you do very well or something that comes easily to you.
In what areas are your strengths not merely good but excellent? What activities most energize you?
If you know your areas of excellence do you know how to develop them to achieve the greatest possible results in business?
What are your passions? Does your life have a mission? Is there something you feel so strongly about that you want to spend your time convincing others of its worth?
What are your personal goals? Be sure to consider your lifestyle. It's important to select a business that satisfies you and involves work you love and do well.
Once you have discovered the answers to these questions, begin to daydream about the business possibilities that you can create.
Anyone that is committed to getting to grips with the circumstances of their life, and realizing their dreams of creating a thriving business and leading a fulfilling and creative life, must uncover their special gifts and abilities. The time you spend imagining yourself making your product or service and actually running your business is time well spent.
So don't let your struggles beat you down, instead start asking yourself the right questions that can empower you to find the best path for you and take intentional well directed actions. It's time for you to turn things around.
Score Your Way To Good Health - With Our Healthy Lifestyle Plan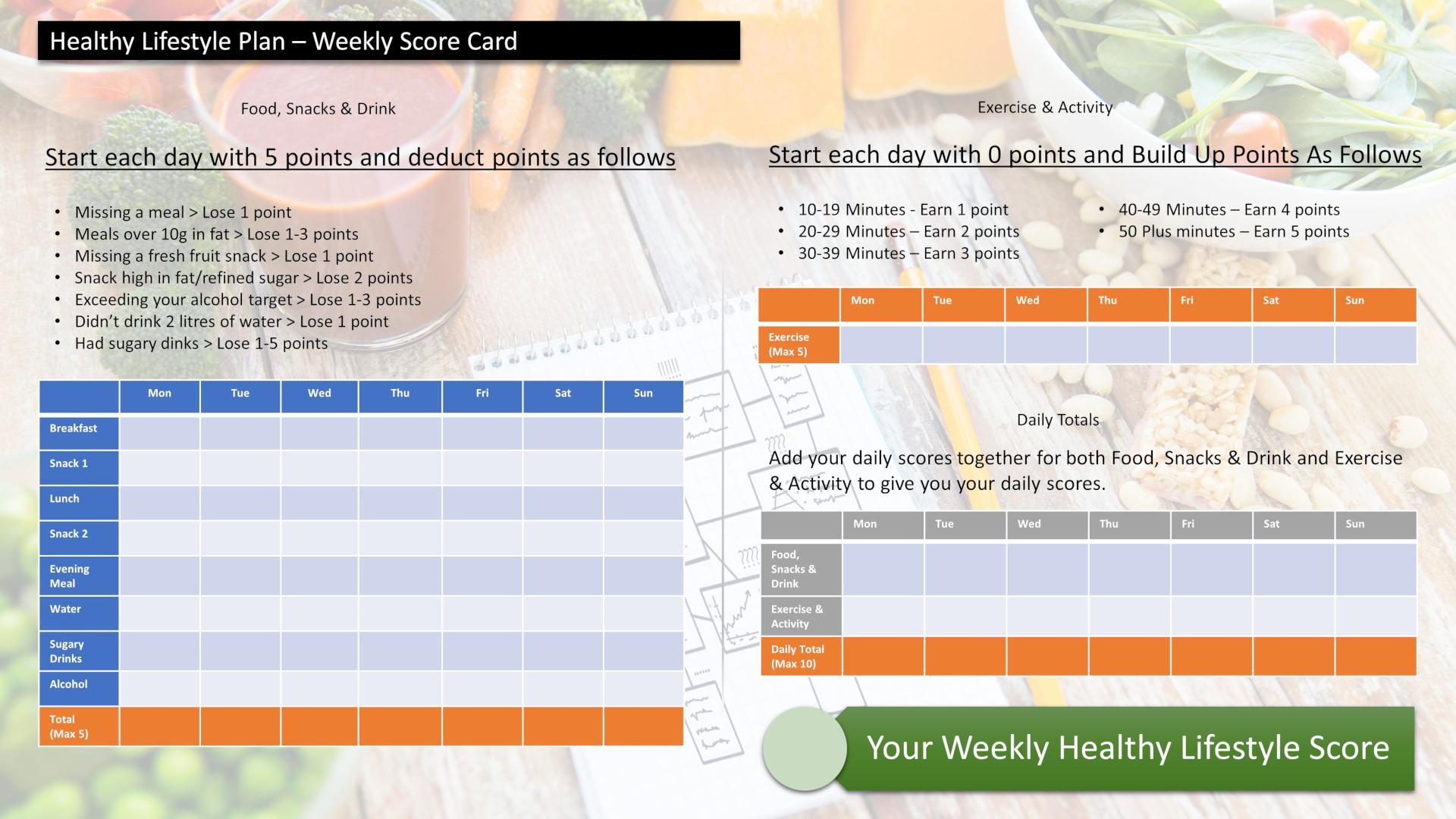 Score your way to good health with our healthy lifestyle plan and it's unique 70 point weekly scorecard!