Another Monday arrives. Will this be the one that begins to ignite your life, where your dreams and aspirations become a reality, or just another, like all those that have gone before, with nothing but frustrations and emptiness being what the day brings.
Do you love or hate Mondays? Typically Monday is your 'moan and groan' day.
Monday should be the day that excites us all. Kick starting another amazing week where you will accomplish so much. Yet for most they hate Mondays it being the day they have to return to the jobs they hate. Another long week, spent at work, the last place you want to be.
For some it's almost an innate fear of what you have to face as Monday morning dawns and the rest of another dreary, unfulfilling week.
As the Boomtown Rates (showing my age) said in their song 'I don't Like Mondays'
Tell me why?
I don't like Mondays.
Tell me why?
I don't like Mondays.
Tell me why?
I don't like Mondays.
I want to shoot
The whole day down.
In an old Daily Mail article it provides the top 10 reasons we hate Monday:
1. You dread your working week
2. You always feel more tired on a Monday than any other day
3. You're already missing the weekend
4. It takes you a while to get back into work
5. You had too many late nights over the weekend
6. You over-indulged on food and drink at the weekend
7. You had a particularly active couple of days
8. You always have a mountain of emails to catch up on
9. You spent much of the weekend travelling around
10. You always feel a bit poorly on a Monday
This isn't the way it should be. Monday is the opening day of the week where you can grasp the opportunities awaiting you. You should be asking yourself the question:
What is it that will make today a great day?
Monday is my favourite day of the week. I feel excited the minute I wake up of the possibilities ahead of me, full of anticipation for the week ahead. I know that Monday will set the tone for the week. If I don't make the most of this one day I'm bitterly disappointed. It's rare for Monday to not work out well because I make sure that every Sunday I plan the week ahead. Yes I said plan.
Most people fail to do this, they never plan, and just let fete lead them. So is it any wonder why they lose themselves in social networks, twiddling their thumbs achieving nothing, eating badly and not exercising at all. Without a plan for doing what matters, you're not giving yourself a chance, planning is everything.
[cmsmasters_quotes mode="grid" columns="1″ animation_delay="0″][cmsmasters_quote name="Chuck Schumer"]There are two tests in life, more important than any other test. On Monday morning, when you wake up, do you feel in the pit of your stomach you can't wait to go to work? And when you're ready to go home Friday afternoon, do you say, "I can't wait to go home?"[/cmsmasters_quote][/cmsmasters_quotes]
You should aim to plan your perfect week where every minute of every day is spent in a productive manner. So my recommendation is give yourself a minimum of an hour each week to plan. Ideally, make this is the same time every week so you can establish it as a routine. For me it's Sunday at 11am. My phone and computer are off, no distractions allowed. A jotter pad and pen is all I need, well apart from a diary to remind me of any appointments I may have. I have music on in the background and a coffee by my side. All ready for my hour planning session.
I start by reminding myself of my big picture, and the goals that will produce this result ultimately. I then visualize and connect with my 5 years in the future perfect life to get myself completely focused and motivated.
Having spent 5 minutes in this wonderful place, I then immediately determine the 3 things I must get accomplished this week. These are the most important 'big' things that will lead me to get closer to my 'big picture.' These things completed will make a huge difference to your life, and make the week a real success.
But you have to look after all the areas of your life so you now need to go through the key 8 areas and ask yourself what is important to achieve in each of these areas this week. Decide on a maximum of 8 outcomes you want to accomplish this week.
With this done you now need to schedule everything, particularly Monday. Since everything takes time to do, we need to assign actual time to the things that matter most to us.
Doing this will make sure that Monday is neither a wasted day or a moaning day but one where you are extremely productive and satisfied by the end of the day.
So, what about you? Do you have any Monday morning rituals to set your week? Would love to hear — share below!
Score Your Way To Good Health - With Our Healthy Lifestyle Plan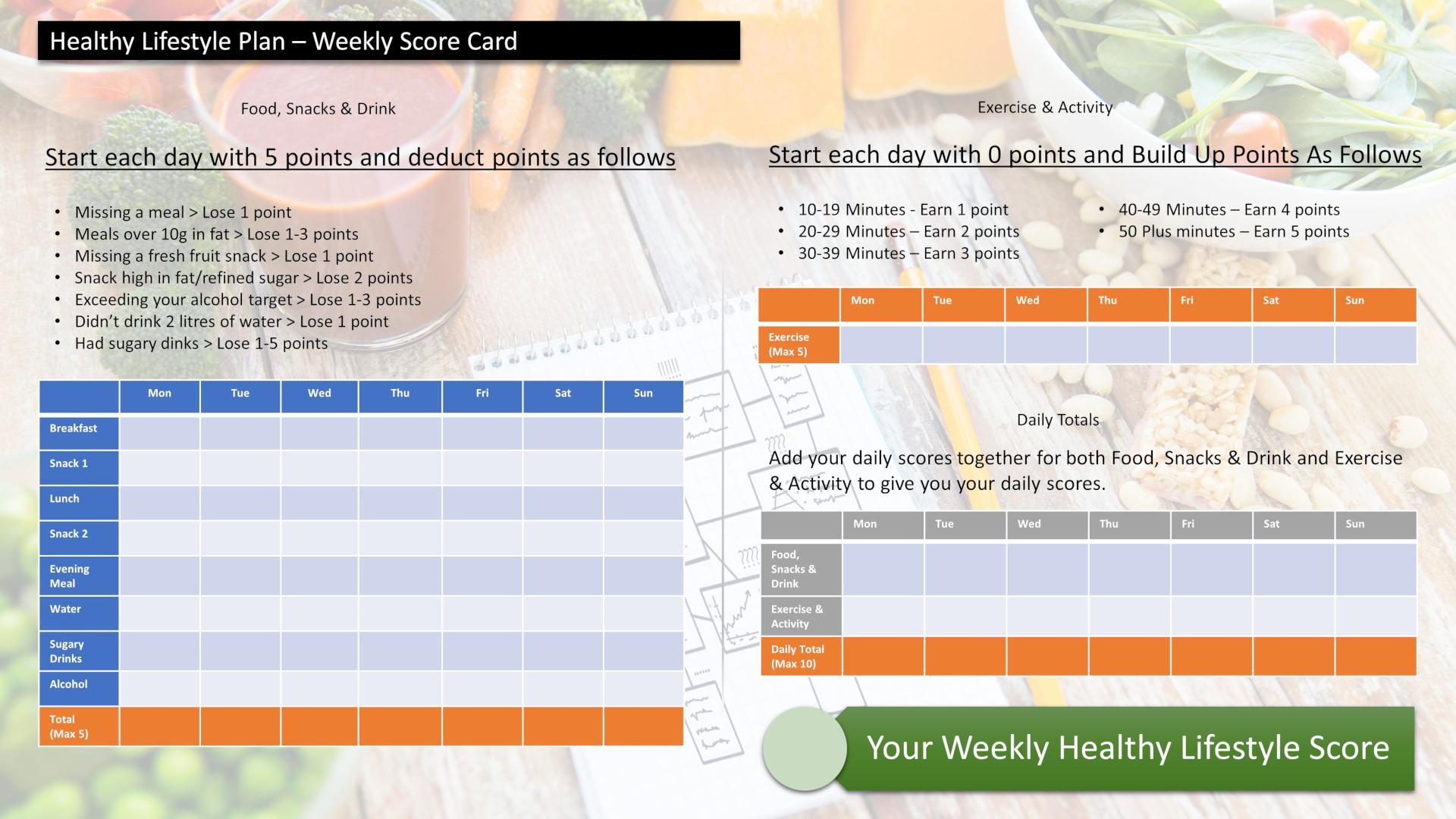 Score your way to good health with our healthy lifestyle plan and it's unique 70 point weekly scorecard!