There's no time like now to start on your goals, no point wasting time, so start this New Year off in the right way and do something today to take you a step closer to their fruition.
The festivities are over and the new year has started. Well like a 100 metre runner you need to get out of the traps right away and kick off your year in the best possible way. Find your motivation to make your start and make this your best ever year.
Many of you have made those traditional New Year resolutions but now you're going to wait for the perfect time to start. Well my belief is don't put things off tomorrow that you can start on your goals today.
So here am I writing my blog with shaky hands just literally having left the gym. I set a major goal for every important area of my life and the one for health is really important to me. Not since my two eye operations have I been able to get my body back into the condition it once was. I've made lots of starts before to try but for one reason or another I've not been able to achieve it. This time it's going to happen. I will get myself back to 14 1/2 stone', 36 trouser and toned body. As a result once again my energy levels will be extremely high. I can certainly say my commitment is massive unlike my previous attempts.
I hit the gym or more like crawled my way to the door after a late night toasting in the New Year.
I carried out some low intensity CV exercising including treadmill and bike work to warm up my body and mind. Then I carried out my favourite fat burning workout the three hundred.
I've written about this before and it was a program I used to use to beast my clients when I was personal training. You can read it here – the 300 workout. Well today I was it's victim and admit I felt it really tough. Anyone with descent eye site could see my body's carrying far too much weight but this routine reminded me how far away from fitness I am.
Two circuits and the sweat was dropping off me, my muscles hurt and my breath was out of control, only matched by my exhilaration that I'd done it and indeed had got started right away with an action to achieve my goal.
A small step on a long journey but I've made the start and that's all you can do no matter what your goal. Taking action is the only thing that will get you nearer your goal.
So what have you done today to bring a resolution one step closer?
Score Your Way To Good Health - With Our Healthy Lifestyle Plan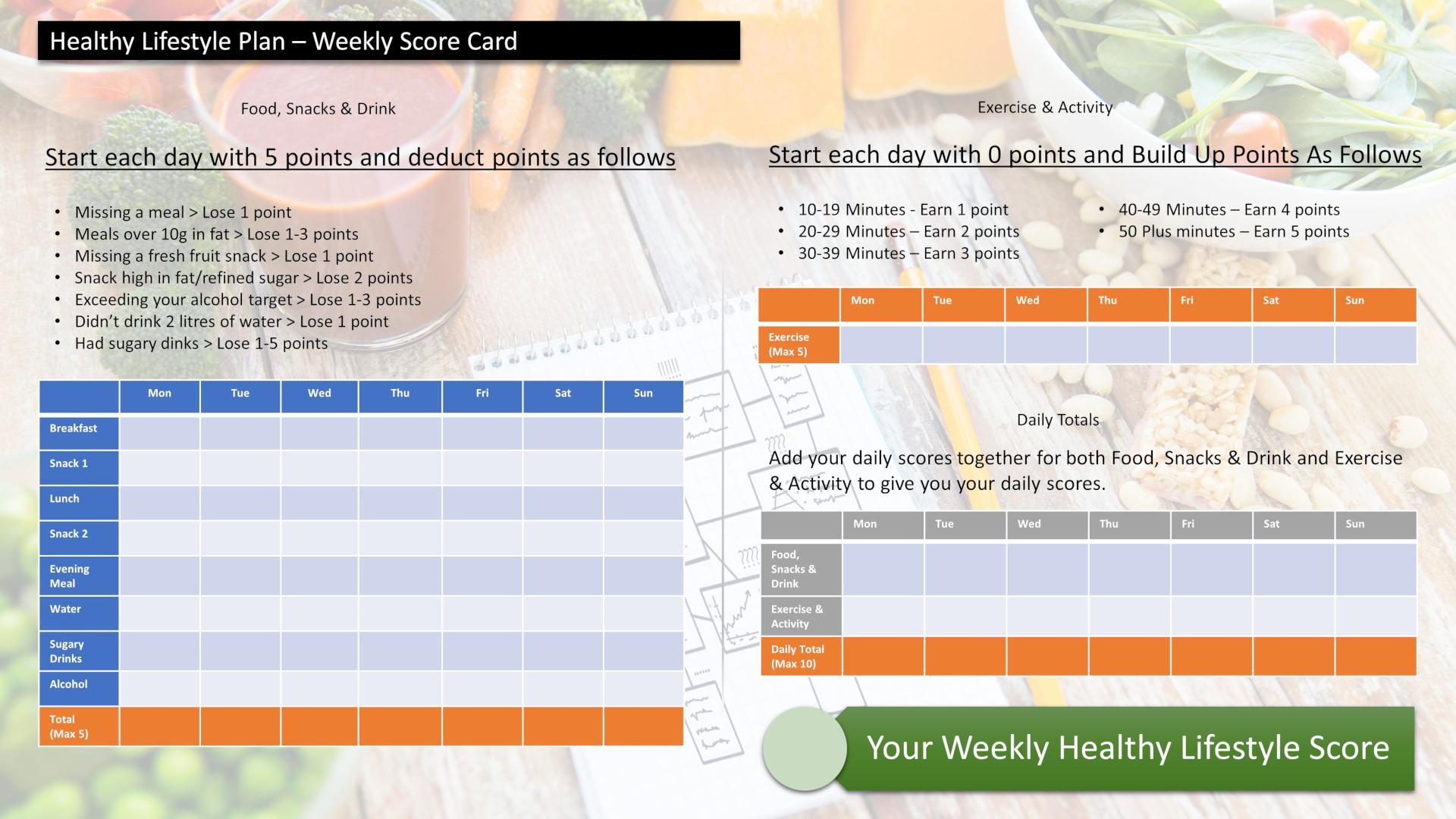 Score your way to good health with our healthy lifestyle plan and it's unique 70 point weekly scorecard!