One of the most important lessons I've learned on my life journey is that failure will often be a predecessor to ultimate success. There are countless success stories where success has been created out of the ashes of failure. Thomas Edison failed over 6,000 times before creating the first electrical lightbulb. Michael Jordan was cut from his high school basketball team, Oprah Winphrey was fired from an early anchor spot and deemed "unfit for TV." I had my beautiful house repossessed and was declared bankrupt.
Failures, disasters, and defeat helps you build resilience and character, give you insights about your work, yourself, and others, enrich your experiences, test your emotional intelligence, and add to your knowledge and skills. To gain the most from them, you could practice the following dos and don'ts on how to respond:
I remember when my world fell apart. The pressures were intense. Many a sleepless night I would lay just desperately searching for answers, but none were coming. Thoughts were just going around in my head and I couldn't shut them off, and constantly I'd be asking when will things turn around. That was a long time ago, and things have not only turned around but life has now transformed completely.
It is so often the way that before you succeed you go though periods of tremendous difficulties and where you experience out right failure. Would anyone now believe that only 7 years ago I was on the brink of financial ruin and personal collapse. I was sinking deeper and deeper into a state of malaise.
I have come to find that there are so many others going through similar nightmares to those I experienced. Though there will always be things for you to deal with, your days will be full of ups and downs, there are things you can do to help keep your life from spiralling out of control. Life is a constant process of trial and error.
Everyone can get better at creating and sustaining resilience. Almost all of us will experience some kind of adversity—most of us will go through some pretty tough times at some point in our lives. We each have a remarkable ability to bounce back after problems. Through my life I demonstrate this and is why through my blogging I share my story, in the hope of what I've learnt I can help others make the changes in their life that they're desperate for.
This is the power of autobiographical storytelling where you write about events and memories that have mattered to you in your own life. I want you to understand that sharing your story can help others. Stories can be very illuminating and many people could benefit from passing on your wisdom to others. This is where we begin on my Compass for Life Course, asking you to write your Life Story and determine in hindsight important things you may have missed.
You yourself can benefit greatly from writing your own story. Like all stories, your life has a beginning, a middle, and an end. It helps you to think about how the various events, both good and bad, which have contributed to your journey and making you the person you have become. Writing it will help you identify key events, and even find clues to things you've missed which were trying to point you in the direction your life was meant to take. By discovering them now could catapult your own life to a far better place.
So become your autobiographer and use this to become the author of your future life and make sure you produce a best seller.
Score Your Way To Good Health - With Our Healthy Lifestyle Plan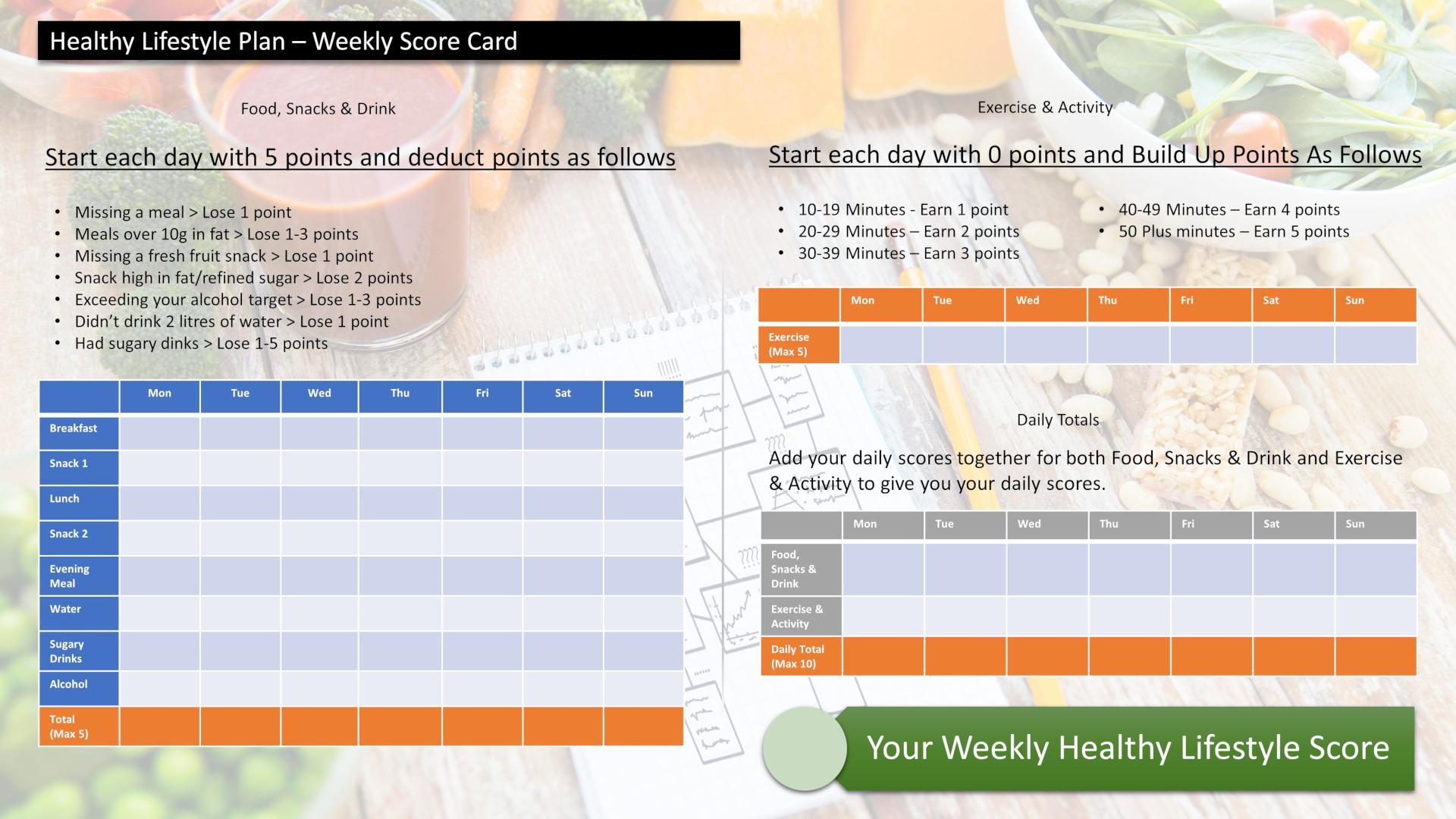 Score your way to good health with our healthy lifestyle plan and it's unique 70 point weekly scorecard!