When you realise it's important for you to discover your life purpose the good news is that life leaves clues. Yet the question 'what do you really want to do with your life' often seems to be as unanswerable as the question 'what comes first, the chicken or the egg?'
Several years ago, when I first started speaking, some of those attending would approach me after to share something I had said that had moved or inspired them. It showed me that I had found my calling, that I was on the road to fulfilling my purpose and building the legacy I'd leave behind. Not only did I love speaking to an audience but it seemed I was able to provide hope, inspiration and motivate others to action. It always feels so good.
Speaking together with my coaching and writing were the skills I had been blessed with that had always been intended to be how I uniquely expressed myself to the world. I came to realise it was my purpose to build my life around these, and through them, make the difference.
Maybe this is your time to discover the one specific thing your life is calling you to be, the one dream that once realized will deliver you to a truly satisfying experience? You will strive to determine the answer to your calling and purpose if you believe you deserve more fulfilment, more satisfaction, more success, more significance in your lifetime.
I believe each and every person—including you—is here for a reason. You were created with specific interests, talents, and gifts that can excite and motivate you. You simply need to embark on a path to self-discovery. Only you can uncover the hidden treasure that you seek! Only you can find your calling.
I am convinced that life leaves clues!
Is our existence, our life, nothing but a random event, like a leaf blowing in the wind?
I believe that my existence, as an individual, is not made up by accidents based on randomness. For me I know everything happens for a reason. Every event, circumstance and outcome has a meaning, and significance, I just have to determine what it is. You have to do the same with everything that comes your way, took back over your life and discover the hidden golden nugget trying to point you in the direction of your purpose.
I'm excited that soon I will not only be launching the next Reinvention University course Compass for Life but that I'll also be on the road speaking. I now I'll be relating the story of my life and show how badly things went for a time, where then I did everything wrong and made wrong decisions that led me to take the path to nowhere. Yet if only I had allowed myself to look forward with an eye to what my past had taught me, I would have connected far quicker with the path I had meant to be on, the one which I now walk.
We are constantly making choices. Each of those choices will often lead to a different outcome. Regardless of what choices we make we get regular feedback from life as to whether or not we are living on purpose and fulfilling our higher calling for being. We just have to look at the things that have happened to us in our past to determine the message we were being offered, because indeed life leaves clues
So my message today is that the story of our life can be deciphered as a series of clues. We all have clues we can follow. It's our job to find those clues, learn to interpret them and then follow them. When we do that we will experience the best outcomes that are possible in our life. So if life leaves clues, go find the ones left for you.
I would love to know your thoughts on today's blog.
Score Your Way To Good Health - With Our Healthy Lifestyle Plan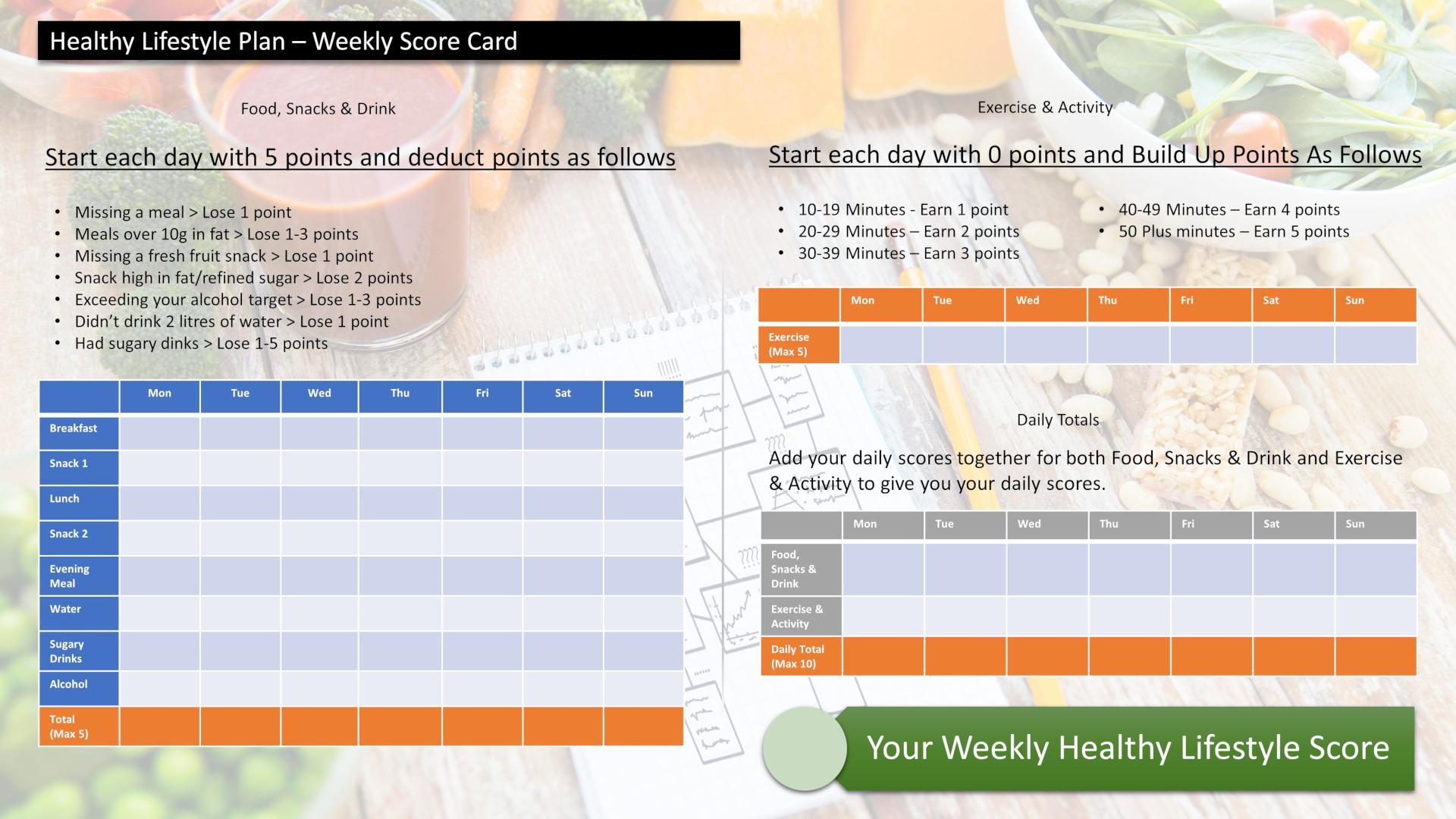 Score your way to good health with our healthy lifestyle plan and it's unique 70 point weekly scorecard!