The year 2012 is reaching its conclusion, and the New Year is just around the corner, have you prepared for your New Year's Resolutions? Chances are you're just starting to think about what your New Year's resolution should be, but why wait till January 1st to take action?
Well I want to help you jumpstart your New Year's resolution now! This coming year I want you to be able to kick off your New Year's resolutions like never before. The year 2013 is going to be your year!
Traditionally, New Year's Day is the chosen time of so many to kick start a new phase in their life and to do this they set themselves a multitude of new year's resolutions.
Unfortunately, the beginning of the year is also one of the worst times to make a major change in your habits because you now want instantaneous results, you want to throw yourself right in to making these changes, but most of you won't have yourself the time to plan out how you're going to do it. And this is the biggest mistake you can make.
The first few weeks of January will just fly by and, before you know it, everything will be back to the way it was before, unless you plan how you are going to make the changes beforehand.
According to Oscar Wilde, "A New Year's resolution is something that goes in one year and out the other."
How many times have you made New Year's Resolutions, sworn that this time you'll keep to them, but before the month of January is over you've slipped back to your bad old ways. Year after year your resolutions just go by the wayside.
You're not alone. There are numerous statistics about the value of New Year's resolutions. All of them point to an alarming failure rate. But it doesn't have to be like this.
The New Year is definitely a time full of opportunities where you can set yourself achievable, realistic goals and how you can go about achieving them.
If you start now, by planning what you intend to do, you can put yourself in a great starting position to achieve what you set out to do.
This is so simple.
You just have to write your clear, quantifiable resolutions down on paper.
That should be really easy.
Getting in shape seems to be the most sought after New Year's resolution for many.
Quitting smoking is another at top of the list for many.
Finding a career that matches your passion is becoming more popular all the time.
Everyone seems to be talking about money. We want to make more, spend more and save more.
Well get ready to make the year 2013 your year.
Now figure out what you will do every day for the month of January in order to make progress towards your resolution.
Come out with your plan. Is there anything you need to do in December in preparation?
What's your plan? (Now write it down.) If you don't have an action plan you are doomed before you've even got started.
What do I mean by an action plan?
You've got a goal, that's what your new year's resolution is. Now how do you achieve it? Break your goal into sub goals or small steps. Think about how to make each small step. Rather than emphasize the long term goal, consider daily goals. What daily changes must you make to achieve your long term goal? What action steps must you take?
You need to identify the steps needed to achieve your goals.
Let's say for example you are determined this coming year to shed those extra lbs. Be specific about the amount you wish to lose. Maybe determine the dress or trouser size you want to get down to. But you've got to get a plan in place. Once you have it shows you the steps you need to take.
1. Determine which diet program you intend to follow
2. Set up a week food plan with healthful foods so you are prepared in advance
3. Go shopping for these healthy foods and stock your cupboards.
4. Throw away all the junk food in your house (really important after Christmas)
5. Research the best gym local to you to join or determine how you will be exercising
6. Join the gym
7. Schedule 50 minutes per day to exercise
8. Take pictures of myself naked to motivate me to change
9. Determine your weekly assessment day to check on progress.
10. Plan your social life to avoid those alcohol filled nights out
Of course this list can go on and on, but I'm using it as an example of the things you have to determine now so you are ready for January.
So my advice is that you need to process your goal now so you can really think about measurable steps you need to attain the resolution.
Ask yourself "what do you need to begin?"
Most importantly "why does it matter?"
Whatever you want to do, it's a great time to start planning for it. Build up momentum so you get excited about it, and set yourself up to achieve your resolutions!
I will provide far more resources over the next few weeks to help you out.
What resolutions are you considering for 2013? Let me know in the comments below.
Score Your Way To Good Health - With Our Healthy Lifestyle Plan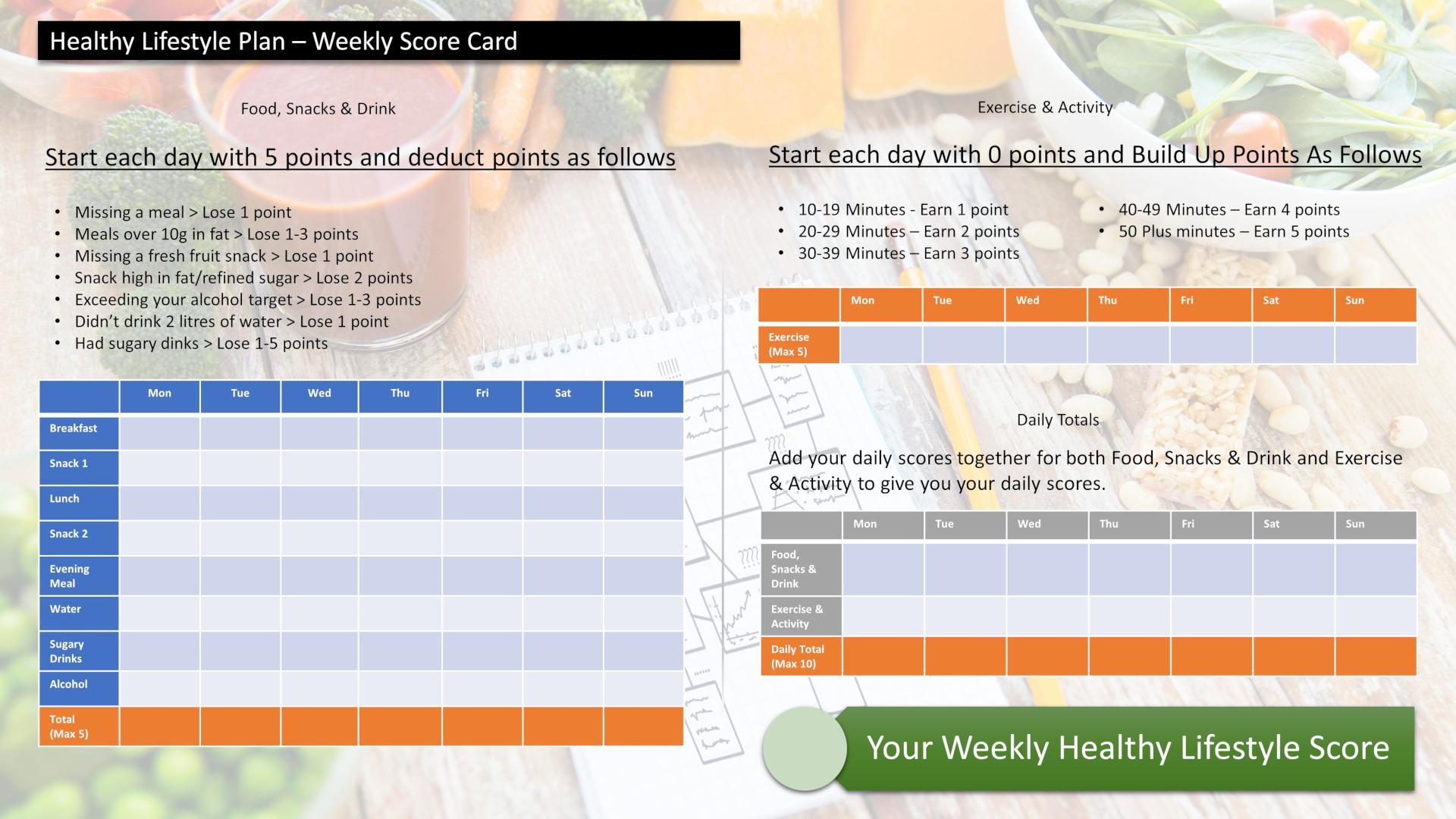 Score your way to good health with our healthy lifestyle plan and it's unique 70 point weekly scorecard!