Self Esteem is Your Sure Way To Unhappiness
One of the great plaques of society is the low self-esteem many people hold themselves in. A low self esteem is your sure way to unhappiness. When you feel down about yourself you often feel as though you've been beaten up and let yourself down in everything you do.
Are there times when you feel beaten up and let down by life? Are there times when you feel unhappy and it seems like nothing can make your life improve?
If you want to be unhappy, which surely no one wants for themselves then you have to deal with your self-esteem. You see the truth is we are the ones making ourselves unhappy most of the time subconsciously because of our low opinion of ourselves.
You have to understand what self-esteem is. It is basically the overall opinion we have of ourselves, how we judge or evaluate ourselves, and the value we attach to ourselves as people.
When we hold a low self-esteem of ourselves it severely taints us and dramatically lowers the way we live our lives.
When was the last time you reflected on your own opinion of yourself, and how it affects your life?
At the heart of self-esteem lie your central beliefs about yourself and your core ideas about the kind of person you are. These beliefs normally have the appearance of statements of fact. They may seem straightforward reflections of your identity, pure statements of the truth about yourself.
In reality they are more likely to be opinions than facts, misguided ones at that. They are just conclusions you have come to about yourself, based on the experiences you have had in your life, and in particular the messages you have received about the kind of person you are. So, to put it simply, if your experiences have generally been positive, your beliefs about yourself are likely to be pretty much positive.
However, if your experiences have been pretty much negative, then your beliefs about yourself are likely to be equally negative. Negative beliefs about yourself is the key hallmark to a low self-esteem. It is this that effects your entire life and makes you become far less than you're worth and truly capable of.
Do you have a problem in this area?
Before you can deal with any problem in life, you have to accept it as it is then you can do something about it.
The truth is once you see you have a problem, accept it as existing, then you will be able to work on finding a solution to deal with it.
So come on be truthful, do you have a low self-esteem and are you prepared to do something about it?
I'd love to help you by writing more blogs on this, but only if it's going to help.
If you decide to do nothing, remember self esteem is your sure way to unhappiness!
Score Your Way To Good Health - With Our Healthy Lifestyle Plan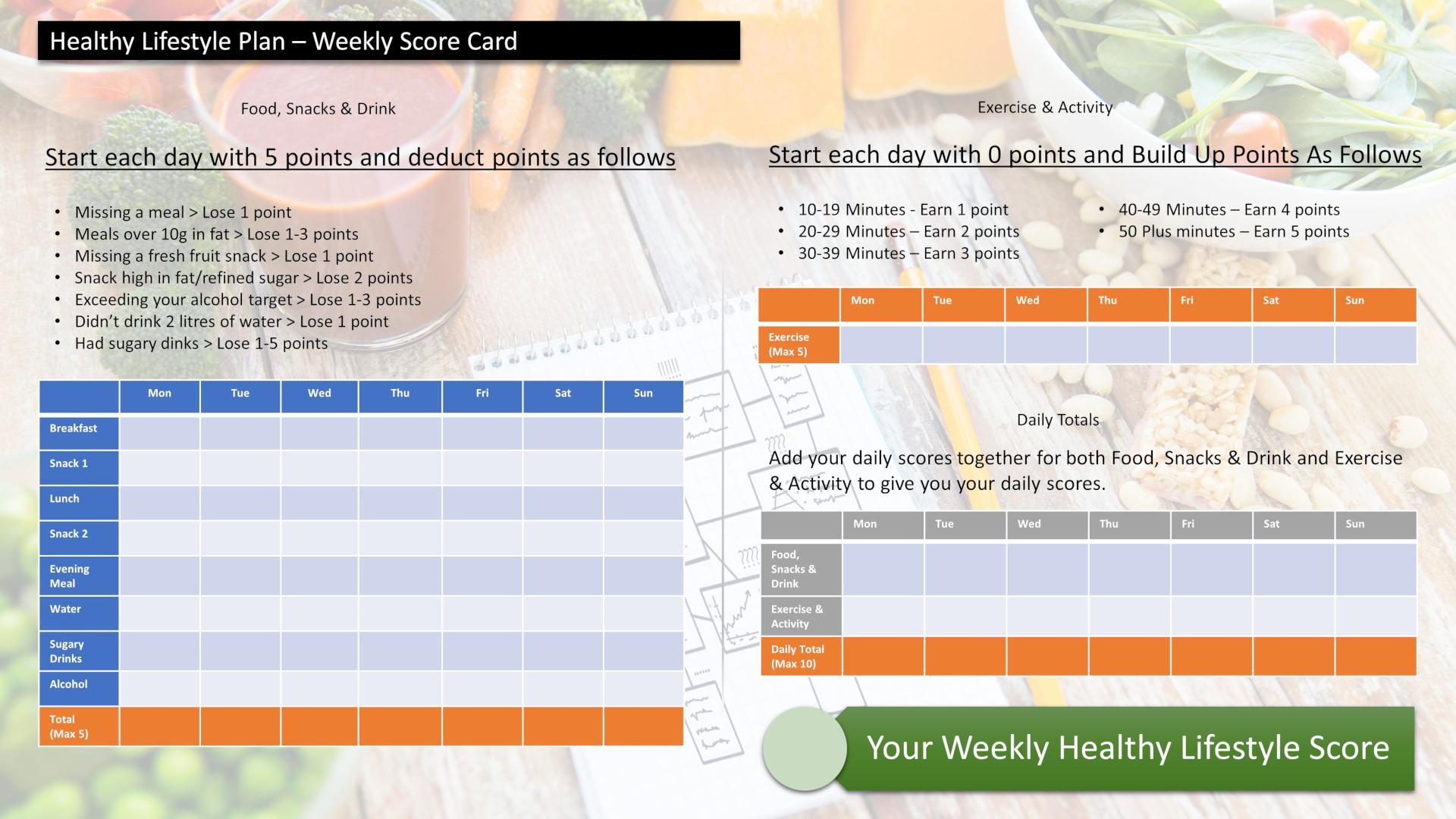 Score your way to good health with our healthy lifestyle plan and it's unique 70 point weekly scorecard!