No holiday on the island of Lanzarote could go without a visit to the Market of Teguise. The market itself radiates out from the square and plaza of the old capital, and utilizes all the streets in the town. There are literally hundreds of stalls, selling a huge variety of items from fake Rolex watches to your typical tee shirts, from stunning lace table cloths to local arts, paintings and crafts. There are stalls selling plants and local produce, beautifully handmade leather goods, toys, glass, and many selling stunning jewellery.
We roamed around for hours working through the treasure box of stalls. I was fascinated by many of the characters selling their goods trying to put money in their pockets. I took every opportunity I could to talk to a few market traders to find out a little about their business, experiences and motivations.
There was the English lady who sold dog coats and jewellery. My intentions were not to buy my collie Buster a warm fur coat but to find what brought her out into the sun selling in a market on this wonderful island. She'd moved here many years ago. She had no need to work, owned a beautiful home and had a collection of poodles that were like her children. She developed a fascination of creating outdoor wear for her dogs for the winter, and fashionable collars and leads for the summer. In time she loved doing this so much she decided to create a business from doing it, and hence her market stall.
Another guy, well he created the most amazing handmade children clothing. He was Peruvian and his designs and materials all came from his homeland. The skills he possessed were past down through generations, and he simply loved creating his spectacular garments and took such pride in knowing children from around the world would wear his clothes. He had originally moved to Lanzarote to work in the hotel business but the calling of his talents and inbred skills couldn't be resisted for long.
Both these people were so open and happy to talk about their business and the love of their craft. They were genuinely passionate about what they did. They talk with such care, and were happy to go in to so much detail. When I walked away from the child's wear stand, he chased after me, and said, I need to tell you how to wash the garment you have purchased to ensure it is never damaged. You could so see how much he cared.
A third stall was run by a lady with a passion for jewellery. What started out as a hobby many years ago has turned into a part-time business selling accessories and costume jewellery in this market every week for the last 2 years. Her pride was in the fact that every item was unique so nobody would buy or wear the same design. Although originally she hand made all her own products, now she sourced many from all parts of Spain and further afield.
For all three, what started out as a hobby became a business. They each talk about what they do with such passion, such joy, our conversation were animated and I was truly taken aback by their love for their products.
Have you ever met a person who was passionate about something? I can say I have and some of the traits that they express are amazing. They have lots of energy, they produce exemplary products, they are usually very happy about life, and they can have fun doing what many would consider really hard work.
But what surprised me the most is how they have limited their potential. Having worked in markets myself as a kid I know it's a great was to supplement your income and it,s also fun to take part in markets and meet people, but it in my mind is never going to make you an outstanding income, and certainly not a passive one.
Neil and I are always on the lookout for something a bit different, and people like this who create such marvellous products who bring such a passion for what they do with them is exactly what brings the best out of us. Here we are talking about genuine craftsman, creating genuinely beautiful items.
I truly believe we can see an alternative for people like these that gives them an opportunity to set up their own business online which can grow into a thriving business, and they wouldn't have to stop their market stall if they didn't want to.
What we know about our online shops is that they are successful not just because we know what we are doing, although we do, but the internet in general is a great thing, because it is giving consumers greater choice and access to a much wider range of products. In addition, it has increased their expectations in terms of service. Those that deliver great products, a passion supported with knowledge and great support will succeed. The internet has the potential to completely re-shape their world.
I believe their products could become 'stars' online. Why limit the awesome products they create to the lucky few who happen to find them when they walk past their stall in the market. I want them to dream, bigger. The beautiful thing about the living in the world today is being able to sell your products online. This means you can reach people all over the nation and all over the world.
What I see for them is their own online business which will create a truly good income and more freedom for a better lifestyle. I can see an online shopping centre for genuinely talented hand crafted individuals supported by an online magazine blog where my team, headed by Neil, Bob and myself get the products set up in the shop doing everything that's necessary to be able to rank on Google and other search engines, creating traffic to the site. They will create valuable content that those people are interested in all about the products they love, that they've already demonstrated they can talk about hours on end.
In today's world, everybody wants their own online business, because it creates better income and more freedom for a better lifestyle. Through a blog they can connect with like-minded people, creating relevant content on their subject that will get traffic that converts into sales. Sales online mean they'll be earning income 24 hours/day, 7 days/week, 365 days a year, not just every market day Sunday, weather allowing.
Imagine being able to be doing exactly what you love to do, blogging about it every day for less than an hour per day, and creating sales through an online shop!
Making the transition from market stall to the internet is not always easy. But with us at your side you've got everything you're going to need.
So all of this sounds good right? If you said "yes" and you think that you can benefit from having us by your side, and of course you've got the products that you know its time to show the world, contact us!
Fear is the biggest obstacle to pursuing your dreams. Don't let it stop you any longer. What is it that you've been wanting to pursue that you've been hesitating about? Use your natural gifts and talents, do what you love, patiently and persistently, the rewards WILL come. Let us show you how!
Score Your Way To Good Health - With Our Healthy Lifestyle Plan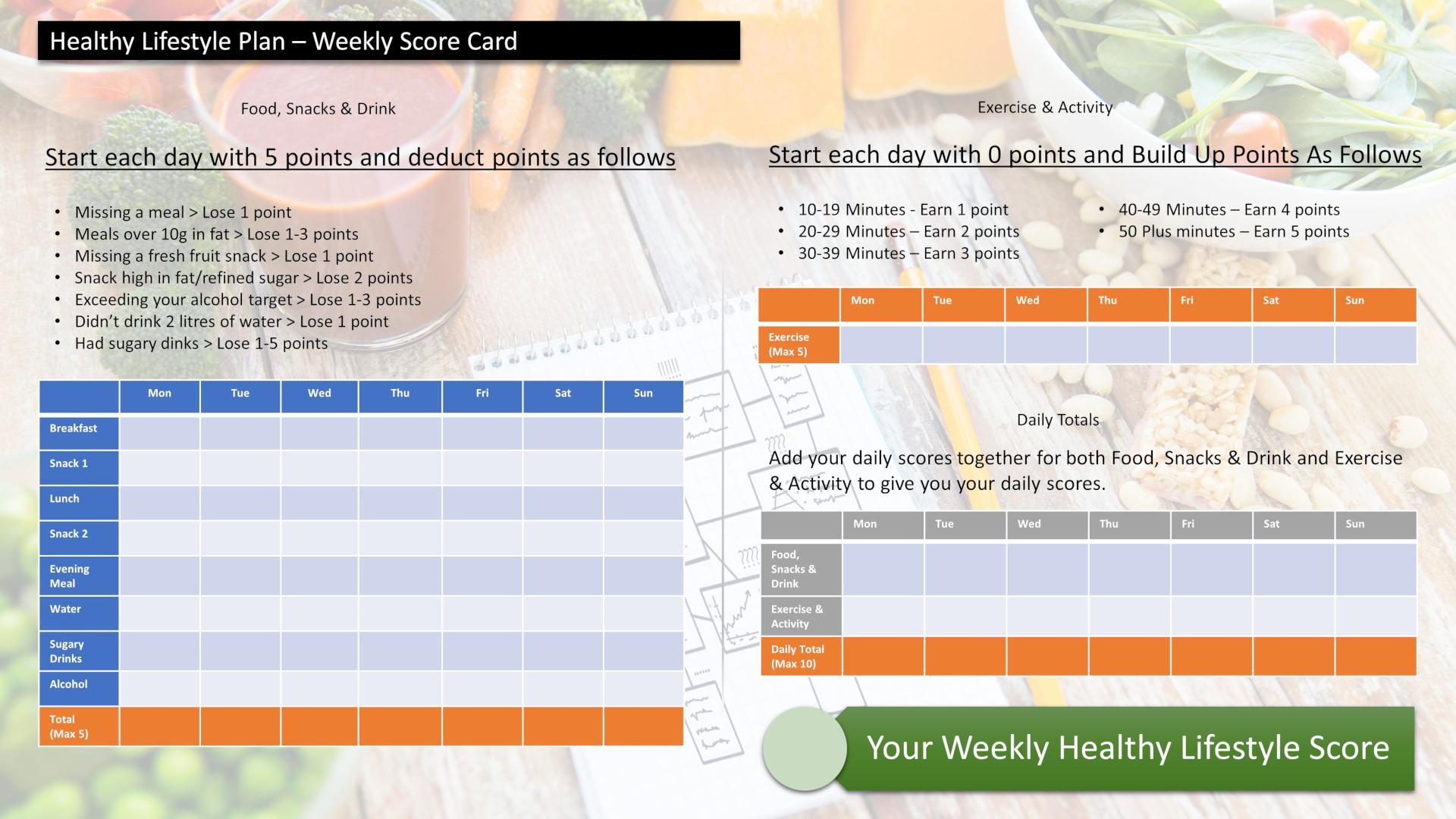 Score your way to good health with our healthy lifestyle plan and it's unique 70 point weekly scorecard!