The power of questions is irrefutable, and I assure you that the questions you ask yourself will determine the quality of your life.
[cmsmasters_quotes mode="grid" columns="1″ animation_delay="0″][cmsmasters_quote name="Voltaire"]Judge a man by his questions rather than by his answers.[/cmsmasters_quote][/cmsmasters_quotes]
You are asking questions of yourself all day long. It is the quality of these questions which will determine whether you empower yourself or alternatively whether you send yourself into a spiralling negative mood.
How can the human mind find itself inspired and motivated to take positive actions when it's considering negative self-bashing questions such as:
"Why am I such an idiot?"
"Why does everything keep going wrong for me?"
"Why does everything I do end up failing?"
Simply by changing the type of questions you ask of yourself you will be changing your entire attitude and mental focus.
Imagine thinking about this question:
"What can I do right now to become more happy and fulfilled?"
Doesn't this get you to look within yourself to find something that would undoubtedly inspire you. This is the type of question that can get you not only focused but feeling very positive.
I had a conversation just the other day with a young man who was very deflated, and really struggling to find the right place for him to excel.
Currently he is doing a job that not only does he hate, but that pays him really badly. He wants to do better not just for himself, but also so he can take care for his girlfriend and baby in the way he wants to.
Yet his thought process is driving him to see just doom and gloom ahead, with no bright future just a lifetime of struggle and unhappiness.
He asks questions such as:
"What future does a guy like me have?"
"Why is life so unfair?"
"What am I expected to do when I have no hopes or dreams?"
He is sick and tired of watching life pass him by and the lack of money he has to deal with. Yet the worst thing is all this negative thinking makes him certain that he is destined to have a life of failure and that he is powerless to change it.
The worst question I heard him ask is
"What possibly could somebody like me who has no talents or skills do to make a great life?"
He sees himself forever more either going to do a crappy badly paying job or sitting at home miserable and unemployed. The humiliation he feels by not being able to give his woman or their child everything he wants is heart breaking for him, because he is such a giving, loving partner and father.
He has to change his questions, so as to find the positive way forward which everyone of us have available to us. We can all have hopes, dreams, and a decent life
In other words, you are absolutely free to hold on to the belief that anything is possible and that you can build yourself an exciting, prosperous future, however you have to allow your mind to think along these lines, not the negativity that bad questioning will lead to.
A man's destiny is in his own hands, he can become anything in life as long as he applies himself in a positive way.
Every man can be great yet he has to come to the realisation that he is the controller of his destiny.
No-one has to live an unhappy and unfulfilling life, struggling for money forever, we all have the ability to change everything in this life. I know that every person has their own unique abilities that can make the most of the right opportunities and achieve anything – and change everything they desire in their life.
So move your life forward and start asking yourself the question "What's The Future I Want" and "How do I go about getting it?"
Tomorrow I will deal with his next step What Career Is Right For Me?
Score Your Way To Good Health - With Our Healthy Lifestyle Plan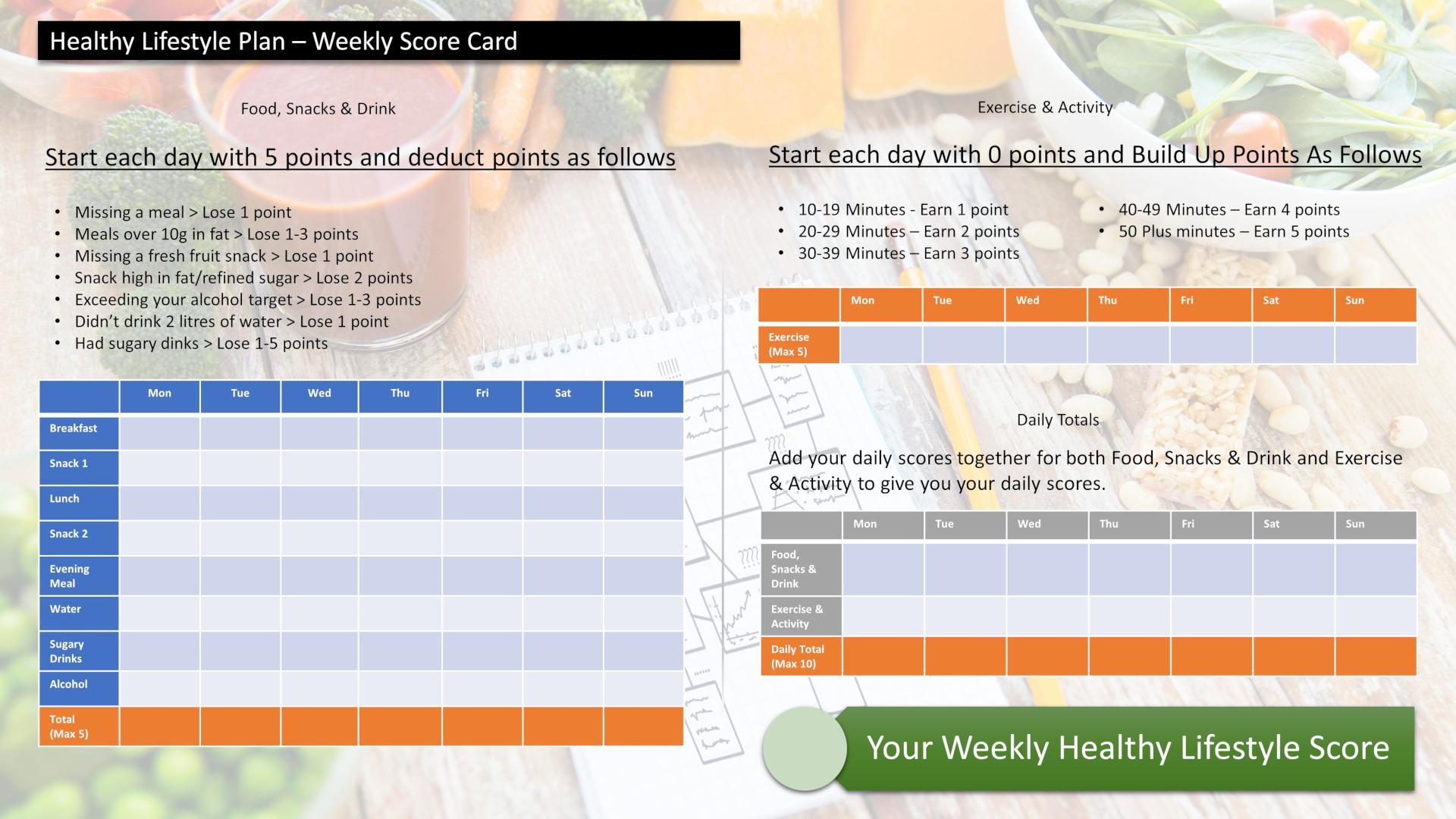 Score your way to good health with our healthy lifestyle plan and it's unique 70 point weekly scorecard!