If you can harness the power of positive thinking then the possibilities for you in life are endless as nothing will hold you back. Every one of you must already realise that positive thinking results in a positive and more fulfilling life for those that practice it.
Generally positive people are happy people, we manage stress better, deal with problems efficiently, we tend to have better relationships, experience better health, and frequently we are happier and often more successful in our Careers than those people who tend more on the negative side of life.
This isn't to say that positive people always see only the good side of life. Every positive person has bad days. We don't live on a different planet you know. We still have to deal with troubles and strife like everybody else.
Look at poor me right now. On the beautiful island of Lanzarote. The sun I'm told is shining outside, but most of the day I'm indoors struggling with a nasty virus, taking some Spanish throat spray and cough medicine. It must be great stuff, one sip and I'm out for the count. So I may not be getting to soak up the sun rays, but I'm certainly vegetating, and catching up on my relaxation time. I'm recharging my batteries and that's my number one reason for being here. Every cloud has a silver lining when you look for the positivity. And I've still got 10 days to make up for the tanning time.
The difference between positive and negative people is their ability to refocus their thoughts. It's not that we have only positive things in our lives, but its that we are able to focus far more on the positives than the negatives.
A positive thinker is a person that expects good things to happen. They expect happiness, pleasure, love, success, and enjoyment from every action. And when good things do happen we make the most of them no matter what.
What would your life be like if, starting today, you never had another negative thought?
What would be different? How would your relationships improve? How would your job be better?
Positive thinking and a positive attitude is infectious. Do you ever find yourself feeling bad about yourself or about the world after speaking with a negative person?
Do you ever find yourself smiling for no reason after someone has showed you an unexpected kindness?
Positive and negative emotions are powerful and they are transferable. Consider how much you could help your loved one's lives improve simply by thinking positively yourself.
The only one who has control over how you feel is you. You are in control; you have the power to change your world. You and only you. When you use your mind to only think positive thoughts you will see a dramatic change in your life.
Imagine how powerful this new perspective will be. Imagine the changes it will have on you. I read the other day somebody remarking what a dreadful year 2012 had been for them. This alarmed me. They weren't shouting out with excitement that 2012 was passing away and they were thrilled with the expectations of what 2013 may bring to them. But obviously looking back they saw only negativity of what had gone before, and if they're not careful they'll bring pretty much the same for their forthcoming year.
Imagine how differently you would feel if you felt confident about what the year ahead was going to bring, all of its wonderful possibilities.
So how do we achieve this so much better state? How do we bring ourselves the ability to eliminate negative thoughts before they appear and replace them with only positive thoughts?
It takes time, practice, patience and lots of persistence. Accept that you are human and that every day is a new day and it brings you one step closer to having complete control over your thoughts.
Always look for the good. There is always good things happening. You just have to look for them, stop getting yourself stuck in the mire unable to see what good things are happening around you. Maybe life's throwing you some shit right now. Trouble with money, illness with loved ones, loss of a home … crap as they are. But what can you balance them against?
I know for me 2012 has probably seen me suffer with the worst health I've ever known. At times I've had a debilitating migraine, that not only won't go away but doctors can do nothing to stop it. Yet I've learnt to live with this, and not allow it to stop me taking my life forward and making the most of everything that I can. It's not perfect, but the opportim,ist in me will constantly strive to find the solution because I know there is one. Untilo I have it, I will live through the difficulties and remain positive and keep building on success after success. Nothing will stop the person who believes in themselves, their destiny, and in the positivity of life.
Every morning I inspire myself through using affirmations. These powerful, positive statement trigger my mind into a state where I'm focused and ready to rock and roll.
"Every day in every way I'm getting better, better and better".
"I have enough time, energy, wisdom and money to accomplish all my goals".
I genuinely use these affirmations on a daily basis to inspire myself to a high level of positivity.
I also start every day by showing gratitude for at least one thing that I am grateful for. Gratitude is one of the most powerful emotions a person can feel. Every day I am grateful for my 2 beautiful daughters and my gorgeous granddaughter. Sadly every morning I just check out Facebook to see what new wonderful pictures have been posted and I give thanks for being so fortunate in life, and this truly inspires me, as does the support I have received from both Rachel and Neil, without whom I have no idea how I'd have got through the last 12 months. You know who your friends are in your time of need.
Eliminating all negative thought from your mind is not easy and it will not happen overnight. However, as you become aware of your thoughts, you will begin to recognize them as either positive or negative.
Most of us spend our days with thoughts running in and out of our brain and we don't stop to analyze them. Now is the time to begin analyzing your thoughts. As you begin to feel negative thoughts and energy, change them to positive thoughts immediately. Words or thoughts like I can't, I don't, I won't are all negative. Replace them with, I can, I do, I will.
As your ability to become completely positive grows, few of life's challenges will feel overwhelming. Believe me being positive is a great way of being, come join me and see what you can achieve in your life time.
Score Your Way To Good Health - With Our Healthy Lifestyle Plan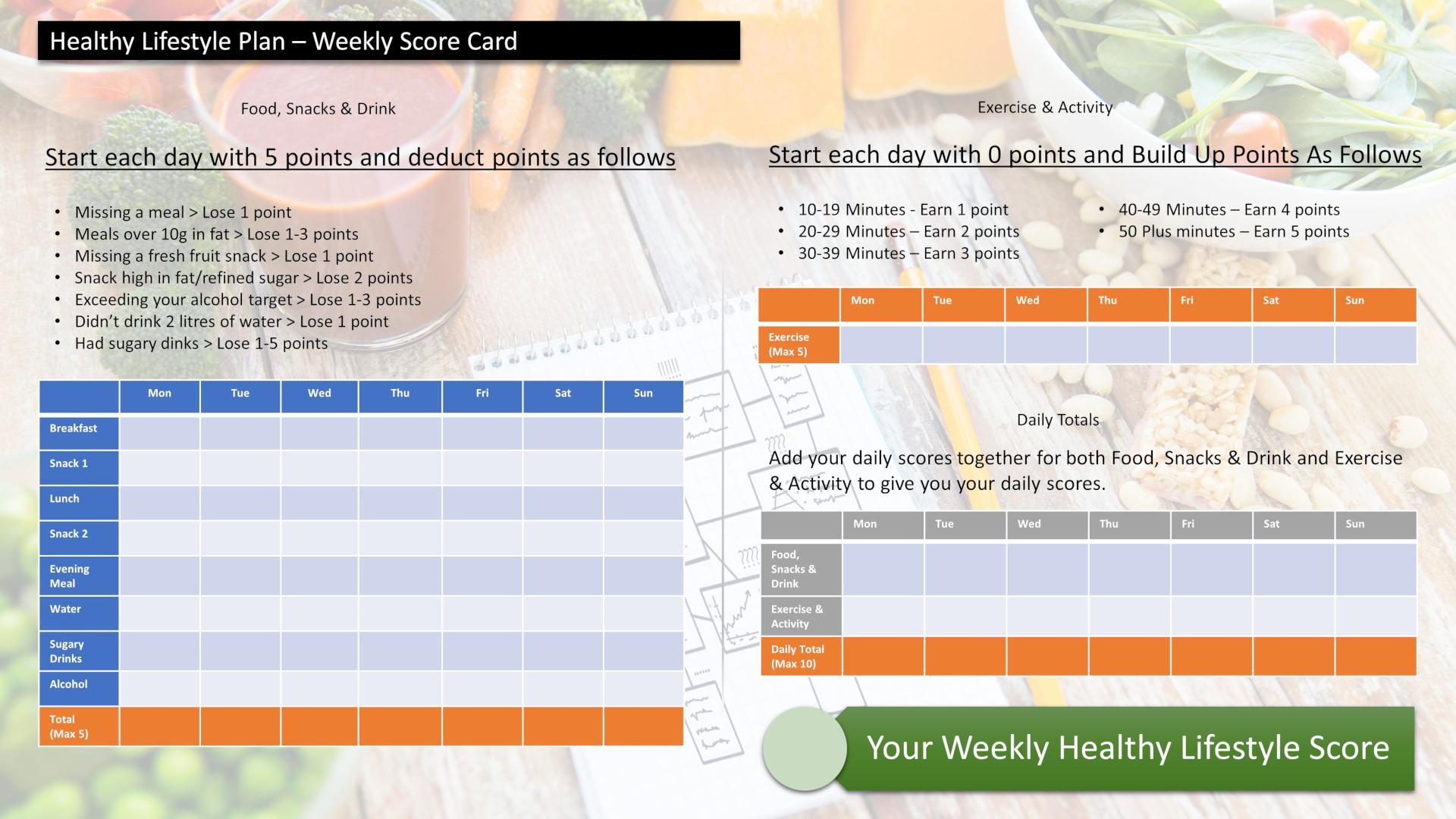 Score your way to good health with our healthy lifestyle plan and it's unique 70 point weekly scorecard!