Why do so many of you fail to fulfill your life long dreams? What is blocking you from ever doing what you have dreamed of all your life? What is stopping you from achieving the things that you have dreamed of? What is it that you are unable to overcome?
We all have hopes and dreams. We all go through times in our lives when we come up with ideas of things that we would like to accomplish in life, places we would like to be in the years ahead. It's a natural human tendency, it seems, to come up with an ideal that we would like to fulfil in our futures.
[cmsmasters_quotes mode="grid" columns="1″ animation_delay="0″][cmsmasters_quote name="Mary Kay Ash"]Most people live and die with their music still unplayed. They never dare to try.[/cmsmasters_quote][/cmsmasters_quotes]
How many of your dreams have you actually turned into reality?
What can you do when the years go by and those dreams never come to fruition? What happens when you find yourself in a situation that's so far removed from your ideal life that all your dreams seem so far away.
Do you feel like they're so far away that you'll never reach them?
One of the major limiting factors is our own lack of courage and/or faith in ourselves. We often lack the confidence in ourselves, in our personality, in our abilities and we tend to develop negative attitudes and thought patterns. The result is that we tend to consider many of these dreams as too far fetched, impossible and unreachable, part of an eternal wish list that will never come to pass. But it need not be like this!
You can fulfil your dreams!
The truth of the matter is that it is our choice to expect either a negative or a positive outcome. We create our own reality with our thoughts, beliefs and emotions. Nothing happens by chance or by mistake; rather it is the consequence of what we do, say, think or feel. And as long as we keep fearing a negative outcome, that is exactly what we will create.
Nothing is impossible for those who believe.
A great practice to help you get on track is to take time every morning to visualize those things that you want in your life and hold those thoughts for at least sixty seconds. One of my greatest tools in my 'success is to daydream. When your daytime dreams are more conscious and you are aware of what you want, you can then dream them into reality.
But no matter how powerful your dreams, one factor is essential. You have to believe in yourself. The only way you'll ever achieve your dreams is if you really, truly believe in yourself.
This has to be supported by you being a person of action. You have to do everything possible to follow your dreams from the moment you wake until those last moments before sleep. When you wake again in the morning, you must say to yourself, "Today might be the day I finally achieve my dream."
There can be no room for doubt. To truly achieve your dreams you have to jump in whole-heartedly. A half-effort will only get you halfway there, if that. Success can only be achieved where there is constant momentum. The minute we begin to procrastinate, we begin to sabotage our chances of success. So get to work, and resolve to never let 48 hours go by without some sort of 'goal-related action'.
The road to achieving your dreams will certainly be a rocky one. Nothing worth doing is ever simple or easy. But if you keep a positive outlook, you'll overcome adversity.
Look at the various roadblocks you encounter as minor setbacks instead of dream-ending events. Keep your spirits high and you'll avoid the usual pitfalls that trip up negative, defeatist personalities.
Every single day, without exception, you should take at least one step toward your goal. Even if the step is small, make it happen. Stay focused and keep your eye on the prize.
There is hardly nothing more beautiful or valuable to us than our passion. And when your passion makes up your dream this can take you to new heights.
Being an internet entrepreneur I have a knack for thinking of crazy and unique ventures, and would back myself anytime to make them happen.
I never give up or get discouraged. Maybe that's the biggest secret to achieving your dreams. My biggest dream is to build a life for myself in Majorca, and it's a dream in action.
What's your biggest unfulfilled dream? Write it in comment and stick to making it happen!
Score Your Way To Good Health - With Our Healthy Lifestyle Plan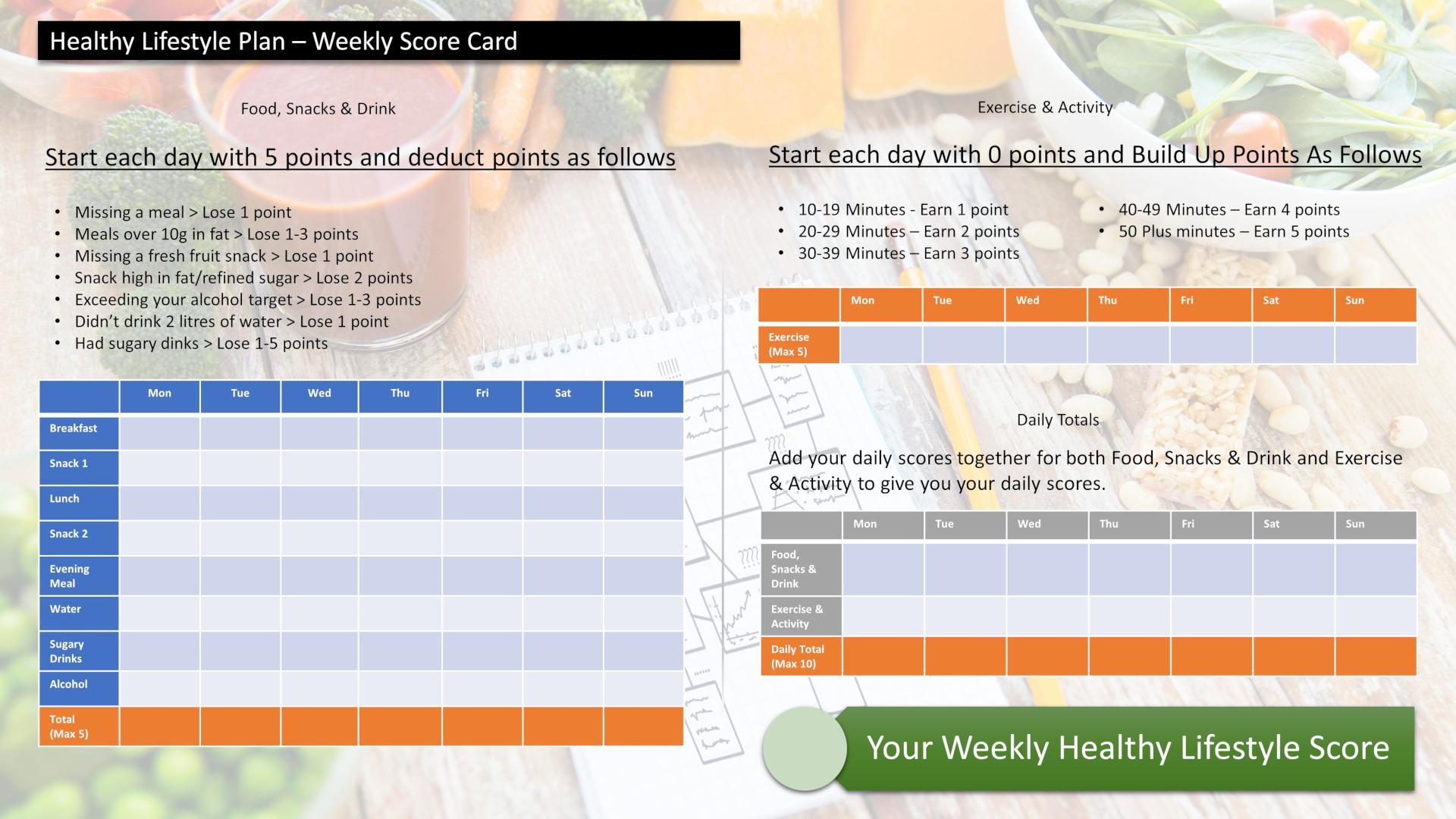 Score your way to good health with our healthy lifestyle plan and it's unique 70 point weekly scorecard!