Love is everywhere today and this got me thinking that you should be your own valentine! It's February 14th, and that means people around the world are thinking about, speaking of, wishfully dreaming or showing love to someone very special in their life. It is on this day we celebrate St Valentine's Day exchanging gifts such as cards, chocolate, flowers, our token of love.
Now I do find it a lovely event, being able to show our affection for another, enjoying a valentine candlelit dinner sharing a glass of champagne and assorted chocolates, and I hope that lovers across the world enjoy their special time together.
The point I want to make on this day when across the world people show their love to another, is that there is another person you need to be showing love to, and that is yourself. And there's no reason why you shouldn't love yourself every single day of the year. There is no need to wait for the 14th of February to be your own valentine. Loving yourself is one of the best ways to live a positive life.
This Valentine's Day is a great time to remind yourself how important it is to love who you are. The more you love and appreciate yourself, the more positive and present you'll become. When people start to love themselves more each day, it's amazing how their lives get better.
The alternative can be severely debilitating. Until you know how to love yourself there will be an inner war going on that divides your energy and sabotages your efforts to move toward happiness. This results in a low self esteem and this often makes you judge or criticize yourself harshly and repeatedly.
Until you learn how to love yourself, you cripple yourself so that you can't move forward or go after the things you want. Underlying this negative self talk can be long-held beliefs about yourself that aren't even based on reality. This negative self-talk is a symptom that shows up constantly until you learn how to love yourself.
I'm working with somebody at the moment who has a very bad negative body image. She feeds on self-criticism and negativity, and she has an inability to accurately perceive reality or truth what she sees with her eyes. All she sees in the mirror is endless shortcomings. She feels trapped in a body that she cannot love.
To many people find it so easy to beat themselves up. Criticize everything about themselves. Treat themselves incredibly harshly.
Yet when you accept yourself for being who you are a powerful freedom is yours. Acceptance is the key to your happiness. It's in acceptance of who you are and where you are in your process of being a human being that you create the space to truly be with yourself as you are. You may want growth, improvement, change but you are building onto a foundation that you are happy with because its you the person that is what is important. When you get to the point of being non-judgement to yourself I assure you it is an incredibly healing way of being.
It is from this point that you truly can advance everything about you, because you'll be working with something and someone you love.
Here are a few tips to help you build your self-love
Place positive affirmations on your mirrors to encourage positivity instead of negativity.
Recognize something about yourself that you love and appreciate and celebrate it!
Find an activity that you love and enjoy to confirm to yourself your capabilities and strengths!
Refuse to criticize yourself instead accept yourself exactly as you are.
Stop criticising yourself with your thoughts instead use a mental image that gives you pleasure, and immediately switch your negative thought to positive ones.
Praise yourself as much as you can telling yourself how well you are doing with every little thing.
Treat yourself as you would someone you really loved on valentines day, but do it every day.
So please start remembering to find time to love yourself.
Happy Valentines!
Score Your Way To Good Health - With Our Healthy Lifestyle Plan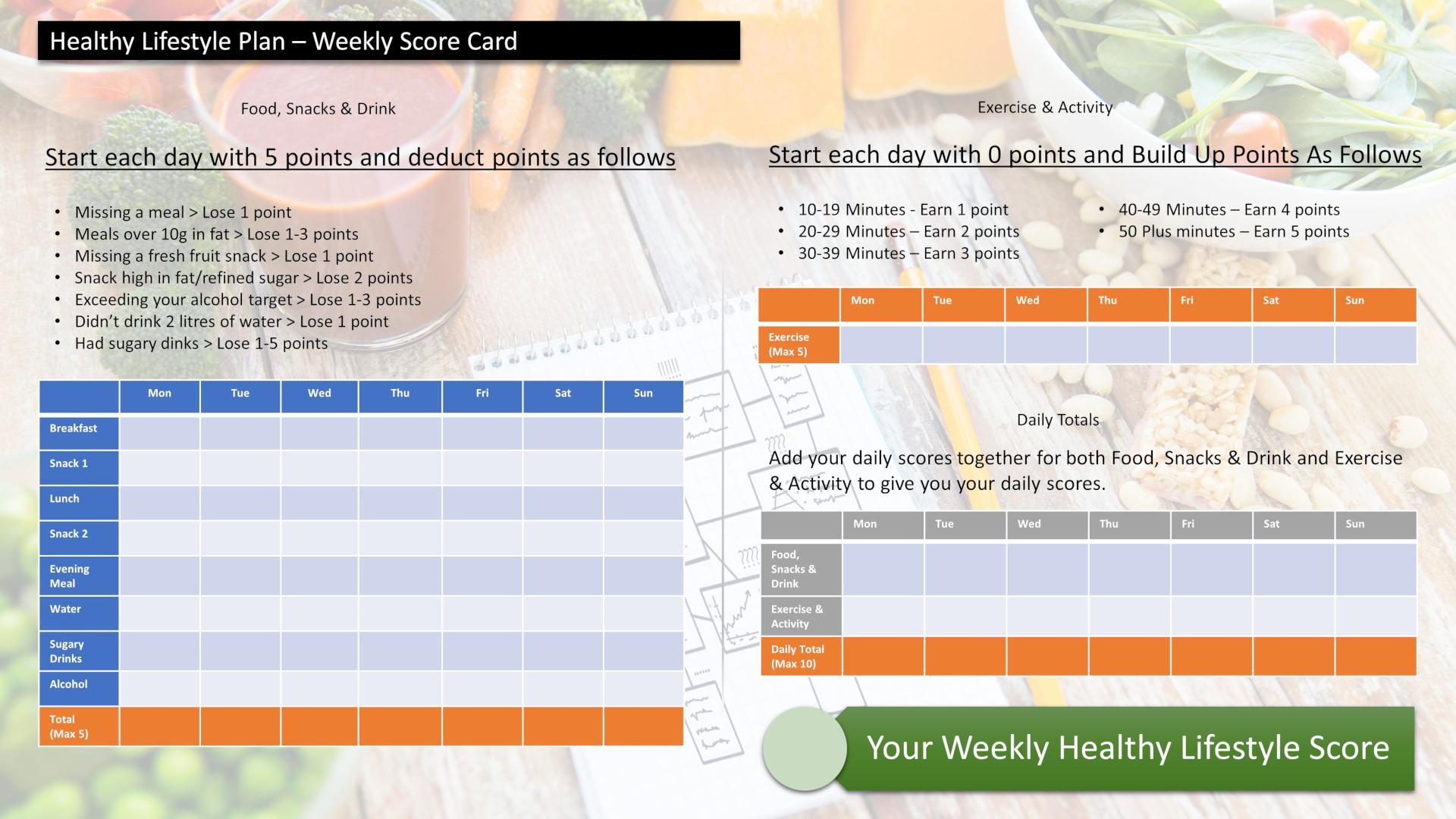 Score your way to good health with our healthy lifestyle plan and it's unique 70 point weekly scorecard!