Today let me just start by telling you a very simple truth, the journey to success in life begins with the creation of a positive mindset. The fact is that everyone can have a better life but they don't necessarily realize that they themselves are the key to their own success. Once you learn to change yourself, you change your life.
A positive mindset is the secret ingredient, the magic medicine, the golden key that opens the door to success. Without it you are destined to mediocrity, but with it the possibilities are endless.
Achieving success through personal development can be the most rewarding thing in the world. All you have to do is take the time and be prepared to put in the effort, because it will be well worth it.
Many of us see success as an outcome rather than a process. I want you to understand that life is about going through a process to achieve success. You see, success is a process. Success never happens instantly, for nobody. All successful people go through some kind of process, they don't achieve success overnight.
Winners don't see failure as an end, but rather as an opportunity to learn. They know that real failure only comes when we quit. Winners understand that anything worthwhile requires effort. They have the mindset of success.
Winning in life and in business for that matter is about what you expect of yourself. It's about the belief that you can conquer every obstacle that comes your way in the pursuit of your goals. Success and failure are both self-fulfilling prophecies. Life has a way of giving us what we believe we deserve. And this is why a positive mindset is so important.
So, if you want to achieve success, you need to give yourself a chance to succeed. You need to condition your mind in a positive way. So to create a success mindset, a positive mind is key to your success.
The correct mindset will help you control your own thinking, will help you believe you can achieve what you set out to do, it helps you ask the right questions to make things happen and make you take action. It will help you overcome problems, meet challenges, improve maintain your tenacity and consistency for you to achieve your goal.
'If you think you can or you can't do a thing you are probably right' Henry Ford
I would go as far as to say a positive mindset makes the difference between a happy, abundant and balanced life and one full of poverty, grief or struggle.
A Positive Mindset is not a quick fix or an easy answer as it requires a constant effort and reinforcement, especially for those for whom it doesn't come naturally, but the rewards in the form of a better lifestyle are well worth the persistence
Score Your Way To Good Health - With Our Healthy Lifestyle Plan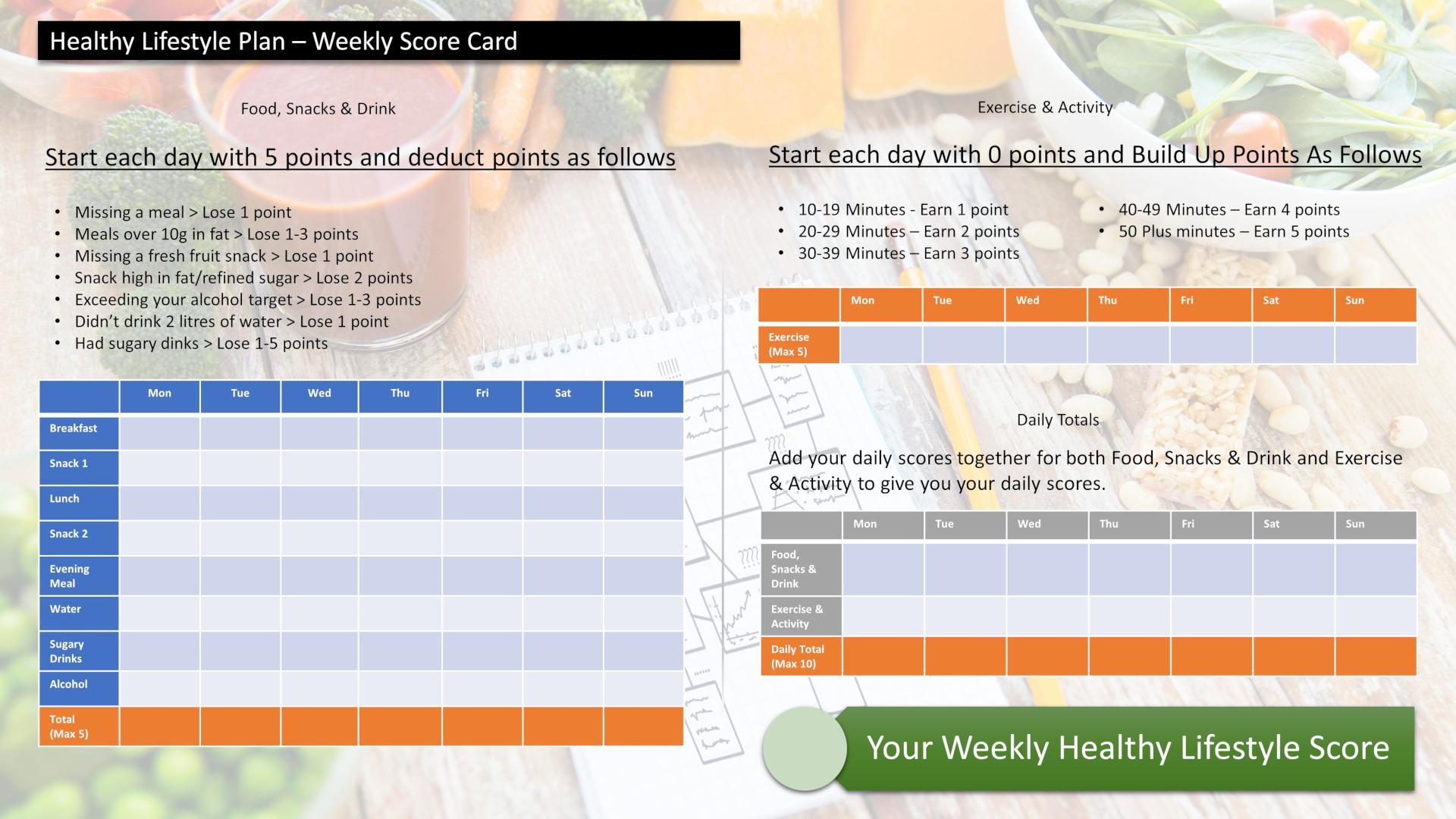 Score your way to good health with our healthy lifestyle plan and it's unique 70 point weekly scorecard!