Are you sick of not getting anywhere?
One thing I think we can all testify to is how tough life can be?
Yet surely there can be no question of whether we should fight on and try our hardest to produce the right results. What's our alternative? To wallow in despair, depression, self pity, fear, or doubt? We must all have our big picture.
I'm sure you have come to realise already that there is no benefit in wallowing in self pity about how tough life is, how unfair everything is. Feeling sorry for ourselves will do nothing other than make us more sorry later on.
We all face obstacles. How we deal with those obstacles defines who we are and determines how successful we are in life.
Some people die at 25 and aren't buried until 75. Benjamin Franklin
We don't know how long we've got. Life can end at any time. Maybe in a day, a month, year, 5, 10, or 20 years time. The older you get the less time you will have ahead. It makes sense to make every second count.
Why would anyone allow their life to be full of misery, disappointment, frustration and do nothing to transform it. Yet so many settle for this being the way life is. Don't let this be the way it is for you.
Instead decide how you want your life to be, then get busy making it happen.
Does this article relate to you?
That's easy to answer. If life ends tomorrow, would you be pleased with how you lived it today?
I've gone through the roughest patch of my life in the last 12 months concerning my health. Trying to cope with the effects of visual impairment, struggling with my breathing and constant pain in the side of my stomach and having a cancer scare or two. Yet I am still determined to make the most of the rest of my life and not allow either ill health or my visual impairment define my future. The one thing I know is when the day comes for me to take my last breath I don't want to be left with huge regrets.
Bronnie Ware in her blog post and subsequent book The Top Five Regrets of the Dying, who spent eight years as a live-in carer for terminally ill patients, wrote about the five recurring themes that haunted many of the people she cared for. She called it Regrets of the Dying.
Top 5 regrets are:
Wishing you had lived the life you wanted,
Wishing that you hadn't worked so hard,
Wishing that you had expressed your feelings,
Wishing that you stayed in touch with friends,
Wishing that you let yourself be happier.
Instead you need to start looking at your big picture.
You need to create a balance in your life.
I strongly support the concept that you can change your life by setting your sights on and achieving one massive goal. You really can achieve amazing things if you aim high.
There are far better things ahead than any we leave behind. – C.S. Lewis
Your goal at this time of year should be to set yourself a massive target to go for and achieve in the 365 days ahead of you starting from January 1st, tomorrow morning. It's setting your big picture aiming towards your happiness, success and fulfilment.
We can all set our goals and go on and achieve our dreams. In my book 'the single page plan' I first show how to create a "big picture" of what you want to do with your life over the next 3 to 10 years. Then I teach you to create a one-year plan on a single sheet of paper to help you make the most progress towards your ultimate goal.
The Holiday Season is coming to an end the new year is about to start up so now is the time where you must review your big picture.
Many of you will have spent the year that's just about to end trying room stay on top of all life's responsibilities getting so caught up in fighting fires, trying to keep your head above water that you've not been focused at all on achieving the goals that can change your life so much for the better.
Many people live their lives on autopilot. They aren't aware of where their lives are going. They let circumstances and events to drive them which results most often in going nowhere or worse not where you would want to be. This wouldn't happen if they gave themselves time to think about their big-picture.
It's time to ensure you don't keep repeating this mistake and now get your head into thinking about your big picture – your big goals and dreams for your life.
No one can fail to benefit from thinking through their big picture because it's going to help them come back full of enthusiasm and hopefully with a plan. Seeing your big picture for your new year will bring you incredible motivation for the 365 days ahead of you.
There's a very simple reason why setting goals is important. It gets you to think about your ideal future, and motivate you to persue your vision of the future. The process of setting goals helps you choose where you want to go in life.
So how do you create your big picture. Well it's simple open your mind and allow it to visualize the future.
Capture an idea of what you want, what you're working towards, and where you want to be.
If there is any point at all to life, surely it is to live out our dreams, to serve, to follow our bliss, to release the music within us, play it with joy and to share it with others? Surely we have a responsibility to finally listen to – and honor – the siren calls of our souls, which have been silenced by our egos throughout our lives? How else can we connect with our essence, the source of our calling? Lance Secretan
Start asking the key questions that help to uncover the big picture.
What is the life I want to live?
Are there dreams I've thought about but never actually pursued?
What holds me back from defining and fulfilling my life's mission?
Where would I like to be in my life in five years or ten years?
Think bigger, act bigger and rise above the excuses that have held you back to this point.
May I wish you all a fantastic New Year for 2016 and make it big!
Score Your Way To Good Health - With Our Healthy Lifestyle Plan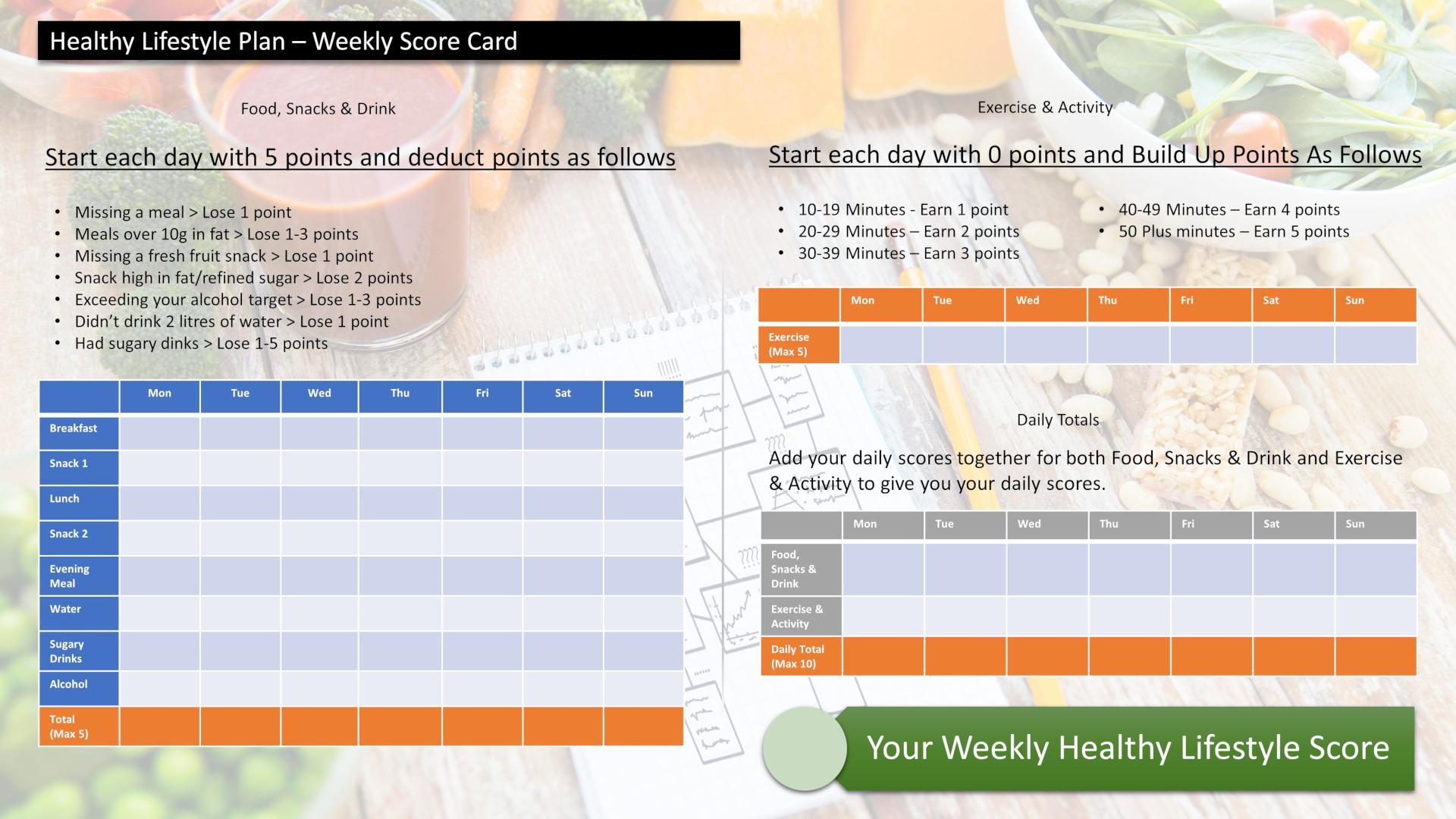 Score your way to good health with our healthy lifestyle plan and it's unique 70 point weekly scorecard!