Are we putting too much pressure on our kids? We all want the best for them. We want them to achieve everything they can, but do we put too much pressure on them to do this? Is our need to be proud of our successful children creating unrealistic expectations for them and for ourselves?
The pressure on teenage children is beyond belief and harmful to their physical and psychological health. Rather than being inspired, they are constantly pressured and stressed out.
The day that thousands of teenagers across the country have been nervously waiting for has arrived – GCSE results day. They have queued up outside schools today to find out whether their two years of hard work was worth it, and whether they got the grades they need to go on to further study or employment.
GCSE examinations are taken by most pupils at the end of compulsory school education (year 11) in England, Wales and Northern Ireland.
Exams are a big worry for most young people. During the period of taking these exams they frequently get panic-stricken, overburdened and overwhelmed. '
But then there is the wait to find out their results. This is a nerve-racking time, where they can feel their whole life hanging in the balance.  The pressure to succeed can be  extremely traumatising, and this is a worrying time waiting to see how they've done.
My daughter Carly was really stressed out waiting for her results. This morning she was very nervous, couldn't eat any breakfast, and was unable to get much sleep last night.
At about 9am we set off to the school. Just before we arrived she said something that really got me thinking. She turned round to her best friend Nicky and said "Let's get this done. our future is in a brown envelope, better find out what it tells us"
So in her mind her entire future relied on opening a menacing brown envelope to discover her GCSE results.
But do these results really matter to her FUTURE?
At 16 she's only just reaching an age where she can explore her interests and discover her passions.
I wanted to tell her that exams are not the be all and end all, that she shouldn't worry. Even if her results turn out not to be the best there are opportunities out there for everyone. GCSEs are not the final word on the success or failure she will achieve in her life. The next steps she will take in life are much more important. Disappointing grades do not limit your future success. But now was not the appropriate time to tell her this.
Off they went to open this dreaded envelope. Overall she did brilliantly, and I'm very proud of her. In the last two years she has put so much effort in. Many a night she would lock herself away in her bedroom working hard on her school work. Well she got what she deserved, and should be elated. But because one subject hadn't gone as well as she'd wished, she allowed that for a while to take away the ecstasy she should have felt. She allowed this one negative take central stage in her mind.
Yet when she considered the fact that her college place to study Health and Social Care was secure she had nothing to be upset about, and could now celebrate her achievements.
But this is only the start for her.
If she wants a fantastic future it's within her grasp. If she takes small, positive steps in the right direction for her she can set herself up for success down the road. She can find a path that will enable her to achieve her goals, pursue her career of choice and become a happy adult.
I attribute much of the success I've experienced in my life to books I read when I was about 16, which began my personal-development journey. Having the skills and tools for goal-setting, time management, self motivation and other principles of personal development will help teenagers make a life full of achievements and success.
Here are some questions I'd like her to ask herself:
What sort of interests do you have?
Are there any that could be used in a job?
What are you good at?
Are there certain skills that you need to develop?
What jobs involve activities that you might enjoy?
What or who do you value most in your life?
What are three things you do well?
What would you like most to be remembered for?
What do your friends really like about you?
What is one important thing you have done in your life?
What skills would you like to learn?
Do you like working closely with others in a team, or do you prefer to work independently?
Are you an indoors person, or do you like being out and about?
The power of these questions lies in the fact that you can choose to become anything you want! Imagine becoming anything. You can design your life completely from scratch. You get to make thousands of choices that will determine exactly who you will become as an adult.
It's you who must make the decisions. You can drift along, or take charge of your life and create anything you desire.
As a teenager you can explore a whole set of options to learn more about yourself and the world around you. You can pick something you really want to do well and you can go do it right now. If you say  "I am going to be an actress!" then go for it. You can audition for acting parts. You can find some friends and do plays together. You can write and film your own movies. You can write to agencies, to theatre companies, whatever it takes. Head in a direction and see what you find there.
Remember that the point of life is for you to enjoy it. Be happy, and life will reward you. You are only 16 so allow yourself to enjoy life, but at the same time prepare for your future.
Do your best always so you can be proud of everything you do. But remember to give yourself a break when things don't go your way.
When you are in the state of mind where you feel you can accomplish anything, you can! It's all about your mindset. Life is what you decide it is. There really isn't much more to it than that. If you decide that it's going to be filled with passion, happiness, and love, then it will be. If you decide it's going to be 'shit', then guess what, it will!
There is virtually no limit to what you can accomplish. It's time to find your passion, the things that you care most about, and start living them.
Whatever your passion is, I urge you to pursue it with all your heart and believe in yourself, and ask yourself this question:
"What am I going to do with my life?"
Please share this with any teenagers you know, show them that it's in their power to build their life.
Score Your Way To Good Health - With Our Healthy Lifestyle Plan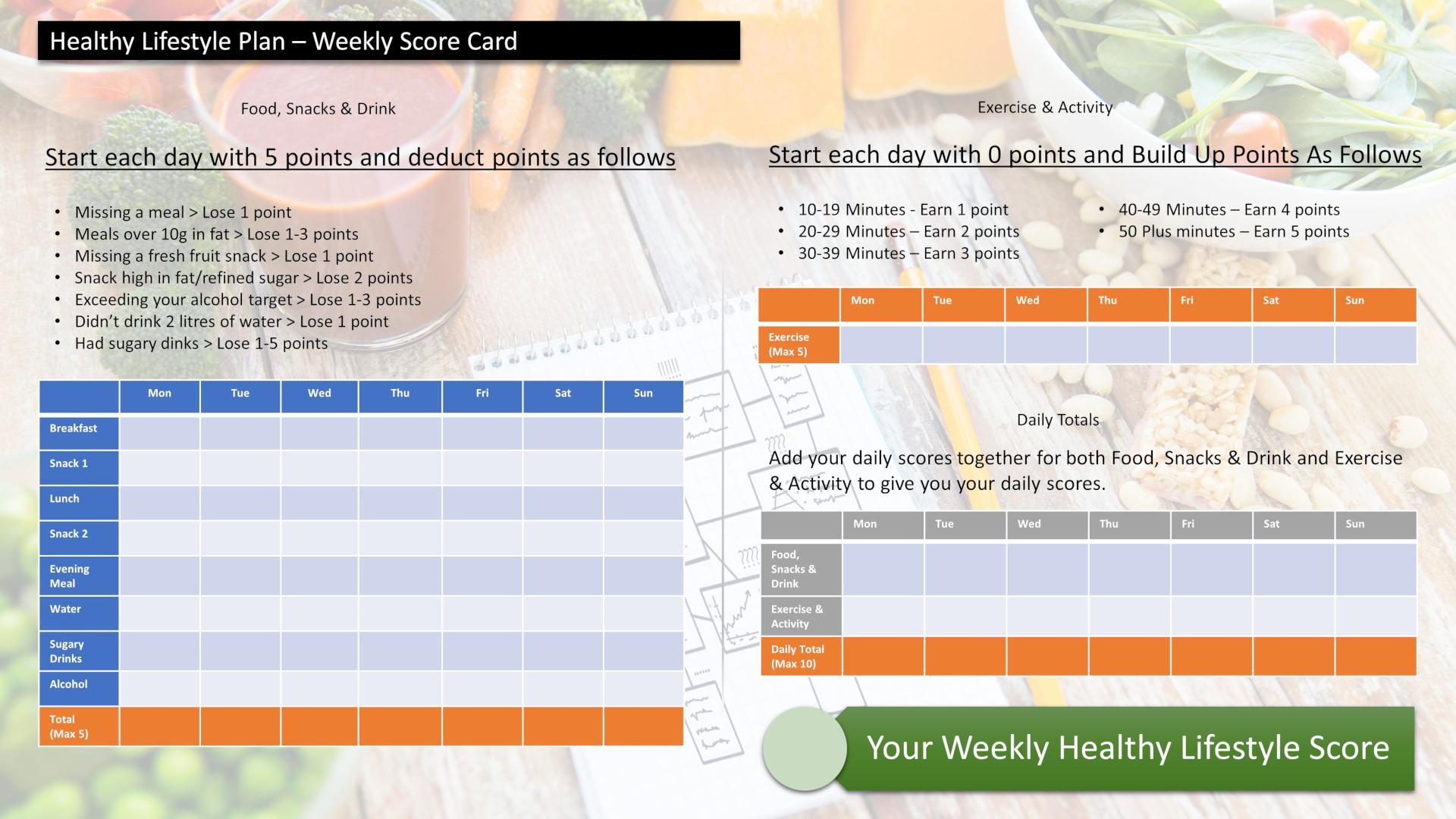 Score your way to good health with our healthy lifestyle plan and it's unique 70 point weekly scorecard!