Welcome to the Healthy Lifestyles Living Website. Did you know that we are a personal development blog site?
Hi! My name is Larry Lewis. The purpose for this website is to help you find, share, and discover ways to help improve the quality of your life; and to help take your personal growth to a whole new level. This is just one of the vehicles I use to do that, with the others being speaking, coaching, consulting and my all new "Power of Passion" Course.
I am extremely passionate about pushing myself to becoming my absolute best. My energy is spent learning how I can lead myself in powerful ways and help others in the same pursuit. I pursue excellence and challenge myself to consistently grow, mature, and learn new things and to pursue my highest potential. I want that for you too. I love contributing my knowledge to you through my blog.
Together with my business partner, and friend, Neil Haywood we have built this resource to help people in every way we can. With our wellbeing shop, healthy lifestyles living blog, power of passion community and our personal development coaching practice we are enjoying the journey of developing a successful resource and making the difference for many.
I want to make sure you get the most out of your visit to our site. So I have a question to ask. Do you invest in yourself — in your personal development? By this I mean do you deliberately learn new skills and take actions that will improve yourself in some way. To many of you spend most of your waking moments just trying to survive.
There's a saying that "if you're not moving forward, you're falling behind." Life just seems to be set up this way –we have to keep growing, learning and expanding our horizons or we tend to get left behind.
I believe that it is essential for everyone to realise the importance of personal growth and development in order to live a life to the fullest. Let me tell you something, everyone strives to create a happy, prosperous and successful life, but unfortunately very few managed to achieve it.
Personal Development will guide you towards success in life. This website is here to help you on your journey.
According to contemporary psychology, all human beings have a natural tendency toward and an inherent capacity for learning. So enjoy our resource and I'm sure you will find plenty of information to help you on your way.
You must take control of your own personal development and if you are not sure where to begin try having a look around our blog because you will find it provides a very good resource of personal development information.
This is your life, not a dress rehearsal. There is no delete or rewind button that you can use! You get one life, so you owe it to yourself to make the most of it. That's where Personal Development comes in. That's why it's so important. And that's why it's good that you've found you way to our site.
Personal development is all about you improving your capability as an individual so that you can become all that you are capable of becoming, and unless you commit yourself to personal development the chances are that it just won't happen. If you don't intentionally choose to move forward and improve yourself then at best you will remain exactly where you are right now, or you will actually see things get worse.
We are talking here about personal development that lasts a lifetime, rather than short-term motivational fixes that you might experience at the odd times having read something motivational that struck a chord with you.
Personal development will keep you moving forward in your personal life and professional life, providing you a momentum that you will never have seen before. So pursue personal development and get the very most out of your life!
I do hope you take the time to explore my blog. This blog is intended to help inspire and empower you to live your life full of purpose, passion, and meaning!
Why not subscribe to our blog so you can keep abreast of opur latest posts, or maybe check out our brand new Power of Passion Community.
Score Your Way To Good Health - With Our Healthy Lifestyle Plan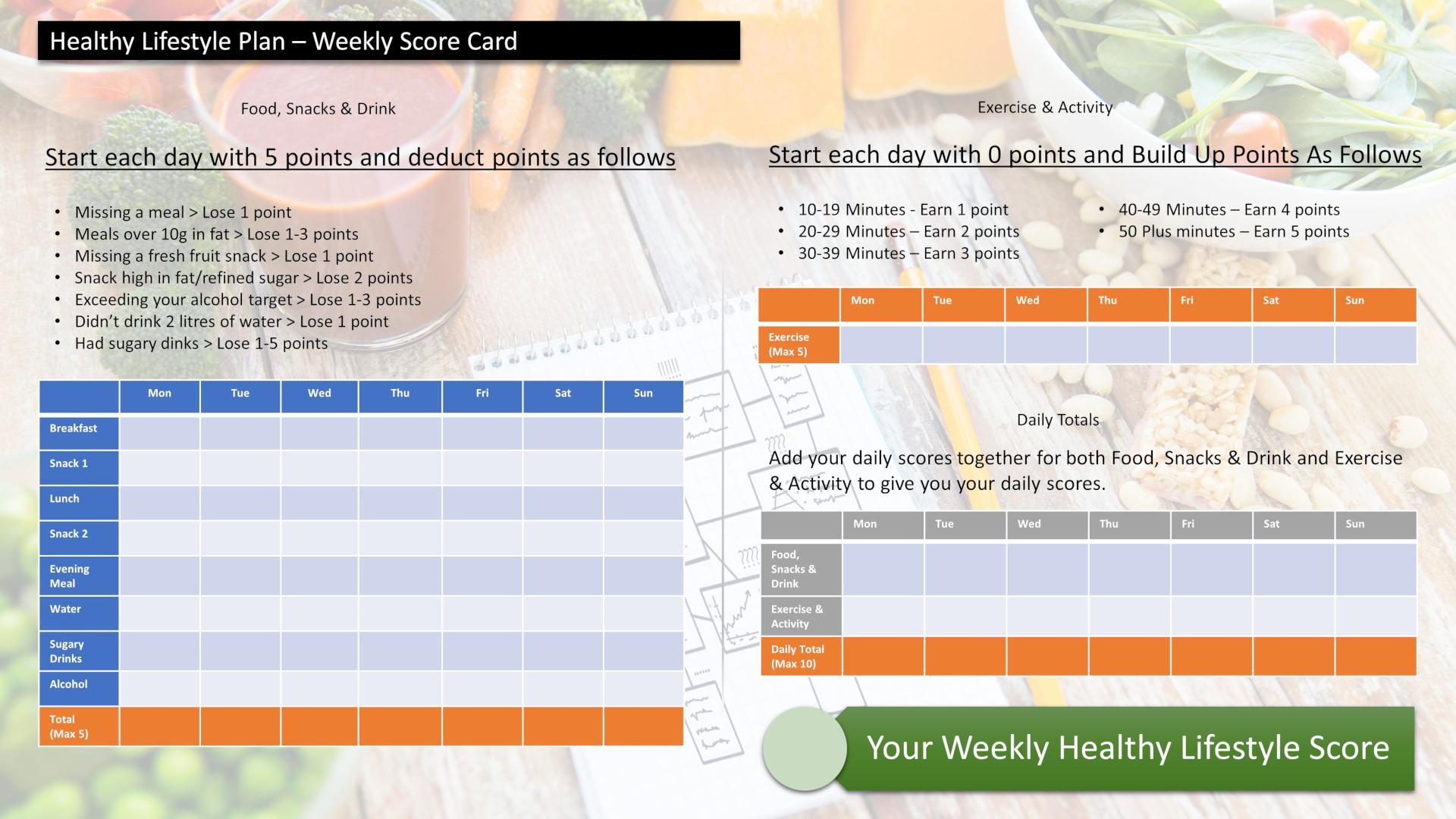 Score your way to good health with our healthy lifestyle plan and it's unique 70 point weekly scorecard!