I strongly believe that you can achieve anything you set your mind to. There is inside you all of the potential to be whatever you want to be. Only you can limit that potential. Don't let your fears decide which path you take in life.
Alexander The Great accomplished more heroic deeds in his thirty-three years of life than most people could ever hope to dream of in their entire lifetimes. He was undefeated in battle, conquered most of the known world, and is remembered to this day as one of the greatest and most successful generals in the history of warfare. In his short lifetime he carved out one of the largest land empires in the history of the world.
There is nothing impossible to him who will try. Alexander The Great
Here was a man who set goals for his life, and did not put any limits on his abilities. When things got rough and things seemed impossible, he stayed strong, challenged himself, and never gave up! He never lacked confidence in himself. He proved that with hard work and a drive to succeed, you can meet any goal you put your mind to!
This is further demonstrated by the Walking With The Wounded Expedition (Their Website) to the Geographical North Pole by a group of serving and ex soldiers, trying to raise money for rehabilitation charities while showing that injuries and amputations are no barrier to remarkable achievements. They were joined on their trek by Prince Harry for 4 days. On Saturday 16th April 2011 they became the first team of unsupported war-wounded amputees to reach the Geographical North Pole.
The Walking With The Wounded team have reached their goal faster than almost every able-bodied team I know, and frankly that doesn't surprise me in the slightest. The training and determination of the wounded boys just shows that injuries need not be a barrier to living a full and rewarding life. Alex Rayner
Prior to the start of this expedition one of the group, Jaco Van Gass said: "This is a once in a life time opportunity and I want to prove, not just to myself, but to all the other wounded men and women that you can do whatever you set your mind to and that life goes on after injury. I will do everything I can to complete this challenge". In the summer of 2009, Jaco was hit by a rocket-propelled grenade in Afghanistan and as a result, he lost his left arm. The blow also left him with fragmentation wounds to his left hip, blast wounds to his left leg and a broken left ankle. He completed the trek with the rest of the group. You can read more on this phenomenal feat on the BBC Website.
Do you believe you can achieve anything you desire? Some people do, and they seem to have the ability to go after what they want and getting it. While others struggle with achieving their desires and seem to meet with frustration and failure. No matter what they do, they seem to come up short.
So is it really possible to achieve anything you want in your life? To put it simply, the above two stories, and many more tell us the answer is 'yes'. We can achieve anything we want in our life. As long as we are committed to our goals and are passionate about our dreams, wecan accomplish them.
I believe that every individual out there has their own unique passion that can drive them to achieve anything that they truly desire. Alas, many of you won't push yourselves to get out of your comfort zone and drop your negative beliefs, false assumptions & sabotaging fears that have held you back to this point. But hopefully my blog will help many of you raise up and go for it, at last.
Can you remember back to a point in your life when you achieved something for the first time. What a boost it gave to your confidence, and the adrenalin rush raised you towards the sky. At that point you realised you could do anything, if you really put the effort in. You still have that power within you. Everyone of you has the potential to do anything you desire. It's all about pushing yourself to the limit !
You can't wait for inspiration. You have to go after it with a club. Jack London
Inspiration can make things possible. When you're inspired, you expand beyond what you previously were. Your life takes on a new vitality. Know what inspires you. Look to see what's missing now in your life, so you can go after it. Commit to take action that forces you out of your comfort zone and into new uncharted territories. Commit to your personal growth and realizing your potential.
The will to win, the desire to succeed, the urge to reach your full potential these are the keys that will unlock the door to personal excellence. Eddie Robinson
Here are 10 steps that offer you the way to achieve what you desire:
Step 1: Know what you want.
You've got to get crystal clear about what you want. Do not take too lightly the power of goal setting. Without goals, you are not going to stay focused in the direction you wish to move; you will be too easily distracted. You must get clear about the specific result you want to achieve and focus on that result.
Step 2: Know why you want it
Once you know what it is you really want you need to understand why you want to do it – your purpose for wanting to achieve this result. Why do you want it? What will be different when you get it? How will life be better? When you know why you want it you provide yourself with a compelling purpose that gives you the drive to follow through, no matter what. Reasons come first and answers come second. Your purpose will provide you with the emotional drive to follow through and to do whatever it takes to achieve the result you desire.
Step 3: Focus On Your Dreams.
Now you know exactly what you want out of your life, you need to put in 100% focus in achieving it. When you put in 100% focus, you'll definitely do whatever it takes to achieve it. When you are focused on what's truly most important to you in life you will begin to not only produce extraordinary results, but most importantly, you will experience an amazing level of personal fulfillment in the process.
Step 4: Research, Research, Research.
If you are going to give your all to doing something, you better make sure that you know everything there is to know about it. Make yourself an expert in whatever field you want to go into. Once you are an expert, you already have an edge and will feel more confident in going after your dream.
Step 5: Create a plan.
What are the specific actions you need to take in order to achieve this result? Write an action plan as a roadmap for your journey toward your goals. Whenever you embark on a journey to a new destination you need a map to find your way. Make your plan as detailed as possible, so you leave no room for doubt. Your plan is simply the specific steps, or actions, you need to take in order to achieve your result.
Step 6: Take action to make it come true.
Now that you have a plan, you must put it into action. Your dreams will remain unfulfilled unless you start to take action to turn them into reality. You know that without taking action, nothing will happen. You have to work for it; you have to bring about the results. Always take massive action, no matter what. Taking action will build your momentum. Take massive and consistent action.
Step 7: Believe in yourself, and your goals.
You must believe that you can achieve your goals and that your dreams will come true. If you don't believe in what you do, you will never ever achieve what you want. Belief is what drives you. You need to have a firm belief before you can achieve something.
Believe and act as if it were impossible to fail. Charles F. Kettering.
Believe that you can achieve your desires, and you will move in the direction of your beliefs. If you believe you can, you can; if you believe you can't, you can't. You can do it, just believe!
Step 8: Be fully Committed.
To accomplish amazing results in your life, you have to be 100% committed and you must be willing to sacrifice your time and effort. This is where most people fall short. They lack a true sense of commitment and they are not willing to spend their time taking focused action toward their goals. So the first thing you need to do is to determine whether you are serious about your dreams and goals. It's going to take real dedication and commitment, and you must be willing to put in the necessary hard work and effort.
Step 9: Keep Checking your progress.
As you take action and work your plan, keep checking your progress. If you're getting results, keep on doing what you're doing. If you're not look at what you can change. The person who is dedicated to taking their life in a specific direction must always stop to think, and ask themselves the question "is this going to take me towards the goal I want to achieve?"
Step 10: Don't Give Up.
Reaching your target won't be easy. At times things will get tough along your journey. It's easy to just give up, but you will be cheating yourself if you don't fight on. Appreciate how far you've come and what you've achieved, and know it's worth going on.
So know what you want, build up the desire that you want it so bad that you'll be prepared to put in major effort, and keep confident that your goal will be reached. Keep that motivation and make sure that you stay committed to your goals and dreams.
I would appreciate feedbacks on what you feel about what I've written today!
"It's kind of fun to do the impossible." Walt Disney
Score Your Way To Good Health - With Our Healthy Lifestyle Plan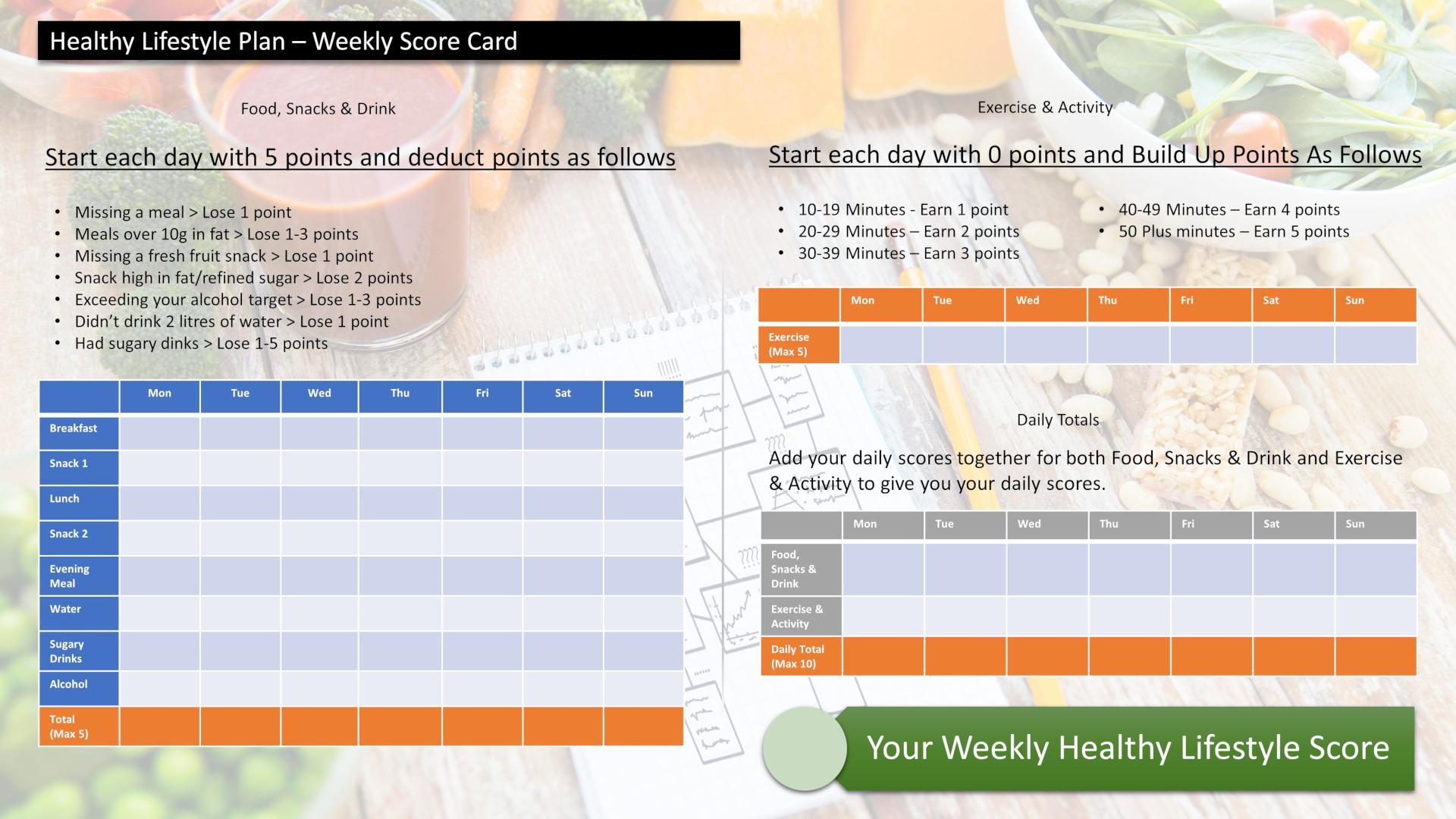 Score your way to good health with our healthy lifestyle plan and it's unique 70 point weekly scorecard!