Have you ever been stuck in a rut? That after all your efforts, you end up hitting the wall. Most of us have hit the wall at some time in our life. Many, at this point, give up and turn away in defeat, walking away from their hopes and dreams.
Maybe you need to be a pillar of strength for those around you. Yet you feel drained and have nothing more to give. You're stressed out socially. Pressured professionally. You're a candidate for burnout. It's common, but it's avoidable. Just hang in there a little longer, you have all the tenacity, dedication, and strong sense of responsibility that can see you through.
We all reach a point in our lives when we hit the wall. Nothing is going right, and it seems like nothing can go right. Disappointment, discouragement, despair. The key is your staying power and the ability to maintain positive energy. We all know we have to survive downturns at some stage on our life journey. Eventually things turn around and everything works out — often better than we expected. You just have to stick with it, see things through to the end, don't walk away.
The key to maintaining positive energy is building your belief that you can turn things around, that there is a light at the end of the tunnel. When we are in a downturn in our life, negativity often gains control and we feel that things will not turn around. You see no end in sight. No positive conclusion. You must let your inner strength and resolve rise to the surface and respond to your challenges with firmness, strength, and resolve.
Take confidence in knowing others who have accomplished the most amazing things in their lives have hit the wall too. They've faced discouragement. They've questioned if what they want is possible. Yet, somehow they pressed through to their dreams.
Of course it's hard, when the path is uncertain and the answers aren't there.
"Obstacles don't have to stop you. If you run into a wall, don't turn around and give up. Figure out how to climb it, go through it, or work around it." Michael Jordan
You can view the walls that you encounter in life as an opportunity for personal growth. It forces you to go beyond yourself. It forces you to think beyond your normal way of thinking. It pushes you to be creative and resourceful, and to show determination and perseverance. It's better than quitting and running away, surely.
But right now you're find it difficult to rationalise.
You don't enjoy activities and relationships you once enjoyed.
You feel numb and less focused.
You're not experiencing your normal range of emotions.
You feel exhausted and drained.
You feel as if you're going through the motions, but aren't quite "all there."
You feel as if you were on a treadmill getting nowhere.
You're juggling balls all the time all by yourself, of course that's tough, but just don't give up on yourself. Don't neglect the job you already have. Make your workday environment special for yourself. Add plants, pictures, whatever reflects who you are. Make yourself feel at home when you're at work. That will help you feel more alive.
Don't give up and leave your dreams and your breakthroughs unfulfilled. You deserve success. You have put so much into it. You never know what's just around the corner.
Don't stop believing. You are the key to your success. How you see yourself and believe in your ability to use your capabilities to make a difference will determine the outcome.
The power of our thoughts is significant in a assortment of ways that impact our lives, our work, our ability to reach past what is and create what can be. In many ways we become our words and our thoughts. Success is about refining and taking small consistent steps until you accomplish your dream. It's easy to dream and give up. It's hard work to keep going. Find the confidence to keep going in the midst of the dark and discouraging times.
Focus on the goal rather than the setback. That's the secret. On the dream rather than the barrier. On the promise rather than the struggle. That's what keeps us going.
The key here is analyse what you are doing and if it makes sense to keep working on it, then keep going until you reach the results you deserve.
If you are stuck you should think about what is holding you back and what the best solution is.
There came a point when I wanted to stick my head underground like an ostrich, ashamed to find myself on the brink of failure. What would my family and friends think of me when they found out that I failed. I wouldn't be able to face them, or live down the shame. But I didn't give up. I fought on. I kept my resolve, just like you can.
"Things are never as bad as they seem". Miss Maudie, To Kill A Mockingbird
As Michael Bublé sang "Dream and they might come true …Things never are as bad as they seem."
It's never as bad as it seems. Be patient, and you can overcome the wall. Believe in yourself and in what you are doing. See it through to its successful conclusion. Now take positive resolute action and go get your dream.
Have you ever hit The Wall? If so, what did you do to get past it?
Score Your Way To Good Health - With Our Healthy Lifestyle Plan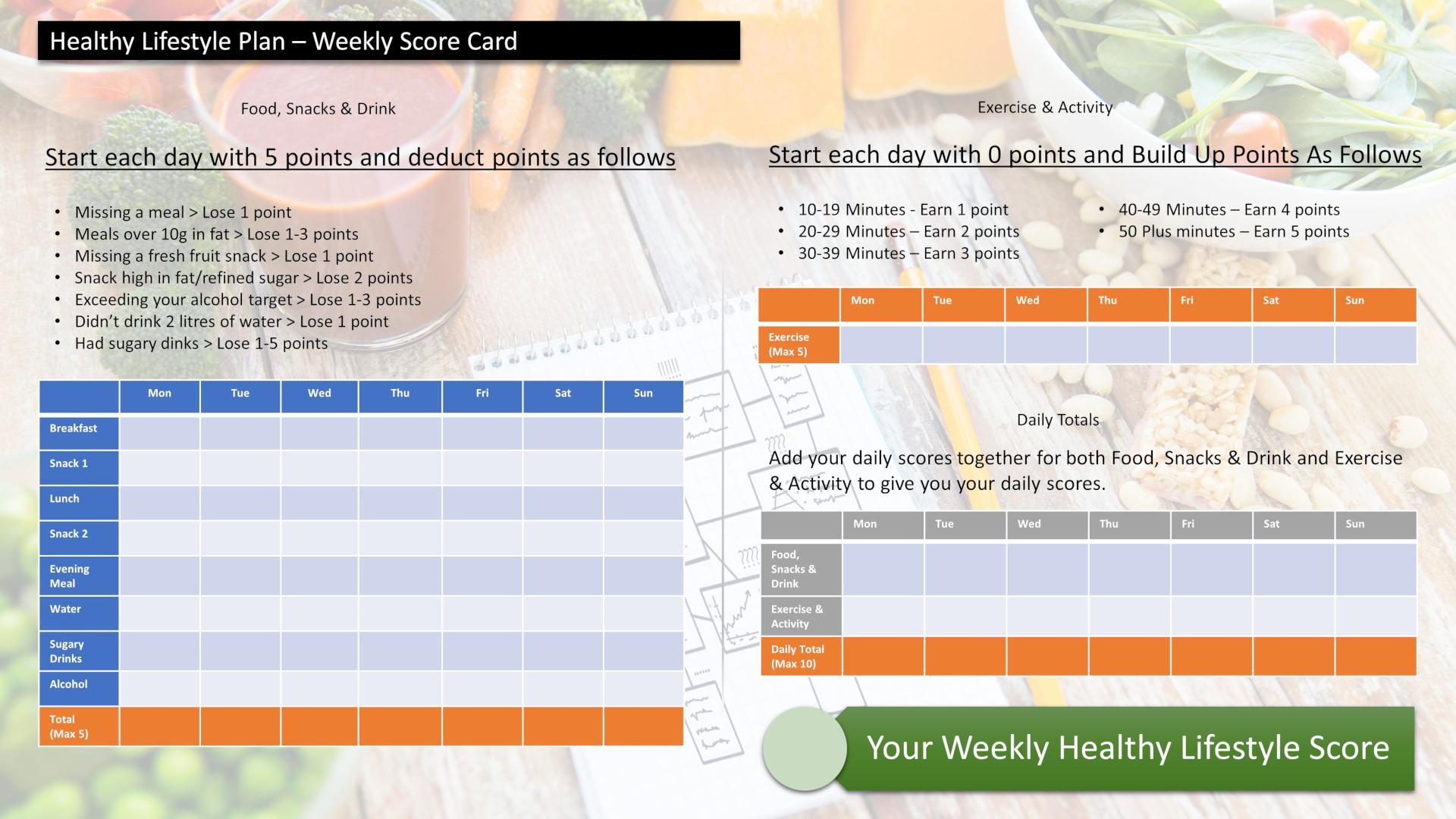 Score your way to good health with our healthy lifestyle plan and it's unique 70 point weekly scorecard!