Yesterday I was contacted by three people who had one thing in common. They had hit rock bottom in their lives. One had lost all confidence in herself, and had totally lost her way at work and in life. She had deeply rooted problems with self esteem that she'd allowed to fester into a monster beating her down continuously. Another had been fighting dreadful health and financial problems for longer than she cared to remember and was now a bankrupt waiting for a kidney transplant, and the third, well he is facing impending bankruptcy and is going through a divorce from his wife, and is feeling broken and desperate. My article about Mary and The Power of Passion Course made a connection to them.
Something I have always found incredible is that often it takes hitting your lowest point before finally deciding "enough is enough". It normally comes about when you feel as if your situation can't get any worse. Often one particular 'final' event pushes you over the edge, and makes you come to the realisation:
Well now that I have hit rock bottom … there is only one way to go … and that's up.
Sometimes you need the shock of hitting rock bottom, to shake you up enough, to get you to finally make the decision to take action to turn your life around. I learned that life is only 5% of what happens to you.. and 95% of how you react to life
The good news is, everyone has it inside them to move their life forward. But you have to believe you can and you have to want to. It won't be easy, but what is. At times it may feel like an uphill battle but with each action you take you will be climbing up a little more every time.
The one thing not to do is let yourself stay down. I know when you hit the bottom you are both emotionally and physically drained. It is easy to feel deflated, devoid of ambition, lacking enthusiasm, and giving up on your dreams. How much easier then must it be to just feel sorry for yourself? Giving up on trying to make something of your life. Well let me tell you, I know that's not you. Come on, you really think you'd be reading this if deep inside of you, your dreams are trying to break through still. You may be down but you are certainly not out.
Staying at the bottom, wallowing in self-pity, is not an option. Regardless of why you hit bottom, or how long you have been there, you need to immediately begin the process of bouncing back. Seize your day and get into that positive mindset. Always think "I can overcome any hurdle in my way". I know its not easy when you are full of negativity but you must overcome this feeling if you are going to bring yourself back to where you belong.
What not to do is look to point the finger. By blaming 'it' or 'things' you are pretty much placing your future in the hands of something you have no control over. I can tell you that 'it' probably won't get better and 'things' probably won't improve – until you take ownership of your life and everything that happens in it.
Take responsibility for where you are right now. Don't beat yourself up over it, but realise that your current situation is the cumulative effect of the decisions you have made throughout your life. Now it's time for you to make the right decisions so that dramatic positive change is inevitable.
Like most people, I've had many failures. Life has not been just one long list of successes. But I've always made sure I've learned from my mistakes so I don't repeat them.
For me personally, an extraordinary life is living a life driven by your passions. In my case it's to help make a measurable difference in the quality of life for people everywhere. It is my greatest joy to share the tools and strategies for creating a life of meaning and fulfillment. I believe that when you connect to your passions you can create a path that will take your life in the direction you want to go.
For you to get back on your feet, to rise back towards the top you need the desire, determination, and, perseverance. You need to have a plan. Assess where you are right now and map out all of the changes you need to make in order to turn things around. Then take action.
You may experience setbacks. It doesn't matter. Pick yourself up and get back on track. Concentrate on your destination rather than your current situation. Forward is the only direction that's important.
So as crazy as it might sound, there is actually tremendous power in hitting rock bottom or a low-point in your life. Use the power of hitting rock bottom to your advantage start making some major changes in your life.
Instead of complaining and looking for miracles start doing something about it. You have a choice and if you continue to ignore your problems you are failing to learn from the events in your life. Failure is really an opportunity to seize life. After all you generally can turn around any situation. The sooner you start, the easier it will be.
The Power of Passion course might be just the spark you need! This will start really soon. It's going to be FREE. Places will be limited. So get your name down. Email me at coach@larry-lewis.com to reserve your place.
Score Your Way To Good Health - With Our Healthy Lifestyle Plan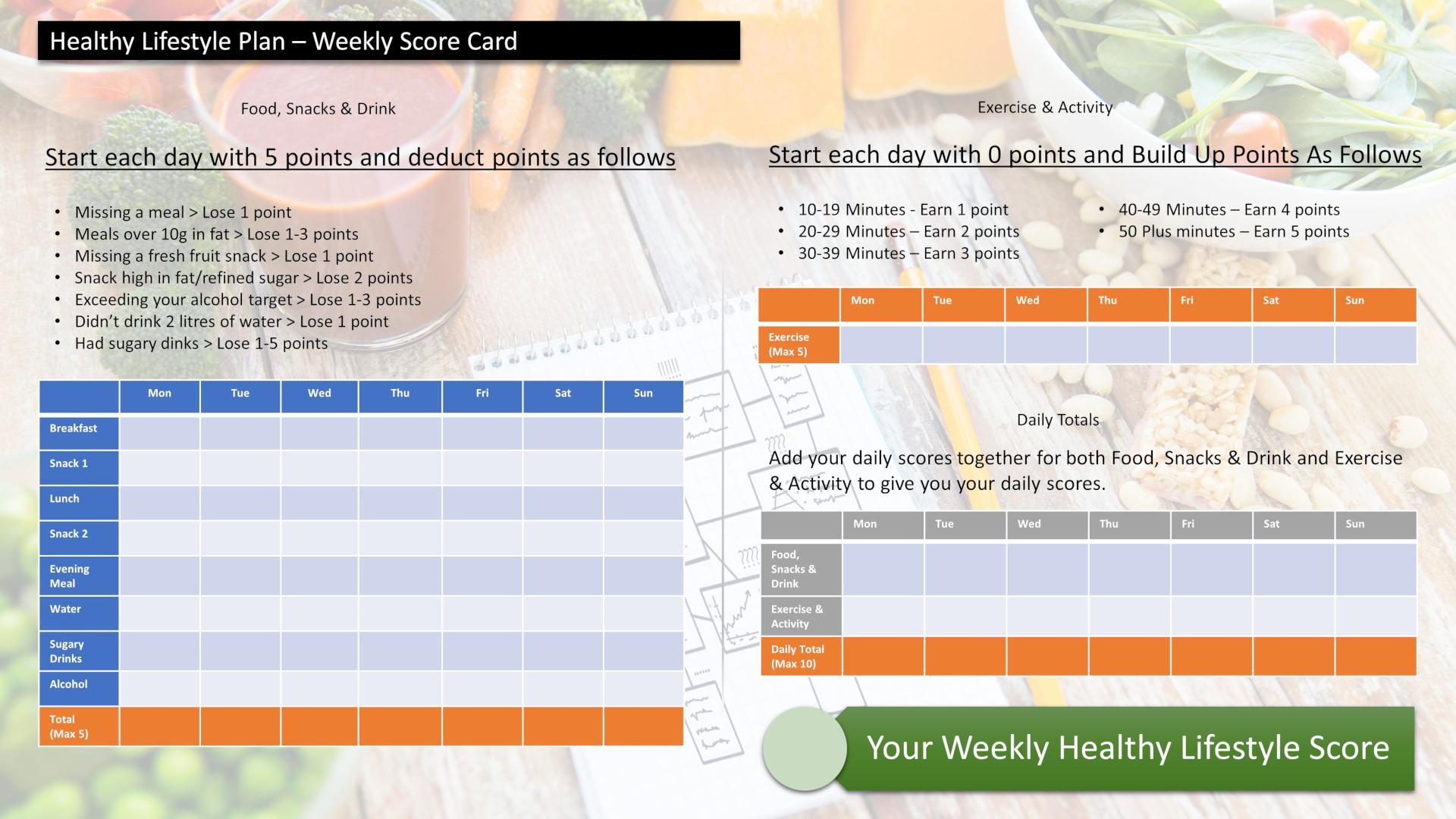 Score your way to good health with our healthy lifestyle plan and it's unique 70 point weekly scorecard!