Sometimes mourning a life does not feel right. Life should be celebrated. It is a special day when those who loved a person get together and celebrate their life, happily, remembering the person as they were…alive, and vibrant.
Our world changed, four days after my sister passed away. I find it so hard to believe that it is now 10 years ago, that a decade has passed us by. Ten years on, yet it feels like only a short time ago.
My sister Jan died on the 7th September 2001and the world is poorer for it. I am not mourning for her, I did my grieving all those years ago. My sisters love is something I was blessed to have that not even by death can it be broken.
I was in the early days of my mourning her passing. The television was on in the background. Suddenly out of the blue events unfolded in front of me. New York, the city my sister had lived in, had married in, was witnessing the most grotesque event imaginable. While part of me was trying to deal with losing my loved one, I couldn't take my eyes off the horror taking place in the city I had spent so many happy days together with my sister.
Ten years on, this week, I still celebrate the life of my sister, as I know so many do the same that lost their loved ones during this same period. My memories now can only be happy ones while I thumb through photo albums of my sister. Those that lost their loved ones on 9/11 have to be subjected to program after program reminding them of all the details of this horrifying time. I'm sure there is no escape. The reminders are everywhere.
When we lose a loved one, in the beginning it isn't so much a matter of moving on, as it is of getting through the day. Eventually our trauma does begin to fade away, and very slowly things begin to go back to normal, as we move on. As each day comes and goes, we learn that little bit more how to deal with our emotions, such as sadness, grief and anger. As each day passes we move beyond that initial shock and grief. It is a gradual fading, but you never forget.
When we are grieving it is agonising a good part of the time. Moving on isn't something we can just decide to do. Instead, moving on seems to kind of slip in, take us by the hand, and lead us away from the grief.
For those who lost through 9/11 the shock that occurred must have been so extreme, when their loss was so terrible, so public, where the pictures surrounding the event so vivid, it must have been so hard for their minds to bear it.  A decade of mourning I pray has allowed them to move on, and restart their lives.
When we lose a loved one we never get over it completely.  I remind myself that my Sister would want me to do what it takes to get through the grief. That Life must go on. That my responsibility is to make my positive mark on the world.
When you lose a loved one it changes you forever and will be with you forever, and that no matter how well you are able to function, there will always be a piece of sadness in your heart that you carry with you everyday. I use this as a motivation to serve others through bringing to them the power of personal development.
This week is a period of reflection for me. A time where I allow my body and soul to connect once again, fully with my sister. So I have chosen two quotes that will help me go inside of myself, and make a connection with the love I hold for my sister. They also give me further understanding of how her life shaped my destiny, and the determination it gave me to become a coach, author, and speaker, providing the tools to make the difference to other people's lives. She is the reason I am a blogger … so I am indebted to her, because this was my destiny.
'Our siblings push buttons that cast us in roles we felt sure we had let go of long ago – the baby, the peacekeeper, the caretaker, the avoider…. It doesn't seem to matter how much time has elapsed or how far we've traveled'.  Jane Mersky Leder
I will always hold my sister's memory close to my heart. I will not mourn her passing away, I will celebrate her life. I will give thanks to the impact she had on me her brother, and the journey her life allowed me to take.
'She is your mirror, shining back at you with a world of possibilities. She is your witness, who sees you at your worst and best, and loves you anyway. She is your partner in crime, your midnight companion, someone who knows when you are smiling, even in the dark. She is your teacher, your defense attorney, your personal press agent, even your shrink. Some days, she's the reason you wish you were an only child'.  Barbara Alpert
To all those that have lost loved ones, your life must become a celebration of the life of the ones you lost. Allow their memory to drive you to make the most of your time, no longer let it keep you submerged. My sisters life meant something … and day by day I provide evidence of that.
I believe she is in a better place , but she is still around me constantly. She witnesses all my triumphs and challenges. She is there sharing and enjoying my life's journey.
In the introduction to my book, Combat Stress The Healthy Lifestyle Way, now available free from this Blog, I explained how my sister's life shaped my journey. This is what I wrote:
"Janette (Jan), my sister, died suddenly at the age of 48 on the 7th September, 2001, when according to a post mortem, her heart just stopped working. Ultimately this was caused by her succumbing to the impact of stress throughout her adult life, and an addiction to Valium, the drug that had been prescribed for her aged 18 to combat this stress. This loss of my sister to the ravages of stress has inspired my purpose in life – dedication to healthy living and combating stress. I set out to ensure MY SISTERS LIFE MEANT SOMETHING!  If I could help one person deal with stress, whatever the origins of the stressors, then I was fulfilling this objective.  My life took off in a rewarding direction. It was a life changing experience for me, and ultimately led to me writing this book.

My Sister was stunning.  She was a 'leggy' model, actress and dancer.  She had much success- Made it to Hollywood, appearing in many films. But whatever successes she gained, she never was able to combat stress, or get away from its debilitating effects. These effects of stress and her addiction to Valium took away everything she was, and prevented her from being everything she could have been. Her life was not only cut short, but every member of her family was affected in some way.

To live through your own sister's descent into an addiction to prescription drugs, her constant battle to break out, culminating in her premature death, are events which live with you forever, and for me, created an implacable determination to make a difference to other people whose lives I touch.

I now knew that I had to do something towards helping others tackle stress, so I set out on a journey to bring the tools that I had been taught to rescue myself, to help people learn about stress, and show them ways to manage it in their life, as well as enabling them to create healthy lifestyles. I wanted to contribute this knowledge to everyone. All around me I saw people that I knew would benefit".
So I have every reason to celebrate the life of my sister. If it wasn't for her I would never have discovered my true passions, that of blogging and all areas of personal development.
May I send my heart felt feelings to everyone across the world who this week is mourning the loss of a loved one, and to each of you whose lives were affected by the tragedy we know as 9/11.
As a final note, I want you all to experience happiness in your lives, so I ask you to Love yourself, relax often, appreciate your life, have a conscious awareness of all the good in the world, and help others whenever you can. And remember no matter how bad things may seem, you can still end up living the dream.
Rest in peace Sis!
Score Your Way To Good Health - With Our Healthy Lifestyle Plan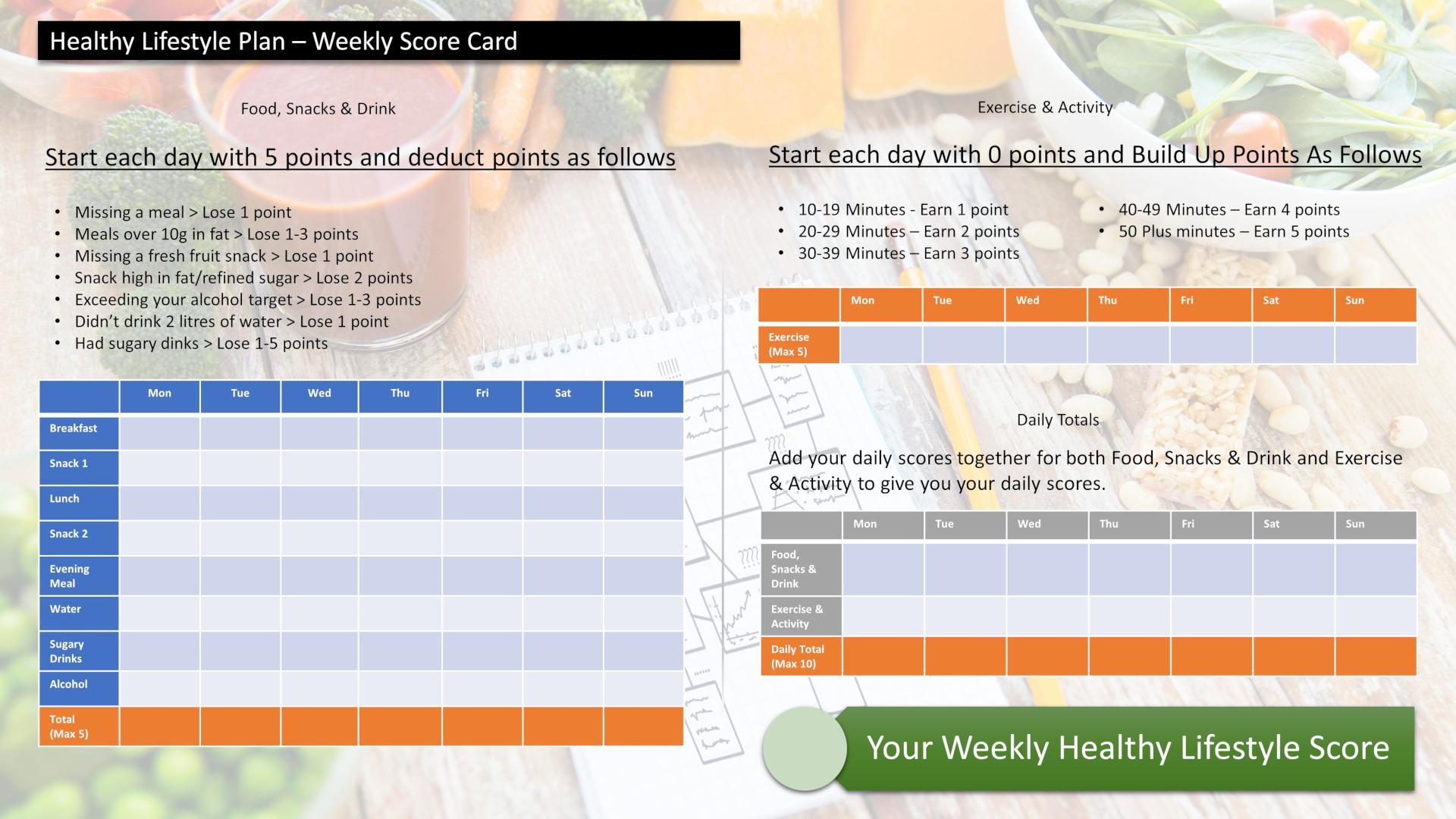 Score your way to good health with our healthy lifestyle plan and it's unique 70 point weekly scorecard!