There's a time to stand your ground, and there's a time to walk away.
There comes a moment when you know it's time. They say that life is all about timing and that you will know when the timing is right. But we all know that even when we are sure now is the time, making our final decision can be the hardest thing in the world.
There are moments when several things come together and you decide, happily at times, with sadness at others,that now is the time to change. These 'moments' are little messages that, individually, may not make you jump into change but collectively, make the path quite clear.
It's time. It's time to take action on your dream, or against the dissatisfaction you feel. It's time to move forward… to stop waiting. Only you can make the choices that will be right for you.
A little part of us dies each time we hold onto something too long. There is a time when you just know you have to move on with your life.
If a certain person in your life is making you feel more negative than positive, more suspicious than trusting, more inadequate than adequate, more of a failure than a success, more unwanted than wanted, you need to let this person go, for your sake and there's too.
Alas there comes a time when there are more questions, than answers. And no matter how hard you try, solutions just aren't there. You keep searching, hoping, but all the time a little bit more of you seems to die. They say that when you are deeply and insanely in love with another, then no matter what, you can find ways to resolve issues and rebuild relationships. And more often than not it is true, but not always. When you feel yourself being cut apart bit by bit, sometimes you have to face it's time to walk away. Yes there are times when you can only accept that there are no solutions and so that you can live your life to the fullest, your only alternative is to move on when it's time to let go.
What do you do when your current job or career becomes a nightmare?
What do you do when you miss your family who live 400 miles away?
What do you do when a relationship becomes nothing more than endless arguments?
What do you do when you see that your lifestyle is making you ill?
What do you do when you know the place you live isn't right for you?
Whatever it is that you need to move on from, you can do it. There is no need to clarify the reason. Simply move on with your life, for life is but a mere brief blink of an eye. If you don't enjoy the little time you have, what's the point.
Lyrics from Last Man Standing by Trailer Choir stand out to me when considering this issue:
There comes a time in all our lives
When your backs to the wall and it's do or die
Do you stand your ground or walk away?
(Would you Walk away?)
My heart's been broke, my pride's been striped
Every time this world tells me to quit
I hear that voice inside me saying
It's the hard knocks, it's the long shots
It's believing in yourself when you're all you got
You don't turn back, you don't give in
Rising up to be the last man standing
Well, I've been bred to win, losing's wrong
And no you can't hold me down 'cause I'm just too strong
There are times when we may find ourselves caught up in a bad position, constantly battling through arguments, or other confrontations. You need to know you have options that maintain your integrity and come from strength rather than weakness.
Our egos often keep us in situations we should walk away from. It forces us to stand our ground and prove our point, never wanting to admit defeat, but you can never surrender your respect and personal boundaries. Staying when it is best to walk away is a sign of weakness is all about your ego.
Make decisions from a peak state. Anthony Robbins explained that our decisions shape our destiny. To make the best decisions for your life, first put yourself in a peak emotional state. Move your body, bring up your energy level, and remember that you have control over your life and your actions. Make decisions from a place of power. So look at your circumstances, determine fully what is best for you.
There are times when we have to make major decisions that will bring about major life changes. And the decision to embark upon the change is not made without much thought and consideration.
So how do you know when you are ready to embark upon the change? How will you know if the time is right and that you are ready to follow through?
You know you are ready for change when you become committed, when there is something more important than keeping things as they are.
You deserve happiness and peace. You deserve to enjoy your life. If now is not the time, then when? What are you waiting for? Stop making excuses, start making decisions once and for all.
There comes a time in our lives that we must deal with our situations. No longer letting ourselves hide away from them.
Stand your ground and prove your point when necessary and learn to recognize when to walk away. You will be more positive and powerful with each good choice.
Are you at the cross roads of life and are you ready to welcome change?
Score Your Way To Good Health - With Our Healthy Lifestyle Plan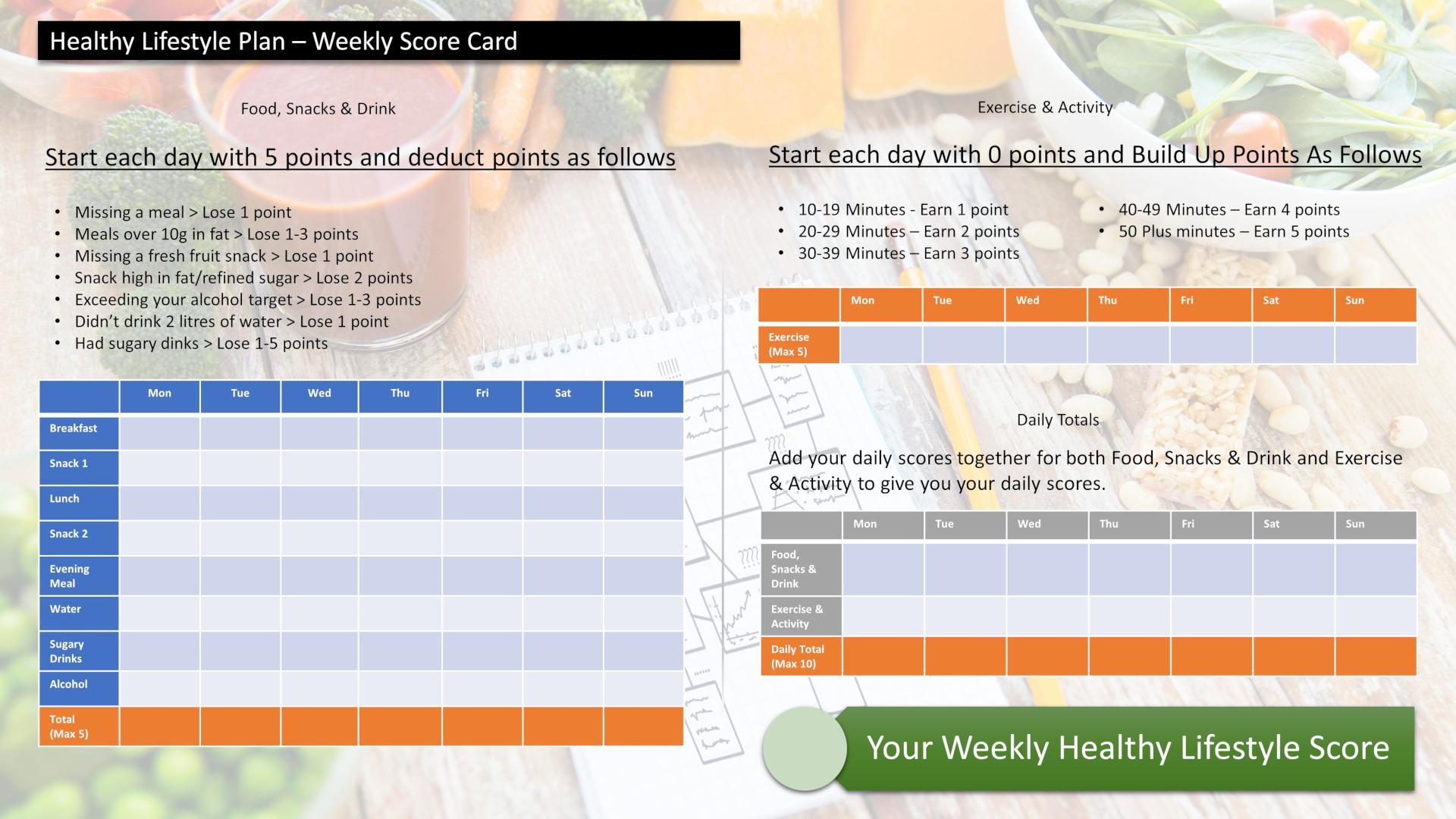 Score your way to good health with our healthy lifestyle plan and it's unique 70 point weekly scorecard!