I am a busy business executive, father, son, blogger, and Personal Development Coach. I play a lot of roles, to many to list here. I'll bet you also have many roles and responsibilities too. I am often asked, "How do you get it all done?"
Sadly, I have to admit on rare occasions my days don't always go according to plan. Today was one of those days. I can certainly say this isn't the norm for me. I am not somebody that allows my self to be a passive spectator, watching my life unfold, one day at a time. I am one that seizes each and every day, working to a planned schedule. But today wasn't one of those days.
What happens when your day doesn't go quite as planned? Do you get knocked off balance? Do you shift and adjust? Or do you obstinately stick to your original plan… "no matter what."
I would guess every one of you, every day have little things happen that knock you out of stride, things that weren't planned, so things you'd wanted to do don't go as planned.
Well here's the good news, an important time management skill is the ability to adapt. If you are inflexible, you will not be able to effectively deal with true life and its uncertainties. When you are rigid in your focus you will constantly create unnecessary stress and strife for yourself.
Plans change. That is just a fact of life… as is the fact you have to change with them.
So for me today it's been one of those days. Not a bad day, but a day when all those beautifully laid out plans that were made first thing, all turned into a twisted pear shaped mess.
Issues arose that were important enough to deal with, but other planned events had to be abandoned. They were urgent, meaning they were important enough to interrupt my day. I had to drop everything I was meant to be doing. In fact I had to drop my entire day's itinerary.
Some people would have been averse to changing plans at a moment's notice. However, being able to adapt to changing priorities is a crucial skill. Doing it quickly, when appropriate, is equally as important.
Flexibility is Key. When life changes the game, be ready to adjust. Even the best of plans will need adjustment.
I could stress, but where's the benefit in that? Accept that you will accomplish what needs to be done and have the grace to let go of what remains. Be flexible. Be ready to adapt. And you will find that you will be able to deal with whatever comes your way.
Your living is determined not so much by what life brings to you as by the attitude you bring to life; not so much by what happens to you as by the way your mind looks at what happens. John Homer Miller
Amid all the chaos of today a spark appeared. It's quite amazing how our minds work. Out of nowhere, I experienced a 'light bulb' moment, you know that ah-ha moment – within seconds something I had been pondering for a while became crystal clear. The lights just came on. I now could see an opportunity that could impact everything I am doing in my online business and move things forward in a brilliant way, where I would 'make the difference' to others in a bigger way even than I'm doing now.
It was a new idea for my business, an inspiration that came from somewhere. I learnt long ago to take heed and listen to the sound of my inner voice.
What was this idea … I'm not telling … look out here on January 3rd … you'll see.
One thing, I want you to know this is real, truly happened today, and I'm like a kid in the candy store. Boy, do Neil and I have our work cut out for us. To you Judy, i'm sorry for today … but my promise to you … it will all be worth it!
Tell me your biggest "Lightbulb" moment.
Score Your Way To Good Health - With Our Healthy Lifestyle Plan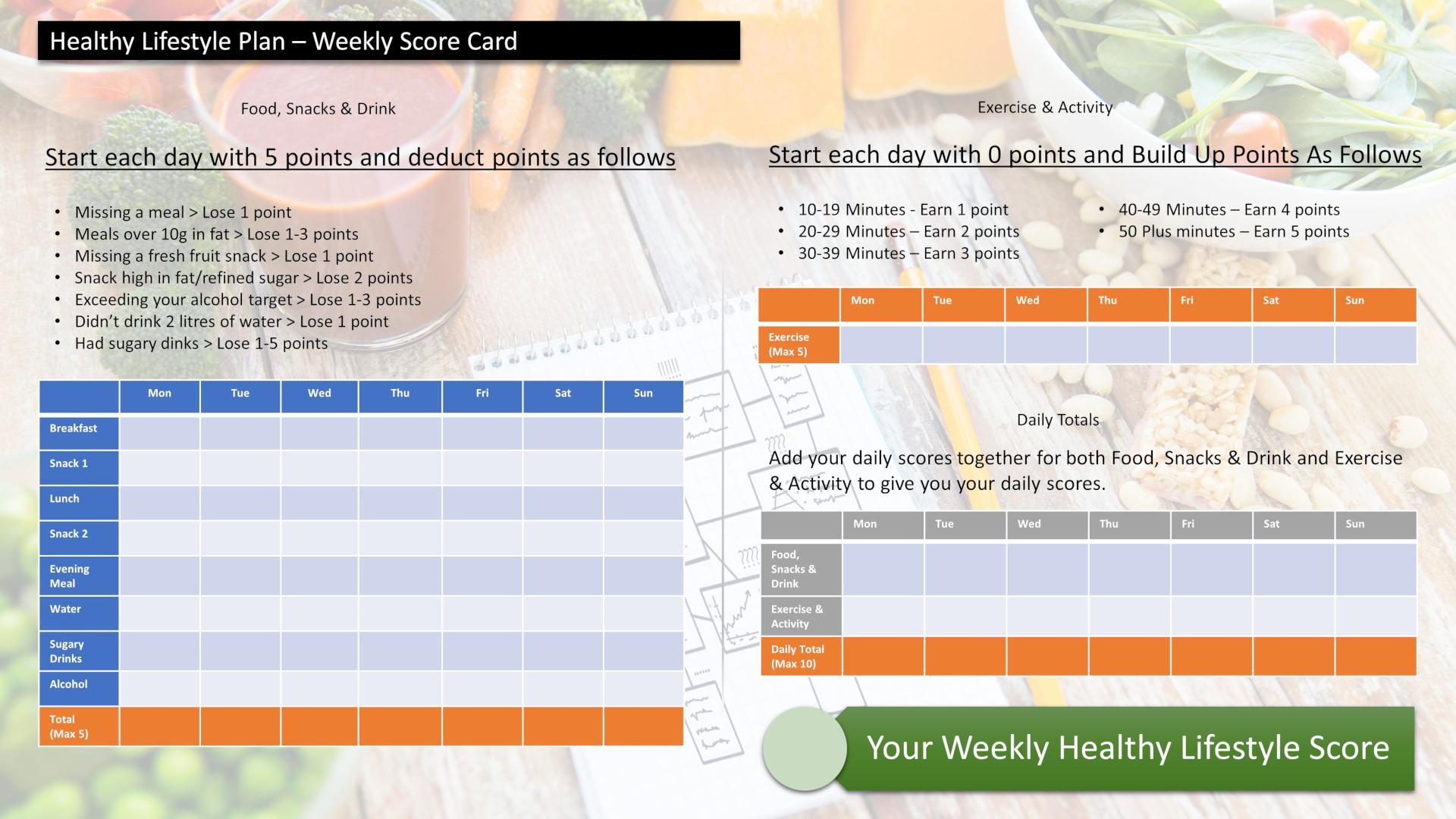 Score your way to good health with our healthy lifestyle plan and it's unique 70 point weekly scorecard!