Let's talk about you, about the person you are and what you can potentially achieve. Every day of your life, virtually from the moment you were born, you have taken a journey which has navigated you to the point you are at.
Many of you feel you are not really 'living'. You have done so much yet still feel unfulfilled. You may have resigned yourself to being too young, too old, too set in your ways, to change how things are, losing sight of your potential.
Your best starting point is where you are now. It may not be a very comfortable spot. Perhaps you feel you have achieved so little, have got nowhere that there's no point in examining your life as it is today. What's the point anyway, you say, I know how bad it is.
Recognize and accept where you are and what you're doing. After all, if you truly want your world, whether at work or home to turn out the way you want it, then it makes sense to start getting a handle on what is creating your current circumstances.
A question I would ask myself is: "Are you living inspired by your goals, working every day to take another step closer?"
It's like Forrest Gump said, 'Life is like a box of chocolates.' Your career is like a box of chocolates – you never know what you're going to get. But everything you get is going to teach you something along the way and make you the person you are today. That's the exciting part – it's an adventure in itself. Nick Carter
I am writing this when I'm full of cold. Coughing, sneezing, running nose and a terrible headache. There I was lying in bed, feeling sorry for myself, as we men do when ill, frustrated by not just being unwell but unable to work. Then I began to laugh realising that the biggest frustration was simply caused by how much I'm enjoying working on my visual impairment project, the passion I hold for what I'm doing, and therefore wanted to be carrying on with it rather than lying there letting time tick by. My life is truly inspired by all the goals I am working towards and the potential I foresee.
Then it hit me. I had reacted in the same way when I became visually impaired, able to do nothing, stuck in bed for large parts of the day, simply feeling sorry for myself. Now although I'm not yet firing off all cylinders, still struggling in some areas, I am doing so much more than I was back then. It is amazing how we human beings can adapt, well when we let ourselves.
Do you might find yourself yearning for the days when each morning was a new challenge rather than just another day? Have you reached that point in life of questioning what it's all about, why have things worked out the way they have. Back when my handicap happened I went from day to day just surviving and managing so I could get through but nothing excited me, one day was like any other. Now I wake up every morning excited by the things that I will do. The way you feel and what you are capable of achieving I believe is controlled by your goals, what it is you want to achieve.
Maybe you have no goals to drive you. Yet life isn't where you want it to be, you're confused as what to do next with your life, and if you can't come up with answers you know you won't end up where you want to be.
Some people go on from mediocrity and achieve amazing things while overcoming incredibly troublesome odds to reach a place of joy, happiness, and success. For most, however, they will stay forever in an endless loop of unhappiness and disappointment, just saying to themselves "that's the way life is" refusing to set themselves goals.
As children, we dreamed of what we might become when we grew up—football players, dancers, musicians, pop stars or pilots. As we reached 16 the professions may have become our goals, like being a doctor, accountant, lawyer or veterinarian, which more than likely will depend on your interests, talents, and passions, and we set our plans to bring it about, making the goals that really matter to us.
Some of us stayed true to those plans; others made course corrections or were side tracked along the way. Now as a grownup, you may still be a work in progress, yet only you can decide to make the right choices to make the most of the potential you have within. Your life will reflect the sum total of your choicer the rest of your days.
Just as when you were a child, you must dream of what you will become. As you look ahead today, allow yourself to dream once again and consider the possibilities for your future. Paint a brilliant, inspiration picture of your life ahead inside of your head.
For me my path is clear. I imagine myself enjoying a full life, having written many books, stood on many a stage inspiring my audience, and helped change many lives, particularly those inflicted with visual impairment to go on and build fantastic lives despite of their 'handicap.' I navigate the course of my life choices with the intention that they will bring me closer to fulfilling this vision in thevfuture. Of course, there is no guarantee of how things will turn out, but I believe my intentions will be the tipping point toward the realization of this dream.
Key to me is when I reach the later stages of my life I want to be able to look back on my life with joy, gratitude and satisfaction. I know I must live the life I will want to remember.
So my simple message today is set yourself goals having imagined the future you want to live. Let nothing stop you, particularly a disability, and go on and fulfill your potential.
The will to win, the desire to succeed, the urge to reach your full potential… these are the keys that will unlock the door to personal excellence. Confucius
Score Your Way To Good Health - With Our Healthy Lifestyle Plan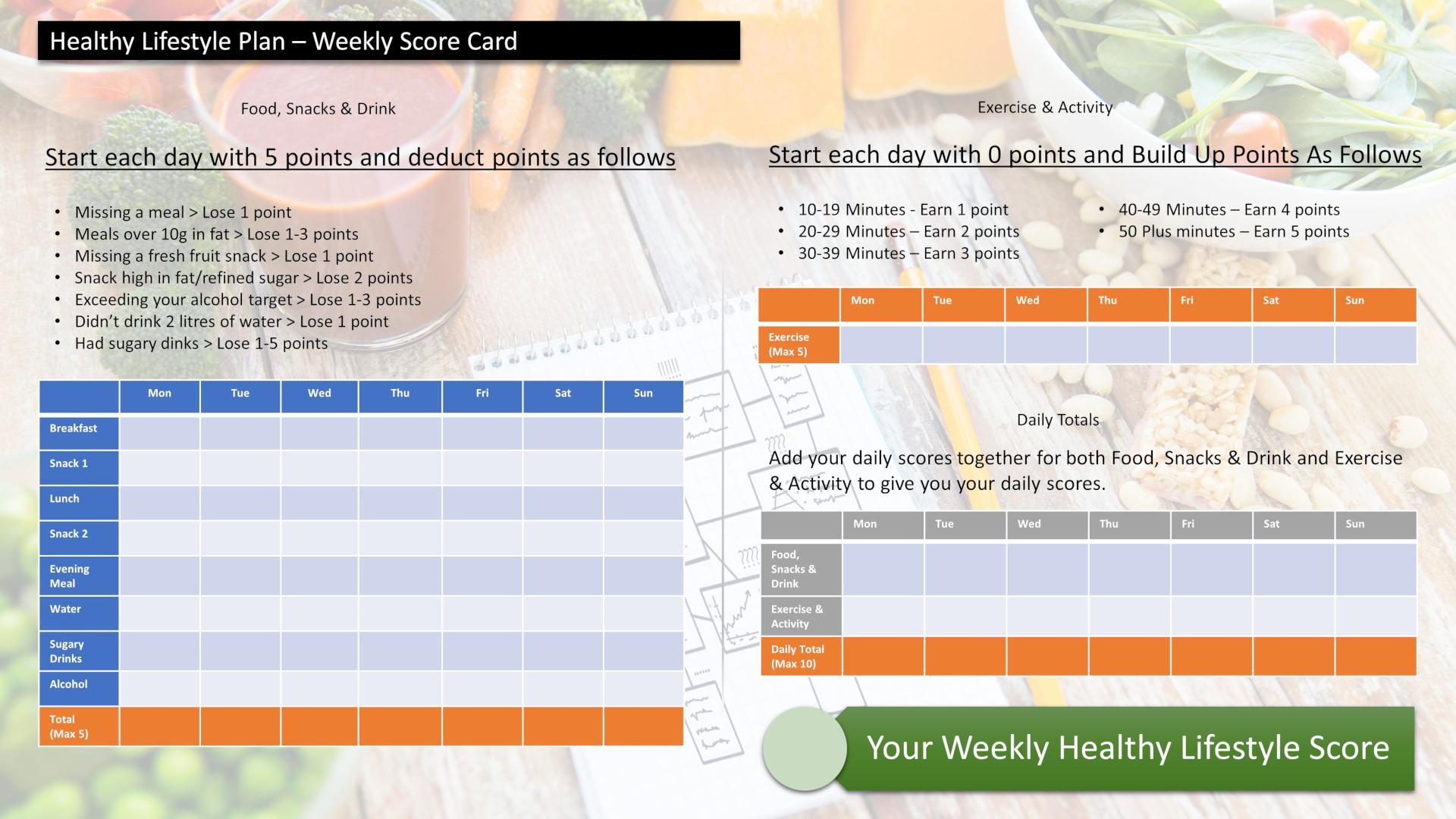 Score your way to good health with our healthy lifestyle plan and it's unique 70 point weekly scorecard!