Take a moment to place yourself at the finish line of life. What do you want to be known for at the end of your time here on earth? What do you want people to remember you for? What will be written on your epitaph?
Spend some time reflecting on these questions.
We need to realize that we are all going to die because death is our fate. How you want to see yourself in the end should define how you live now.
One day you will certainly die. There's no getting away from this. Hopefully though it's a long way off for you.
So before then, what is your powerful aim in life, your purpose?
When you get towards the end of your life you don't want to look back at it knowing that you never fulfilled your potential.
To me its better to think about if you were to die tomorrow what do you wish you would have done and reprioritize your life now to achieve those wishes. When it is time for me to slip away in to the afterlife I want to know that I lived a good and moral and full life, not one full of regret.
A good way to start is to recognise that where ever you are in your life right now can be summarised into your yesterdays and your tomorrows. The main thing is to use your tomorrows to do what makes you happy. Listen to your heart and allow it to guide you. You only live once, and it's your life to enjoy. When you listen to your heart you follow your true desires and the chance that you'll regret your decision is very small.
You can't go back in time but you can make it a priority to take full advantage of the time you have left.
No matter how old you are or where you are in your life, you can choose to live the rest of your life with no regrets by seizing the life you have and making it the best it can be.
So many of us get stuck in what is comfortable, and forget those dreams we once had. Well no more. Find once again that dream you once longed for. Now begin to bring it into reality. What do you feel passionate about? What is calling to your deepest, truest self?
Don't let anything stop you any longer from doing what you know you need to do to start turning those dreams into life. From now on hone in on what really fulfills you the most. Never again let your mind talk you out of making any changes.
Start to live, to act, to progress towards where your passions are driving you. Be enthused. Invigorated. Let your motivation, resolve and spirit start to kick-in know things are now going to happen!
Taking action lights that fire within your belly that will help keep you focused on your goals to take you where you want to go. This way you can ensure you will live with no regrets.
We all deserve to follow our passions and live a life with fulfilment. A life true to ourselves, one that feels rich, whole and happy.
So come on get thinking about your life right now- what is one unfulfilled dream that you'd later regret not acting on? And what's the FIRST STEP you can take to help bring that dream into reality?
And if you'd like some support on getting moving towards your passions, The Power of Passion course might be just the spark you need! This will start really soon. It's going to be FREE. Places will be limited. So get your name down. Email me at coach@larry-lewis.com to reserve your place.
Score Your Way To Good Health - With Our Healthy Lifestyle Plan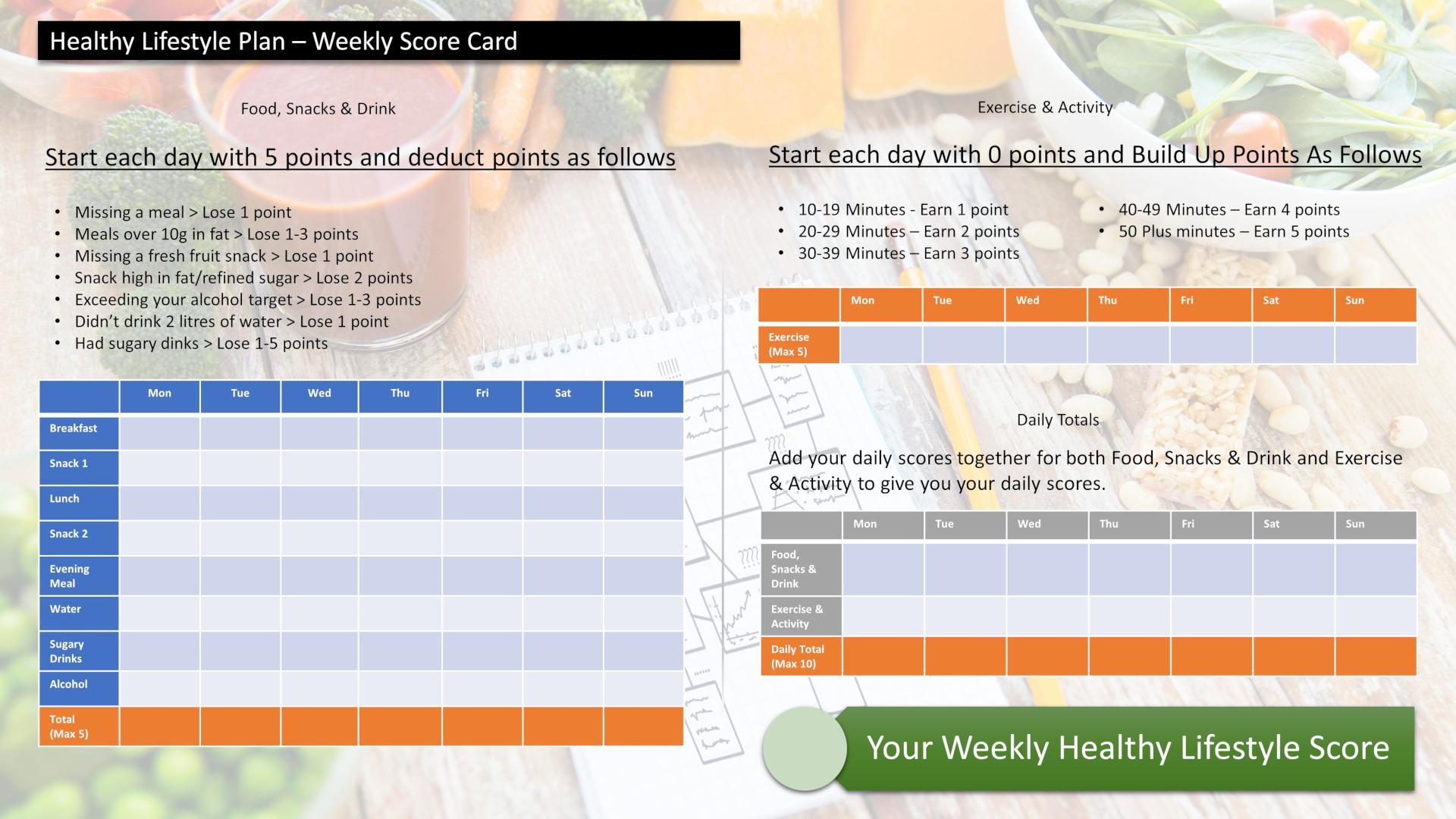 Score your way to good health with our healthy lifestyle plan and it's unique 70 point weekly scorecard!