This is a truly powerful question that most of us ask ourselves at some point in our life. What should I do with my life? What is my purpose in life, what is my passion?
We are all on that journey of life, which for some comes so easily and for others it proves a long and weary road.
Do you feel like there is a general lack of fulfilment in your life? Do you feel like a slave to your livelihood?
I listen to some of my friends at times, continually complaining about the jobs they have and how miserable they are with the lives they lead. What actually are they doing about it?
So many people go through life working really hard, doing things that they would rather not do and in the back of their minds expecting that someday something great will happen. They will finally hit the big time. They will eventually be happy… and then be able to take the time to at last enjoy their life.
They keep working hard, biding their time, until that day arrives when they will finally have the time, the money and the energy to really do what they want to do. Alas too often it never comes to pass. They never get to that point.
I believe life is more than just surviving, clocking into a 9 to 5 job, and fighting to get out of bed every morning. Deep down YOU know that you're meant for so much more; for purpose and destiny! We each have a legacy to leave, a way in which we want to contribute to the world. We are all invited to make a difference in the world by leaving our unique mark.
Why is it that so many people go through life never really achieving their fullest potential?
They have dreams and desires like everybody else but they remain as such – simply dreams and desires that never come to fruition.
I certainly am an advocate for working hard and striving for goals, but at the same time I believe it possible in fact essential for you to enjoy every moment along the way.
That is what has led me to building my business around something I am passionate about and which inspires me and fills me full of positive energy, and I enjoy every day of my life. In my mind there is no need to settle for the status quo when there is a world out there with endless possibilities.
Here is a question I want you to think about. What do you enjoy doing, or what would you like to do, more than anything else in the world?
I ask this question because almost without exception, successful people are usually those people who follow their passion. They're doing what they truly enjoy doing. They're pouring their heart and soul in to their work that means everything in the world to them.
"Success is not a place at which one arrives but rather the spirit with which one undertakes and continues the journey." Alex Noble
Lao-tzu said "A journey of a thousand miles begins with a single step." Step after step progress is made until the journey is completed. Looking forward to the destination can encourage us, but the quality of our passage is determined step by step. If we do not pay attention to where our feet are landing, we may step off course or trip and fall. If we stop taking steps, we stop our progress. And I for one not only want to make continuous progress, but enjoy the journey I am on. To me that's how you can lead a quality life. To me that means you have to follow your passions.
Doing what we really love is absolutely necessary if we want to be fully happy. Perhaps this is why there is so much unhappiness going on in our society, people just aren't doing what they love.
Passion for what you are doing is what drives one to success. It's never work when you love what you are doing, right? Crazy! Just imagine being in a position where you were highly motivated to go to the office because you completely love what you are doing. This is the ultimate lifestyle.
My passion is personal development and blogging and I am using them to build an online lifestyle while helping others reach their goals as well. This is what drives me to work 12 to 15 hours some days, without feeling unhappy about it. I love it all!
How great it is to be working full time by simply sharing my ideas, experiences, and knowledge on areas that I am truly passionate about.
To succeed at anything in life, you first must have enthusiasm and dedication. When you have passion for what you are doing, you have the perfect formula for success.
You have to find your passion. Seriously, give this some thought and develop a plan to transition from where you are to where you really want to be in life.
What I love about part of my role in our business is to help others identify a skill they possess that an online business can be built around. We love helping people decide what it is that they love most. Some people can't quite put their finger on it, and that's okay. With the busy run-around lifestyle that this world creates, often your passions will unfortunately get pushed into the back of your mind…..and your life.
Once having discovered that passion helping them begin the process of making that passion work to their benefit. Well it's a great life for me to live.
What I also know is that once they have done this they fully commit to building their business and changing your lifestyle, and they work hard but with a high level of enthusiasm, motivation and excitement than ever before.
"Let the beauty of what you love be what you do." – Rumi
Living with passion isn't just good for life, it's good for business. And, if what you strive to create has a genuine impact on peoples' lives, it's good for the world.
What are your passions in life and how can you make one of them your life's work?
This was Larry Lewis.
Score Your Way To Good Health - With Our Healthy Lifestyle Plan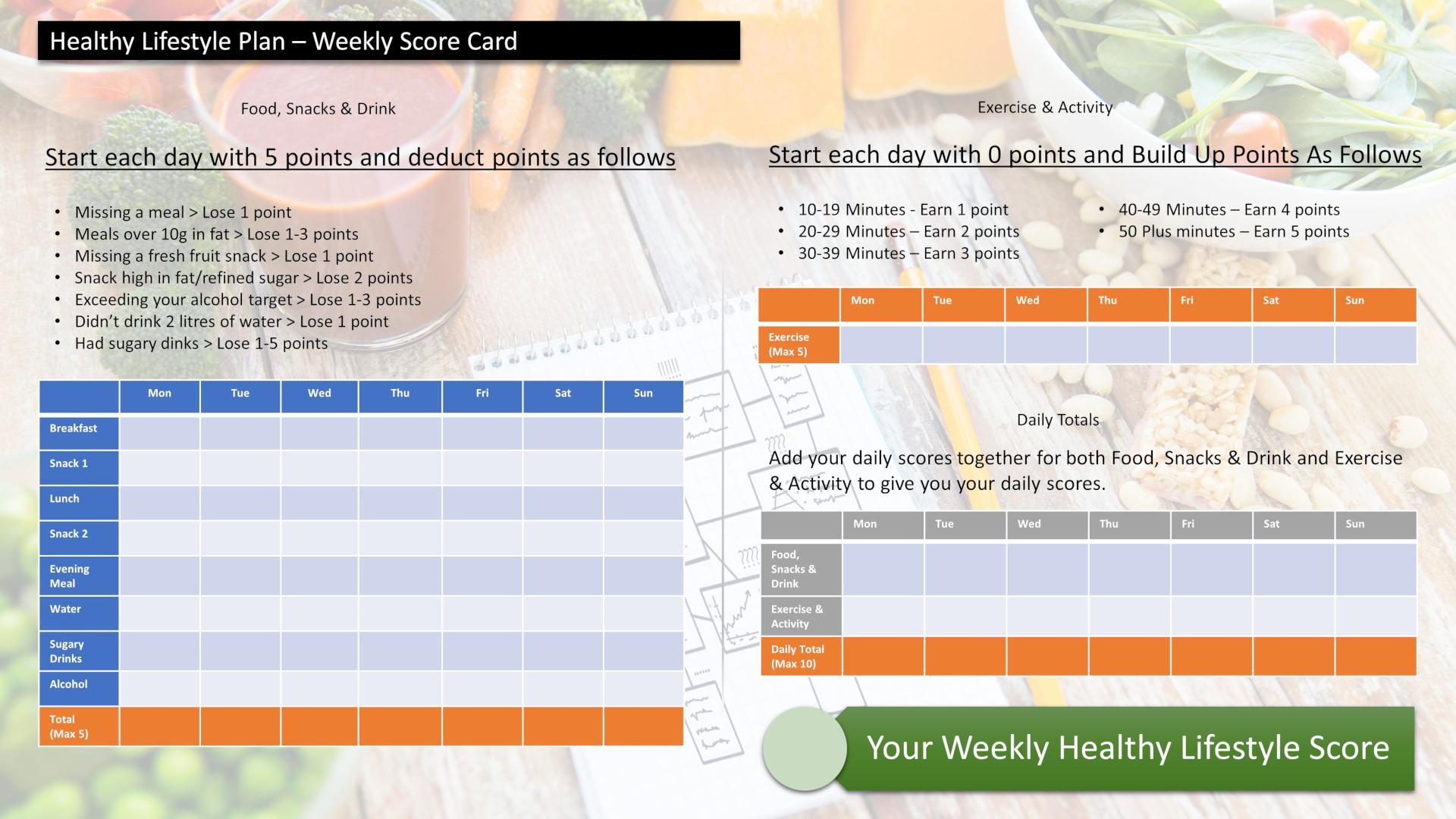 Score your way to good health with our healthy lifestyle plan and it's unique 70 point weekly scorecard!