Being a lifestyle entrepreneur pursuing my passions, dreams and goals is hard at times. But no matter what difficulties may be faced I always feel an incredible sense of optimism, happiness and excitement. It's easy to sum up what passion means to me. It's my life!
These past two weeks have been a total whirlpool of events for me at work and at home.
I have a passion for life. Not that life is always good. In fact, sometimes it's just the opposite. There is no getting away from the fact, that at times life consists of ups and downs, joys and sorrows for all of us. Life isn't always going to go well, it won't always be a bed of roses, some times you get knocked around a bit. But when your life's filled with passion for what you do, nothing can knock you off course, or get you down too much.
What with my partner's and eldest daughter's major health problems, launching of our wellbeing stores, creating the Power of Passion Community, and all the technical issues both have raised, my daughters 21st birthday, my sister and parents moving home, us setting up our new office to name but a few things, the rarity of my blog posts recently has been dreadful. But soon life will return to normal, with maybe a bit more of a spring in my step from what I will now be doing.
No matter what work I do on any given day, my heart, my mind and my focus is fully on it. That is because what I do is my passion. When you love what you do, and you do what you love, you can find a reason and understanding for everything. Solutions seem to come to you easily, and you know that everything will work out fine.
I will be turning 50 this year and have spent some time doing some inner reflection, collecting my thoughts and part of that process has been defining what's important to me.
As many of you are aware, with the immediate changes to my blog with the introduction of the Power of Passion Community, living with passion is an essential part of my life.
My reflection over the past few days, confirmed to me that this journey is the right one for me. Passion, for me, is about wanting to make a difference. It's about the communication of ideas and feelings to others, and offering my knowledge to others who will benefit from it.
I started on an online journey which has completely changed my life, and my thinking, it has taken me to places I could not have dreamed of and helped me create a business that will deliver my dreams in full.
I absolutely love what I do for a living. I'm so excited and revved up about helping others find their passions and building on them. I can't wait to get started. I realise that my love and passion for what I do is and will always be that flame that will never die.
Benjamin Disraeli, a 19th century British Prime Minister, once said, "Man is only great when he acts from passion."
Passion helps me spring out of bed every morning with an excitement for what things are going to happen in the day, looking forward to the day ahead and the forthcoming adventures that will come my way. Every day I look forward to what's ahead. Passion brings to me a life of awe, wonderment, anticipation, vitality, magical moments, of teaching and learning.
Whether I am writing a blog article, or creating an eBook, I can't wait to turn on my computer in the morning, sit down, take three deep breaths, and get myself into 'center' where I completely flood my mind, body and soul with my creative thoughts fuelled by my passions. I love it. I can lose myself for hours. The satisfaction when I have completed my task is fantastic.
To me being passionate means I live from my center – my heart and my soul. Before you can integrate passion into your life, you first need to know what stirs it in you. Where does your passion lie.
I am passionate about supporting others in reaching their fullest potential and finding more meaning and purpose in life. If you would like assistance in discovering your passion and bring it into every aspect of your professional or personal life, I invite you to join the Power of passion community. Let me help you bring your passions to the forefront of your life.
Download What Passion Means To Me MP3
Score Your Way To Good Health - With Our Healthy Lifestyle Plan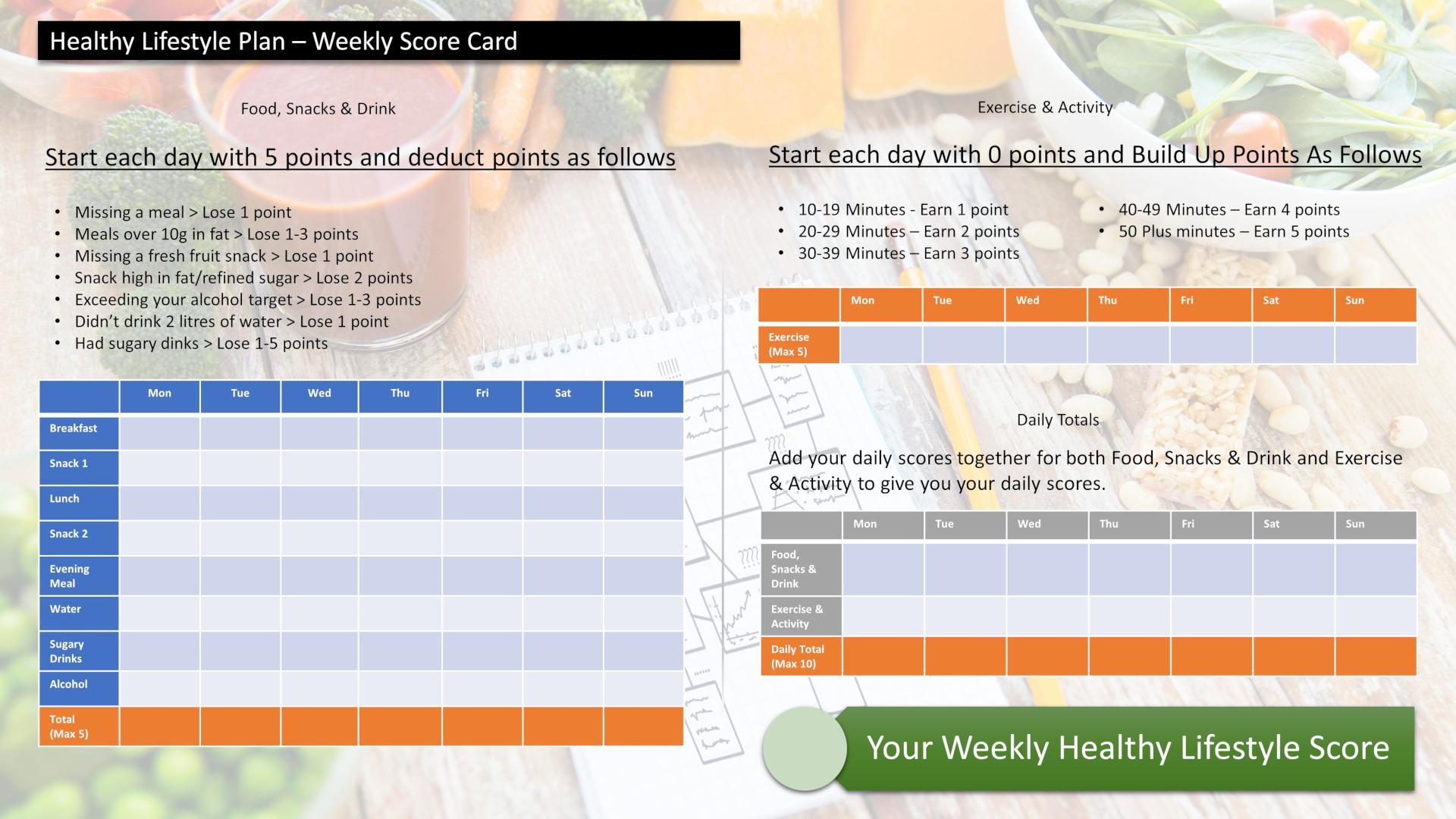 Score your way to good health with our healthy lifestyle plan and it's unique 70 point weekly scorecard!