Everyone faces tough times whether it happens in a business context or a personal situation, but when realising what inspires you, you can find your way out of it.
The fact is, we need to be inspired.
There is always something that can inspire each of us, that one thing that sparks us to life, that ignites and motivates us to success. We just have to find out what it is.
When we find the thing that inspires us it takes our life to a higher level of satisfaction, fulfilment and happiness. There is a meaning to what we are doing. Inspiration brings forth something deep down inside our soul
Being inspired drives us to do big things. It moves us to dream those big dreams, and pushes us to put effort into what we do. There is a saying that when you connect 'inspiration to perspiration' success will be yours. Inspiration can be that little push we need to turn our lives around.
If you want to take your life from ordinary to extraordinary then you need to find what inspires you.
I certainly came to understand this even more as a blogger. So many bloggers I've spoken to over the years say that the hardest thing to do is sit and regularly find something interesting and meaningful to write about. Sometimes the words just don't flow, the ideas just don't pop into your head.
I explain to them that they are trying to force what they write, instead of allowing their mind to inspire their words. To me my blog shines when I allow inspiration to lead my writing. It opens up ideas and thoughts and delves into my vault of creativity. It produces blog posts that come from within, those that motivate and inspire others.
There are many thing in life which inspire me but nothing more than that my sister Jan.
Her life and death inspire me to be and do much of what I do. Her story motivates me to never stop dreaming and to never give up hope wherever you may find yourself. She has providing me with not just the determination to always go for my dreams and never let anything stop me, but also to never forget to make the difference by helping others who are in need of my support or my passions. She led me to build a career where I was building a business around doing good by others.
While I sat in mourning many years ago, I made a promise to myself and my sister living now in heaven, that I would build a life and a business where I help others. This became my passion and fuelled my goals.
Making a difference in somebody else's, no matter how small became not just my driving force, but inspired me to restructure my whole life. To this day I find myself moulding a business that sets about achieving this goal. Not an easy task I assure you, but one that I am inspired to doing every day of my life. The closer I get to achieving what I want the greater I feel. Every day when I receive some message from a person I've touched , that I've made the difference for, that just lifts me and refreshes my efforts, knowing I truly am contributing in the right way.
What is it that ignites your fire that inspires you to get out of bed every morning and keeps you enthralled all the way through the day?
Inspiration will often come from your passion. So explore your inner-most feelings and desires searching deep inside your soul to find where your passion lies. Keep reflecting on this until you truly feel the "eureka" moment.
Sometimes our inspiration is just so clear to us. Other times, we have to figure out what inspires us. But asking the question and searching for the answer is so worth it! So come on, what inspires you?
What inspires me at the moment is knowing how my journey helps others. I hope in my small way I have been of help to you.
"Life is a great big canvas; throw all the paint you can at it." Danny Kaye
Score Your Way To Good Health - With Our Healthy Lifestyle Plan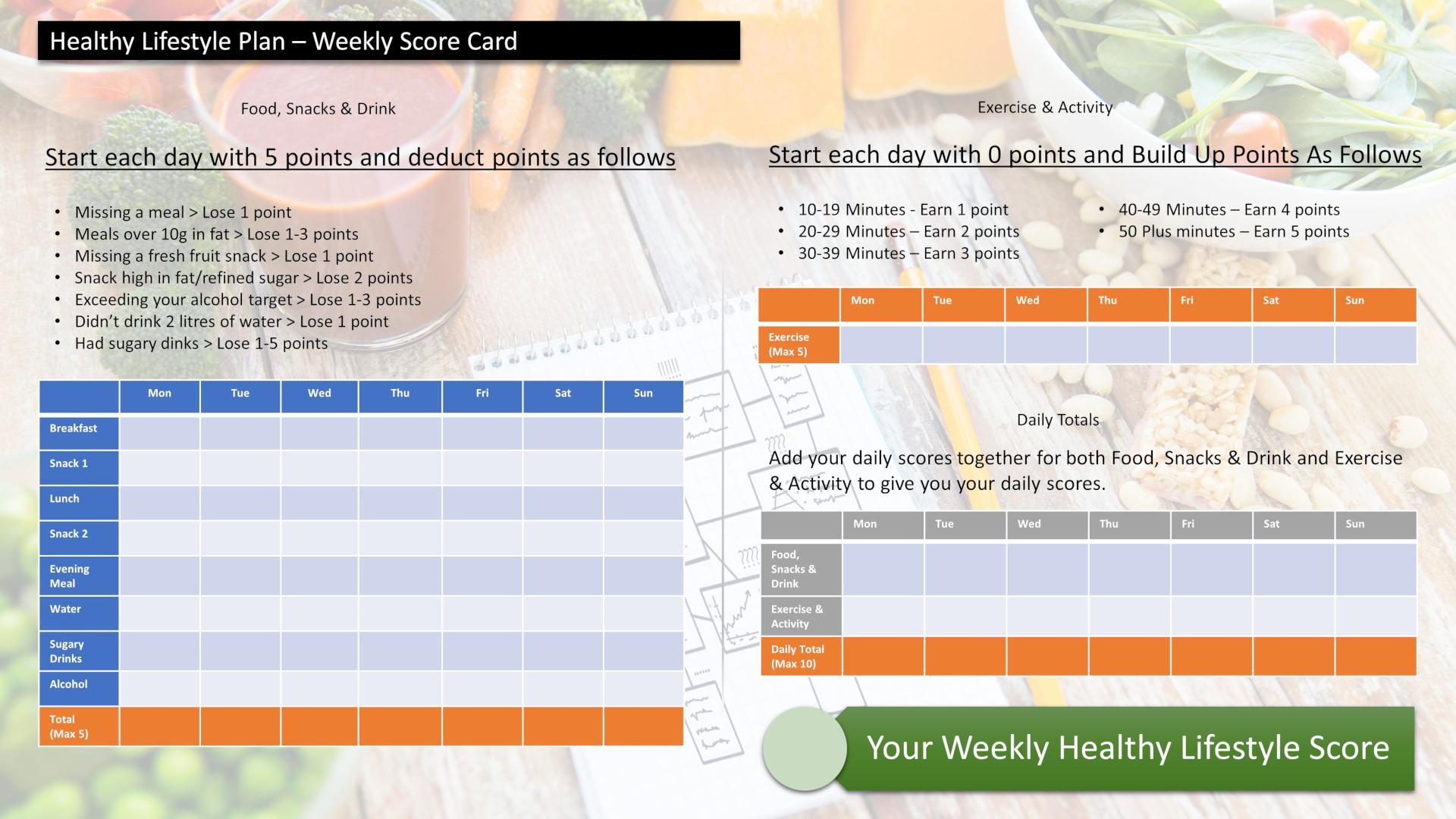 Score your way to good health with our healthy lifestyle plan and it's unique 70 point weekly scorecard!