If you had a pair of binoculars through which you could look at your life and decide whether it gave you satisfaction or frustration, what would you see and would you be happy or sad? Many will see an image and then have the thought that they had once believed they were born to be something more.
American Sniper Chris Kyle, a US Navy Seal, whose autobiography became a bestselling book and a Hollywood blockbuster movie said that he became a cowboy but had a strong feeling inside that he was born to be something more. This feeling and world events led to him wanting to serve his country.
Are you totally satisfied with your life, happy with how everything is and content with the contribution you make?
I had the feeling that I was born to be something more about 7 months ago. Lying in my bed on Boxing Day 2014 recovering from a major eye operation feeling incredibly sorry for myself was when this feeling became so strong I simply couldn't ignore it. It was at this very moment I made the decision that there were too many areas of my life that weren't right and I was going to make the changes needed, particularly in reference to what I was doing in a work context because I was dissatisfied in this area and knew with absolute certainty I was born to be something more.
My life has always been one of ups and downs and I've had to overcome many obstacles almost from day one.
You see I was born with a double curvature of the spine. When I was about 2 years old a Harley Street medical consultant informed my parents that I would be in a wheel chair by the age of 13. It was instilled into me by my parents that I could overcome this challenge and prevent it from happening by taking extra care of my physical body through exercising daily, always focusing on my posture, like for example as my mum told me 100 times, never sit with my legs crossed, and also put into my body all the vitamins and minerals it needs for good health. I listened and followed through and the consultants prediction never materialised. This has taught me that no matter what is thrown at us in life we can overcome nearly .anything.
So when we have this nagging feeling that we were born to be something more we should neither ignore it or tell ourselves that it's pointless to try because nothing we ever do seems to work out the way we want it too.
Instead we need to be ready and determined to change. We're all born to be something and it'sessential we retain our ambition and seek to find our purpose and fulfil our full potential.
Living your purpose is the key to a life of enjoyment, prosperity, and fulfilment. It is the most important thing you can do, not only for yourself, but for the world and everyone you know.
The trick to realising your dreams is no just wishing or hoping things get better but making the firm decision to make it happen and take the necessary actions, sometimes just following your instincts. You may not have every step worked out, but you know exactly where you want to go.
You have the potential to live the life of your dreams no matter where you may be right now. It's a matter of becoming acquainted with your inner wisdom. Then you have to trust yourself and your abilities, having faith in your instincts.
Just know you already have everything you need to create the life you've always wanted. All these qualities are available to you now. They are part of you and all you need to do is access them by digging deep within the recesses of your mind. You see you have all the skills and the attributes you need as well as the answers to do whatever it is you want.
The minute I woke up to the fact that my purpose was to inspire motivate and coach others how to overcome their struggles and go on to enjoy a life of happiness and success, my life just seemed to be energised and gained a whole new momentum. I also found myself very much at peace with life. Opportunities appeared effortlessly, like doors opening automatically, inviting me in. Challenges become opportunities for creating higher levels of success.
So know it's possible to be the person you were meant to be,
Isn't it time you became that person? Isn't it time you began your new life – living in love for yourself and others, enjoying your life, transforming your problems into solutions?
See yourself in a new way; as someone who is perfect just as you are, someone with unlimited potential to grow and flourish – to create the life you've always wanted.
Right now you may be living in a life of limitation, unable to see your way out, but know soon you can be standing on top of the mountain, able to see the limitless possibilities before you feeling empowered like never before.
If you think you were born to be something more then you're right, you are!
Have you been short changing yourself?
Discover your answers, finding inner peace, your life purpose, happiness and success by either through my online course or by scheduling a personal consultation with me. Check the course out here, and it's only a £1 for the first 60 days.
Score Your Way To Good Health - With Our Healthy Lifestyle Plan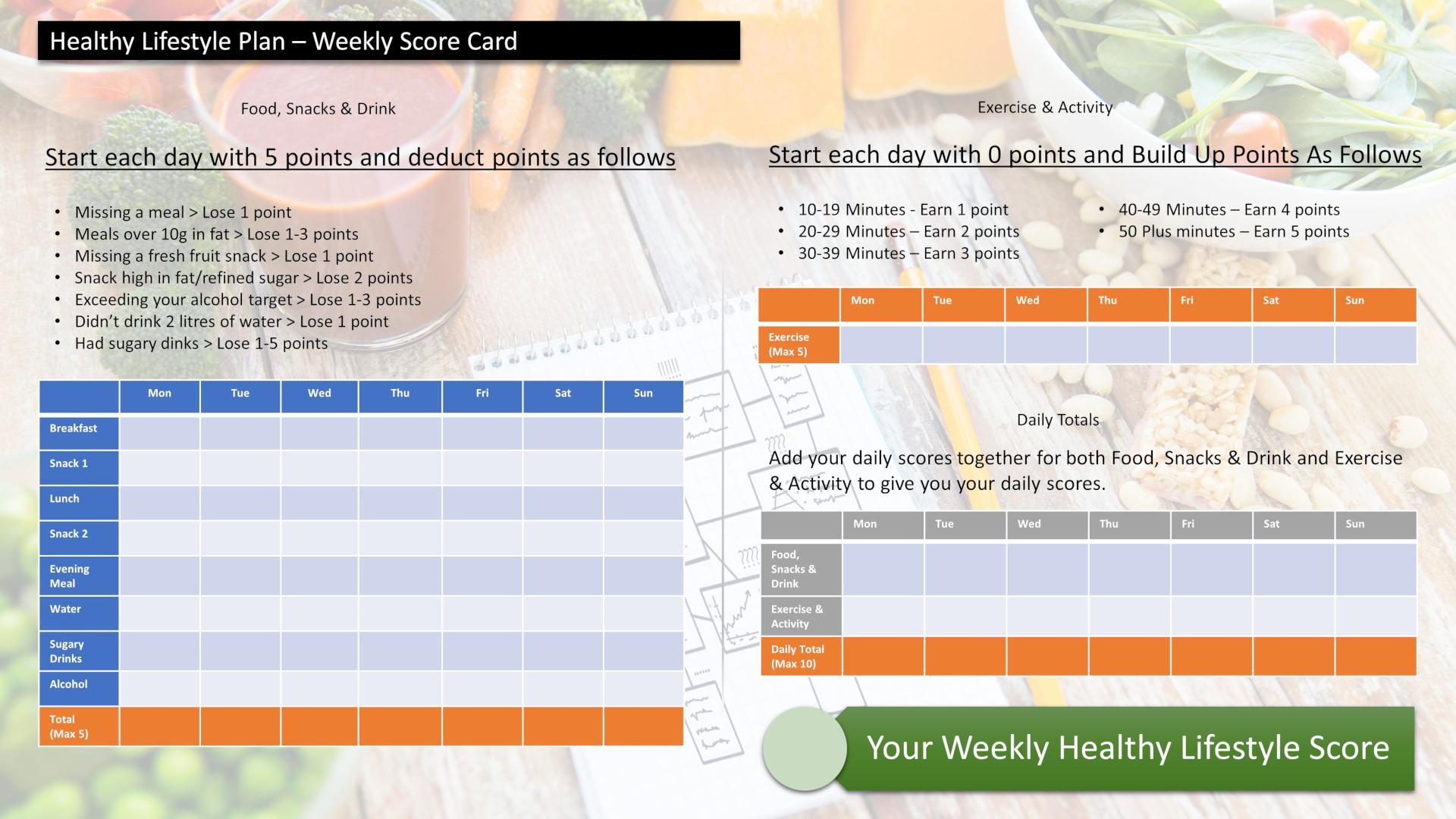 Score your way to good health with our healthy lifestyle plan and it's unique 70 point weekly scorecard!